I copied this recipe from my mom's hand written cookbook, it's a family staple and THE cake to make with rhubarb. You can use this recipe to make cupcakes as well. Tangy squishy rhubarb meets crisp and sweet meringue on a soft cake bed and they totally make out!! 😉
To make this recipe you need to get a scale as most measurements are by weight.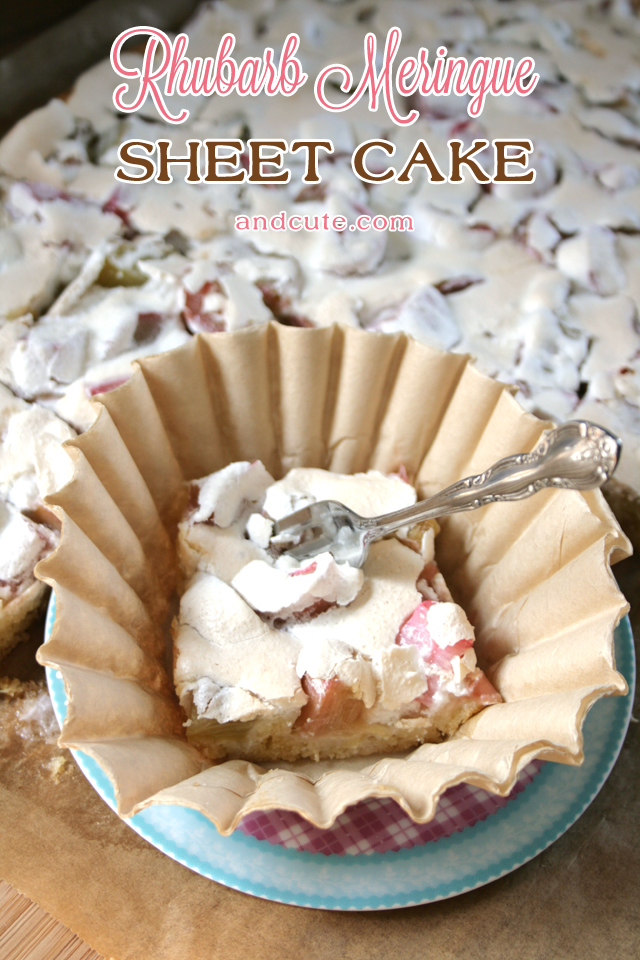 Rhubarb Meringue Sheet Cake
A fresh cake with a crunchy meringue top and a tart rhubarb filling
Ingredients
175g butter (unsalted)
150g sugar
1 packet vanilla sugar or 1 tsp. vanilla extract
1/2 packet baking powder (1 tsp.)
1 pinch of salt
3 egg yolks
250g flour
3-4 (actual) tablespoons of milk

Topping

750g of fresh rhubarb (cleaned and cut into pieces)
3 egg whites
175g sugar
toasted nuts (optional)
Method
Cream butter, sugar, vanilla sugar and salt together until fluffy. Add egg yolks.
Mix in Flour and baking powder. Add the milk until you have a very think (almost cookie dough like) batter.
Line a 9×13 inch baking dish with parchment paper and spread the dough in there, you can use your hands to press down and spread around. Preheat the oven to 180C/350F
Beat egg whites on low until they start to get foamy. Then bit by bit pour in the sugar and turn to high and beat until you have a glossy and some what stiff mass.
Gently fold rhubarb pieces in and then spread the mixture on top of the cake batter.
Bake for 40 minutes until the tops are starting to brown. If you decide to use a round spring pan, you can but need to adjust the baking time to be longer (in this case cover the top after 40 minutes and keep baking).
https://andcute.com/rhubarb-meringue-sheet-cake/
Copyright (c) 2013 - andcute.com
Enjoy with a cup of coffee on a sunny spring day!
Hugs
Dani!