And sometimes everything is just rainbows and butterflies! These fun colorful cake pops are so tasty and of course made from scratch!

I have to say it like it is, this batch of cake pops is the best I have made yet. They have just the right sweetness and texture. I will show you step by step how to make them.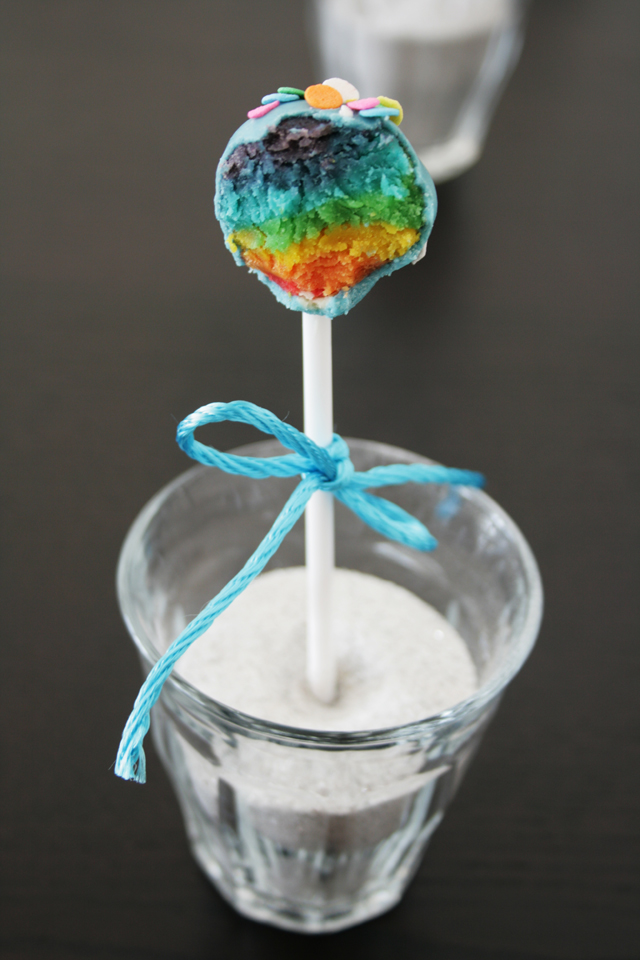 Ingredients
1 of Martha Stewart's Golden Sheet Cakes, cut the recipe in half as it makes two cakes (best tasting yellow sheet cake ever)
3/4 cups of powdered sugar
180 grams of cream cheese
gel food color (red, blue, green, yellow)
200g white chocolate or candy melts in your desired color
Styrofoam board
cake pop sticks or paper straws
assorted sprinkles
Method
1. Make the sheet cake and let cool completely, cut in half and use the other part for something else (I literally had it plain instead of breakfast, so good!).
2. Crumble up the sheet cake in a large bowl. Cream together the powdered sugar and cream cheese in a separate bowl.
3. Get out 7 small bowls. Divide the cake pops mix among the bowls in such way:
2 bowls with 5% of the dough (each),
2 bowls with 10% of the dough (each),
2 bowls with 20% of the dough (each) and
one bowl with 30% of the dough.
We will need a lot of dough to make green and just a little to make the red and purple. Do you follow my math? (ok, it's not my math, it's the hubby's because I got stuck after drawing out different sized circles on a piece of paper 😉 )
4. Add the food color: red = red, orange = one part red + one part yellow, yellow = yellow, green = green, blue = blue, indigo = 2 parts blue + 1 part red, purple = one part blue = one part red

5. With your hands make each colored cake pop dough ball, mesh and fold until you have an even mass (it's like play dough).
6. Then take small amounts of each color using the percent ratio from earlier (red and purple should be pea sized). See below!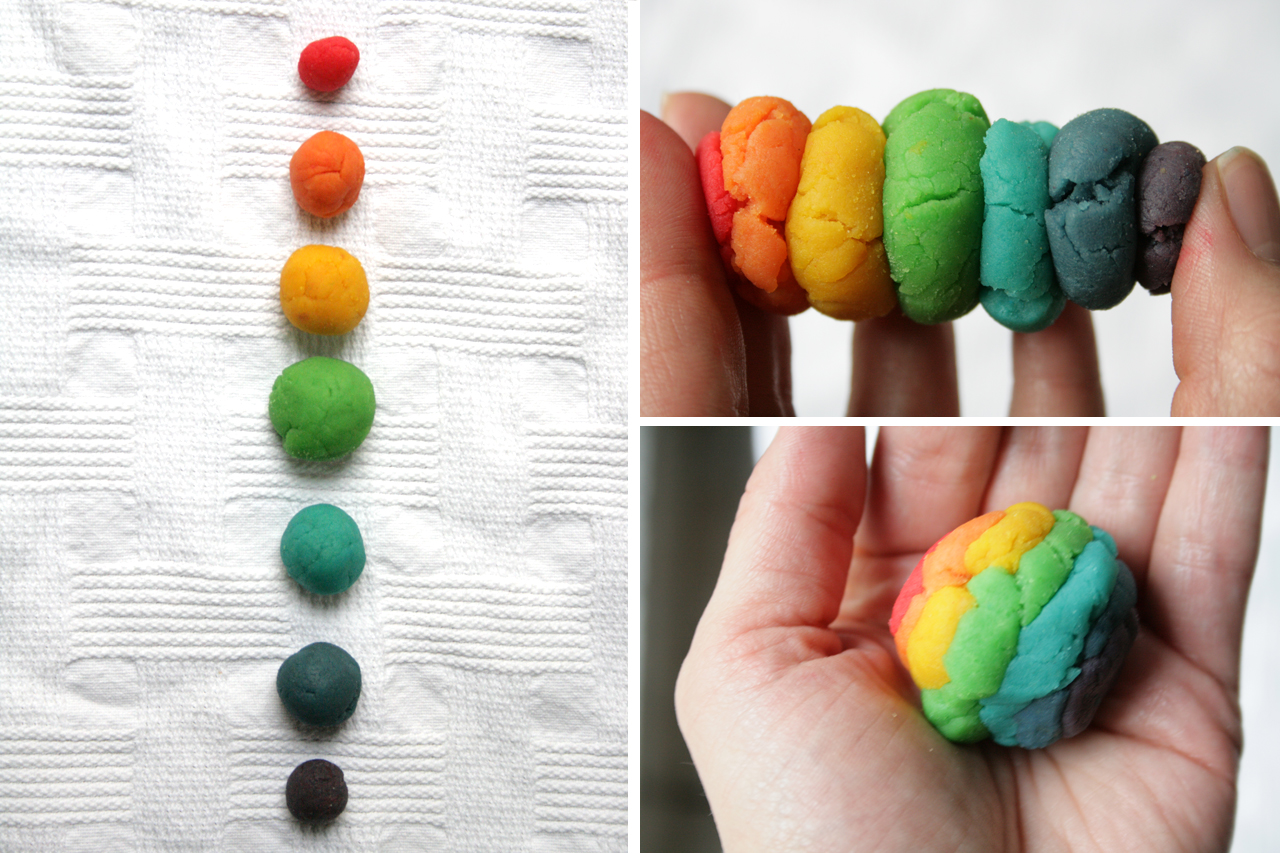 7. Stack the colors in your hands in order of the rainbow and squeeze them together. Then start rolling gently to make a ball.
8. Place each ball purple side down on a parchment paper lined cookie sheet. Melt a few pieces of the white chocolate in the microwave (ca. 30 seconds), then dip the cake pop stick into the chocolate and gently insert it into your rainbow ball. Let the chocolate harden in a cool place.
9. Melt all of your white chocolate in the microwave, stirring in between. Add food color of your choice and blend with a teaspoon until you have the desired color. Add a 1 tsp. of vegetable oil if you find that your mixture is not runny enough. Dip the cake pops into the chocolate, tapping of excess chocolate (I also use the teaspoon to help the excess come off).
10. Poke the chocolate dipped cake pop into a Styrofoam board to dry. Repeat. After you have dipped about 3 cake pops the first pop will be ready for sprinklege (it's a technical term I just made up ;)).
11. Let dry completely in a cool place. Eat.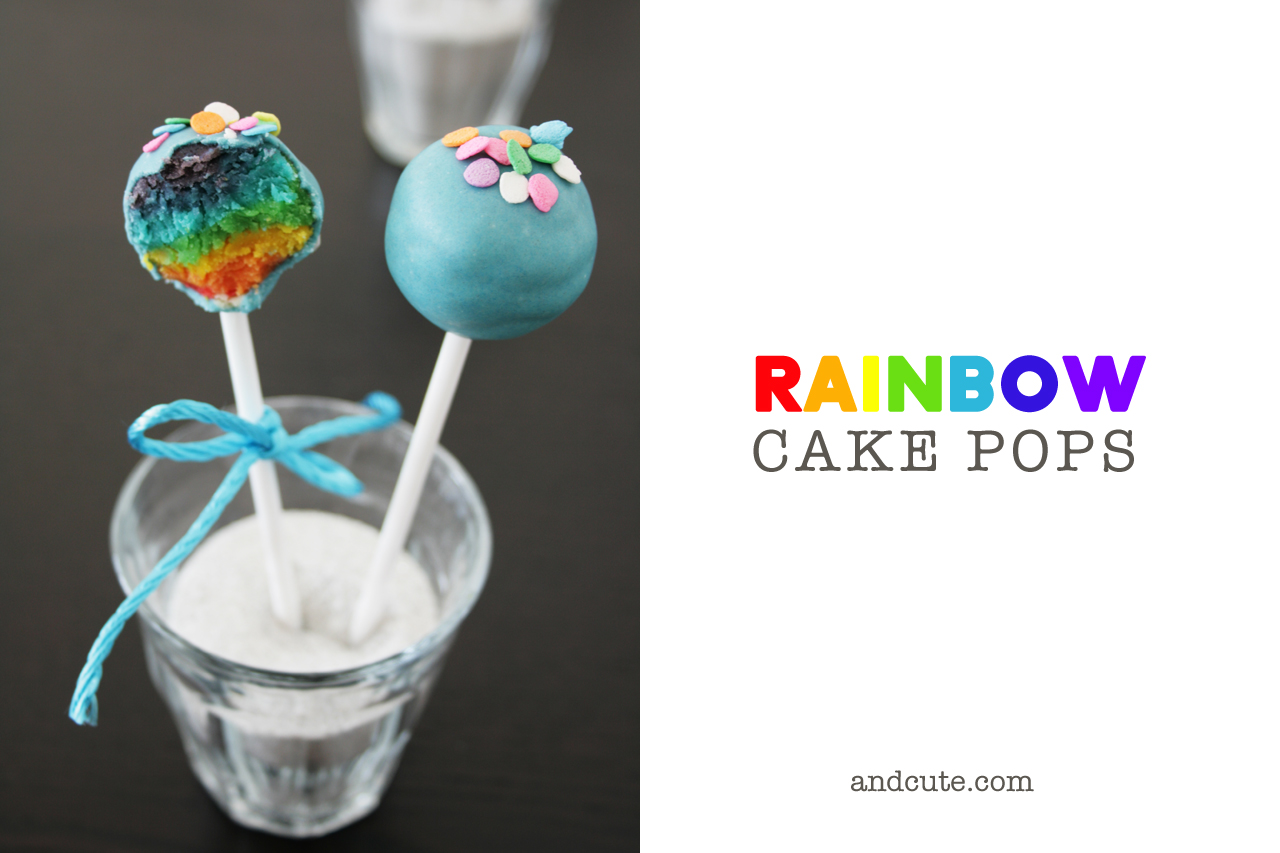 You can even take your rainbow outside! Spring is here!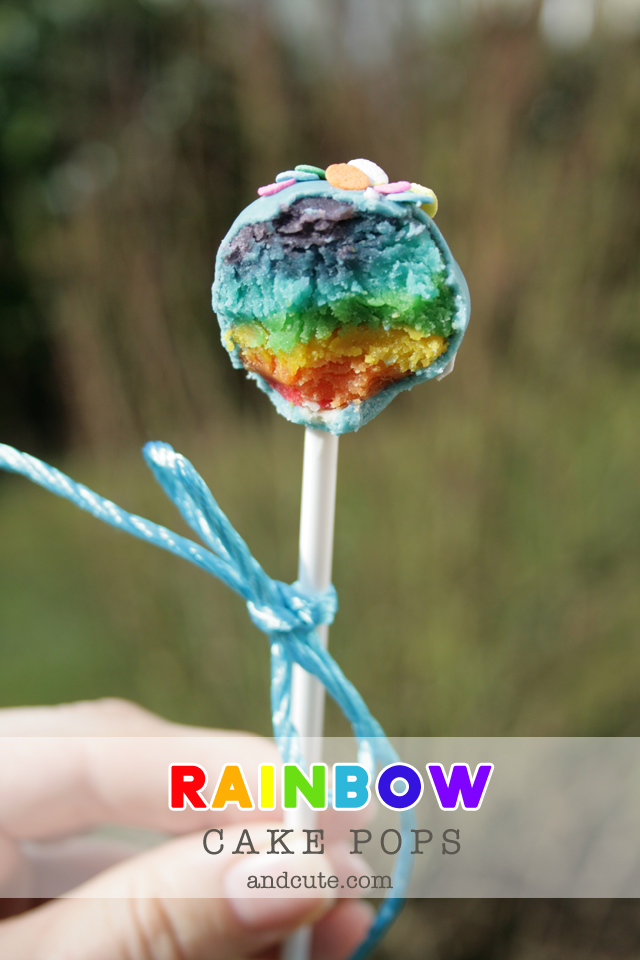 Hugs
Dani!