Today's printable is smart and cute! Just like you! Baking and cooking somewhere in the American – European rift I often find myself converting temperatures from Fahrenheit to Celsius and vice versa.

My Betty Crocker cookbook has a great conversion chart in the back of the book, which is very hard to get to when I'm cooking a recipe from let's say the beginning of the book and have dough-hands, or chicken-hands or otherwise contaminated hands that keep me from touching anything.
So I decided to finally print out that chart and make it look pretty in the process.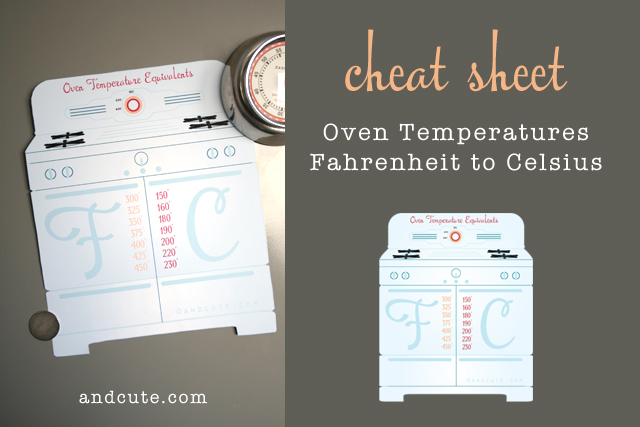 You can print out the template (download below) and then cut it out and put it on your fridge. I printed mine on A4 size photo paper because the colors are just so much more vibrant and it's a bit thicker than regular ole paper 🙂 I will also spray mine with some clear coat, I know myself well enough that one evening I will be touching the cheat sheet with my wet fingers and the colors will run, probably even before I got to read the correct temperature. Below you can see the difference that photo paper makes (on the right).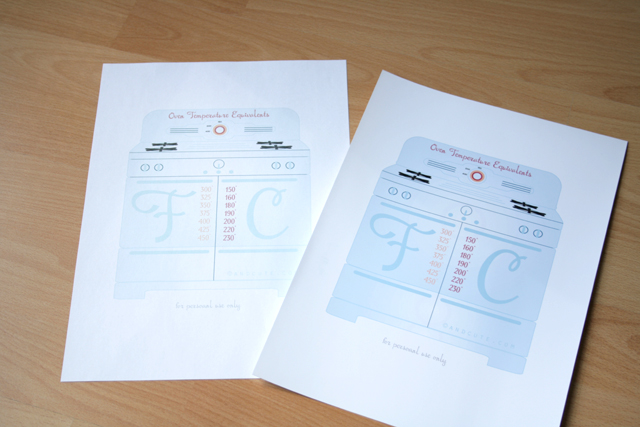 Download here: Oven Temperature Conversion Fahrenheit and Celsius
If you've enjoyed this freebie printable please share, like, tweet and pin!
Hugs!
Dani