Holy Macaron-y, after 2 years of trial and error I finally made perfect macarons. Every time I made them they didn't turn out looks wise (cracked, no feet, cracked and no feet…), they tasted heavenly every time, but when it comes to macarons, I'm a superficial girl. Finally, I got them right and I will tell you how I managed to make the perfect happy feet having macarons.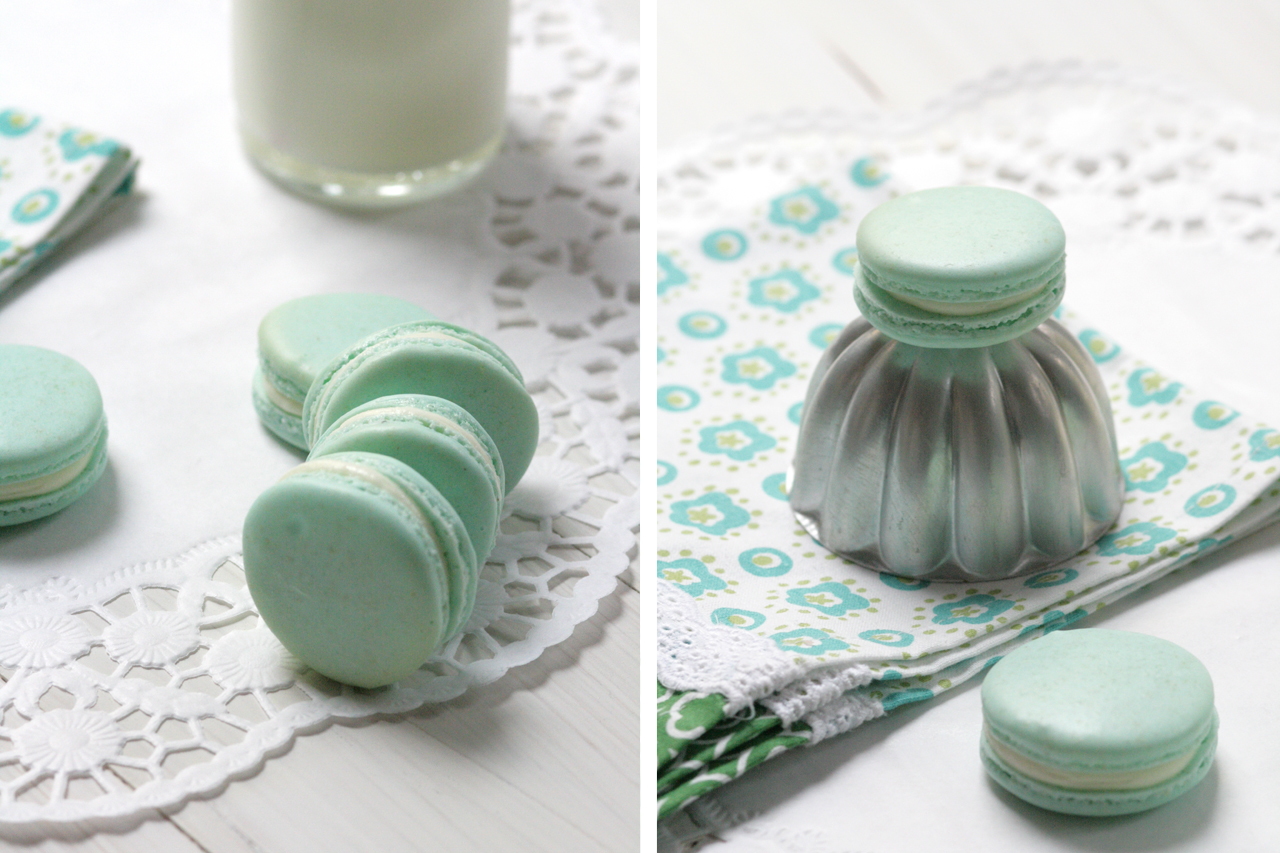 Ingredients
Shell

100g almond flour (ground almonds without skin)
200g powdered sugar
90g egg whites (aged), roughly 4 eggs
1/4 tsp. of cream of tartar
40g sugar (use very fine sugar if you can)
blue and green food coloring (gel or powder, not the liquid kind)
Milk Filling
100g or cream cheese (room temperature)
100g powdered sugar
1 tbsp. dry milk powder
Before we get started I want to give you my list of tips for making perfect macarons, feet and all.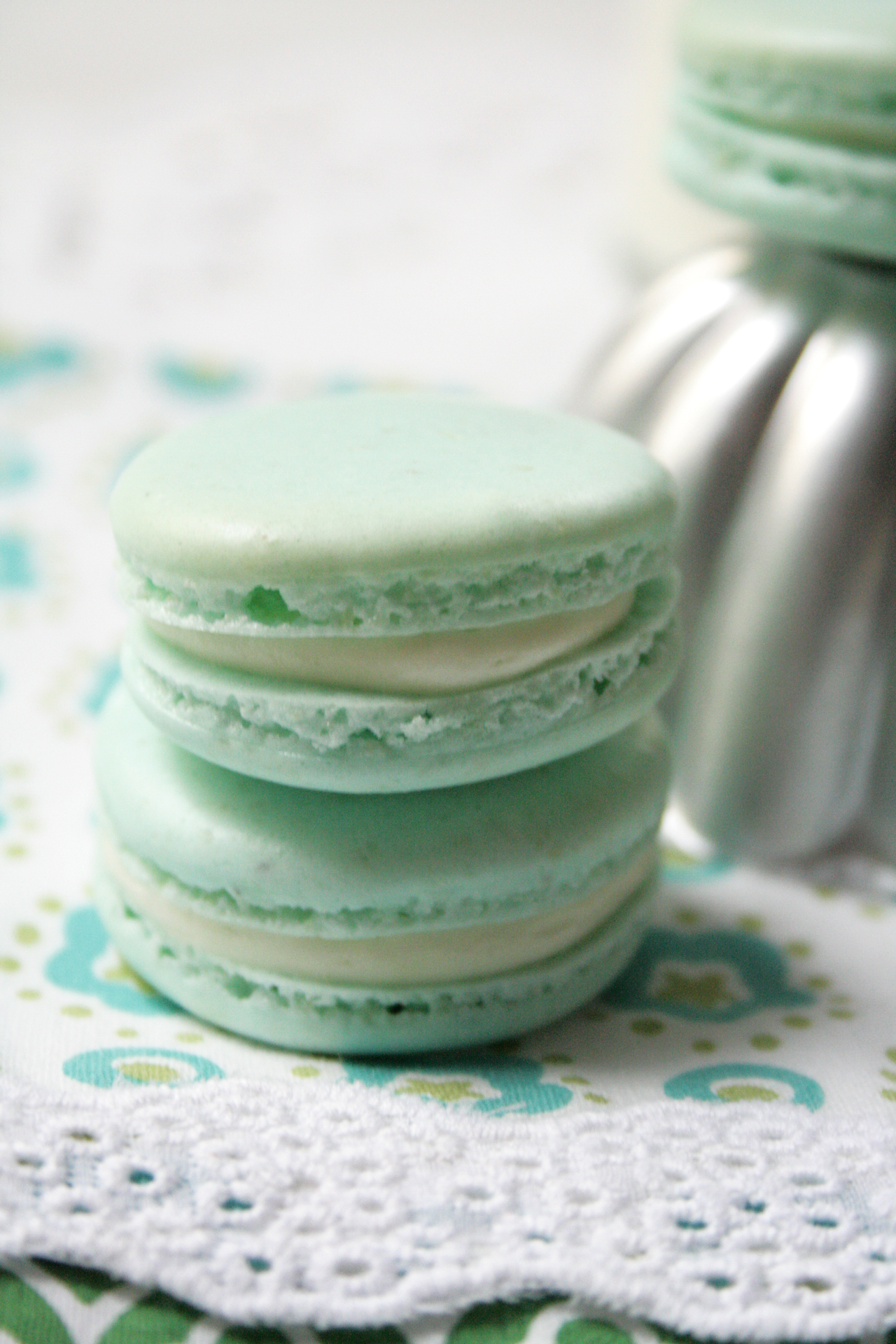 Tip 1
Make your macarons when you are not planning on serving them to a large crowd like bringing them to a party or making an edible gift for someone. I failed every time I made them to serve to others (again looks wise not taste wise). But when I just made them for me, they turned out perfectly.
Tip 2
Age your egg whites. That means you crack and separate the eggs in advance place the egg whites in a cup, cover with cling wrap and let them sit in the fridge. Mine ended up being about 2 weeks old, not on purpose but mainly because we were gone for the holidays. From what I read, aging the egg whites, which could also be called airing the egg whites, loosens the protein strands and makes the mixture more "stretchable" – that was your dose of food-nerdiness for today 🙂
Tip 3
Before using your egg whites let them come to room temperature. I took mine out of the fridge, poked wholes in the cling wrap to allow more air to escape and let it sit over night on the counter.
Tip 4
Use a food processor to grind the almonds and powdered sugar. I used a handheld device, because I am still looking for my dream food processor (I'm a foodie, I need to be careful which small appliance to commit to 😉 ).
Tip 5
Sift the almond flour and powdered sugar mix twice. Once to sift it and another time sifting it into the beaten egg whites.
Tip 6
Use cream of tartar in your egg mixture to stabilize the eggs.
Tip 7
When folding use the "10 second rule test", no dropping food on the floor required. While folding the dry ingredients into the beaten eggs take a small dollop and drop it onto a plate. If the dollop melts into a round smooth blob within 10 seconds you are good to go. If the dollop stays pretty much as is you need to keep folding.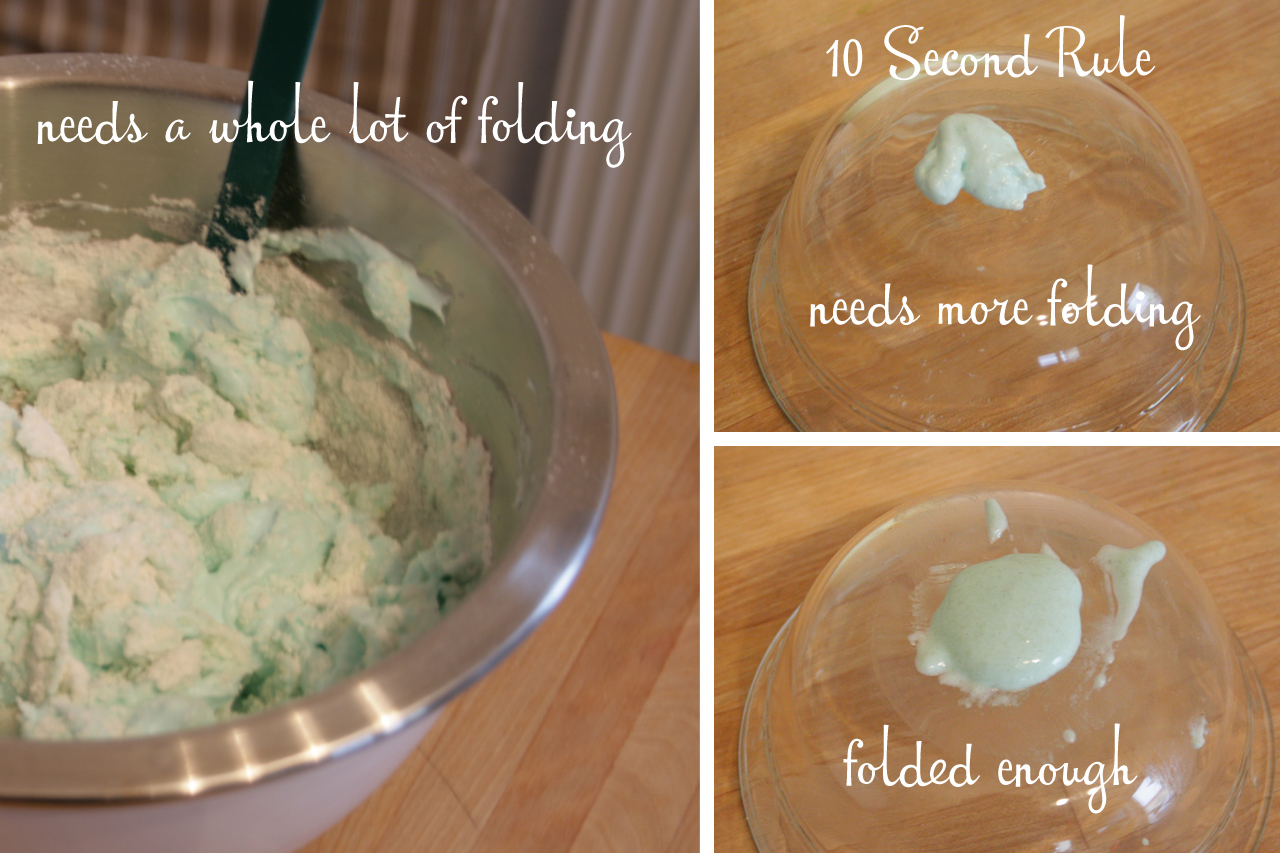 Tip 8
Let your piped macarons dry at room temperature until they are dry to the (gentle) touch. I picked an "ugly" macaron to test the dryness sporadically. Mine needed about 1 hour to dry.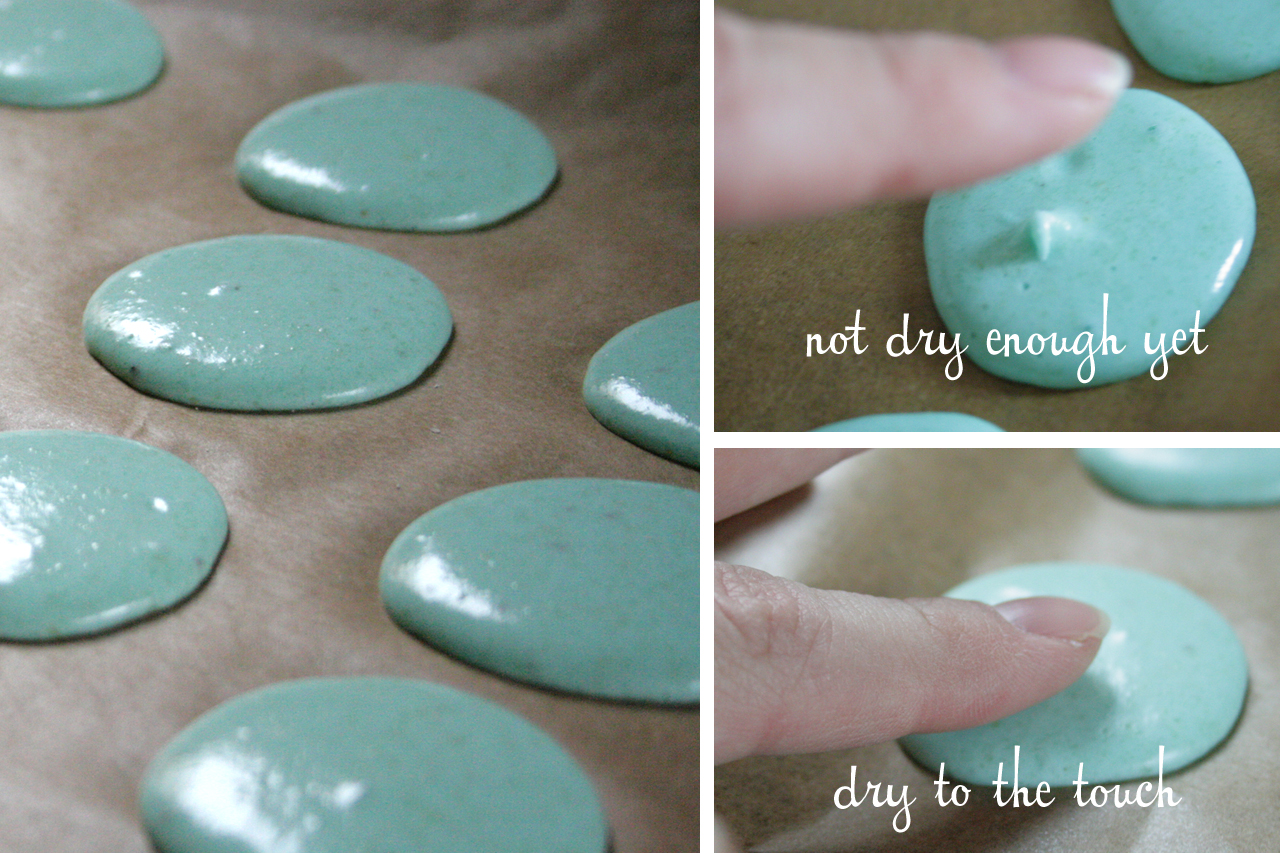 Tip 9
If your oven has a vent that circulates the hot air around, use it. Set your temperature to 135C/275F. If you don't have a fan set your oven to 150C/300F.
Tip 10
Make your macarons during a full moon facing east to ensure that…just kidding 😉 Making macarons is complex but it has nothing to do with magic (which I firmly believed for 2 years!).
Follow these tips and there will be feet!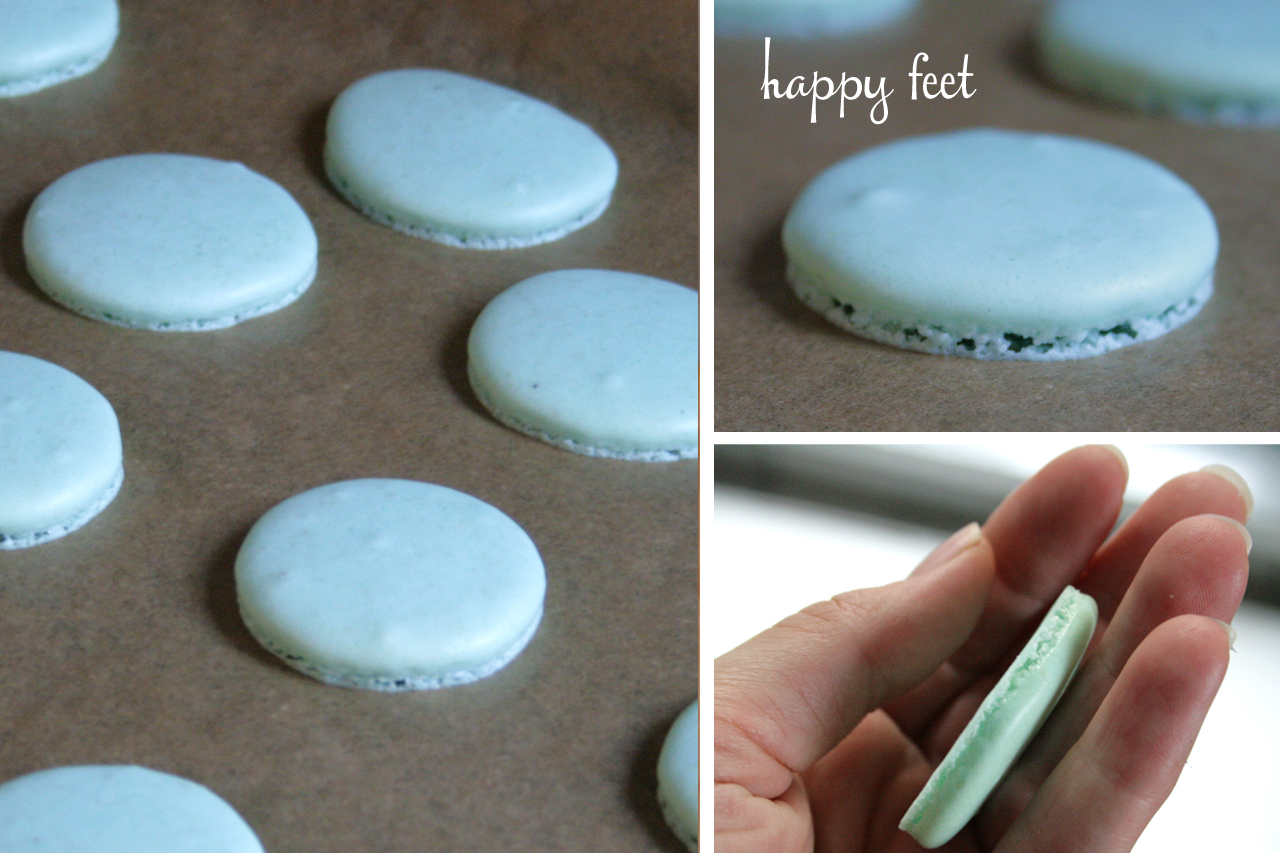 I also recommend watching this video on YouTube, it is so much fun and was super helpful for me!
So, are you ready? Good, let's get rocking.
1. Line 2 baking sheets with parchment paper or a silpad. Get a piping bag with a round tip ready.
2. Grind the almond flour and powdered sugar in the food processor and sift the mix into a bowl.
3. In a separate bowl start beating the egg whites on low speed, when foamy add the cream of tartar. Increase the speed to medium and start adding the sugar one table spoon at a time. Add the food color until you have the desired color (3 parts blue one part green, the color gets lighter as it bakes). Beat the eggs on high until you have stiff peaks and you can hold the bowl upside down without the mass landing on your face 😉
4. Sift the dry mixture into the egg mixtures. Using a spatula fold the mass together. First it will seem impossible but it will get more "liquid" as you keep folding. Make the "10 Second Rule Test" see above to check if you are done folding.
5. Spoon the mass into your prepared piping bag and pipe circles ca. 2-3cm in diameter. They will "melt" into a slightly larger smooth circle.
6. Let your piped macarons dry at room temperature for 30 minutes to 1 hour until the tops are dry to the touch.
7. Preheat the oven to 135C/275F if your oven has a vent, if not set it to 150C/300F.
8. Place one baking sheet at a time into the hot oven and bake for 6-10 minutes depending on the size of your macarons.
9. Let the macarons cool completely on the baking sheet before removing them gently from the parchment paper or silpad.
10. Meanwhile cream together the ingredients for the filling and fill a piping bag with a round tip. Pipe filling onto one shell and cover it with a matching shell, repeat about 24 times.
Enjoy!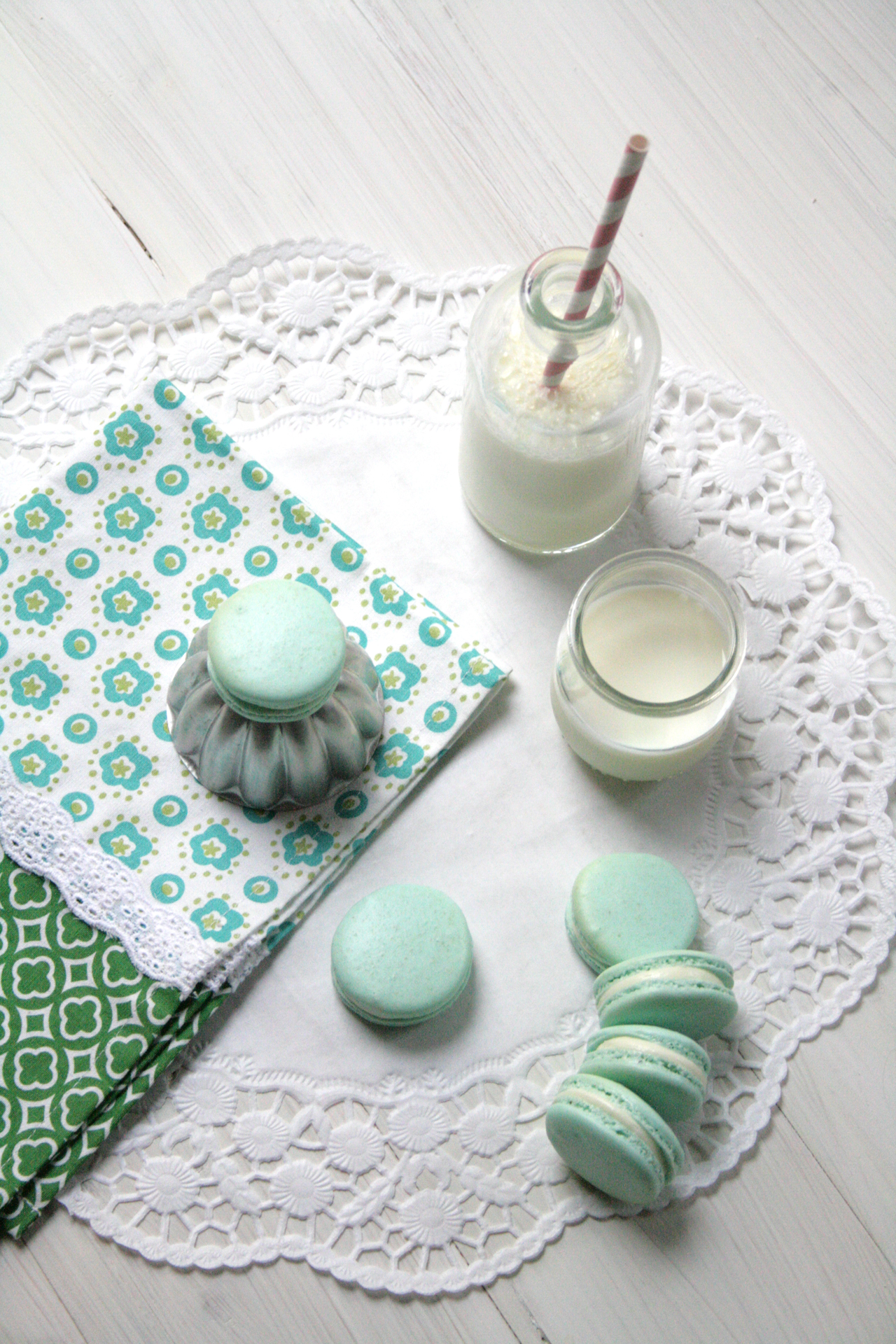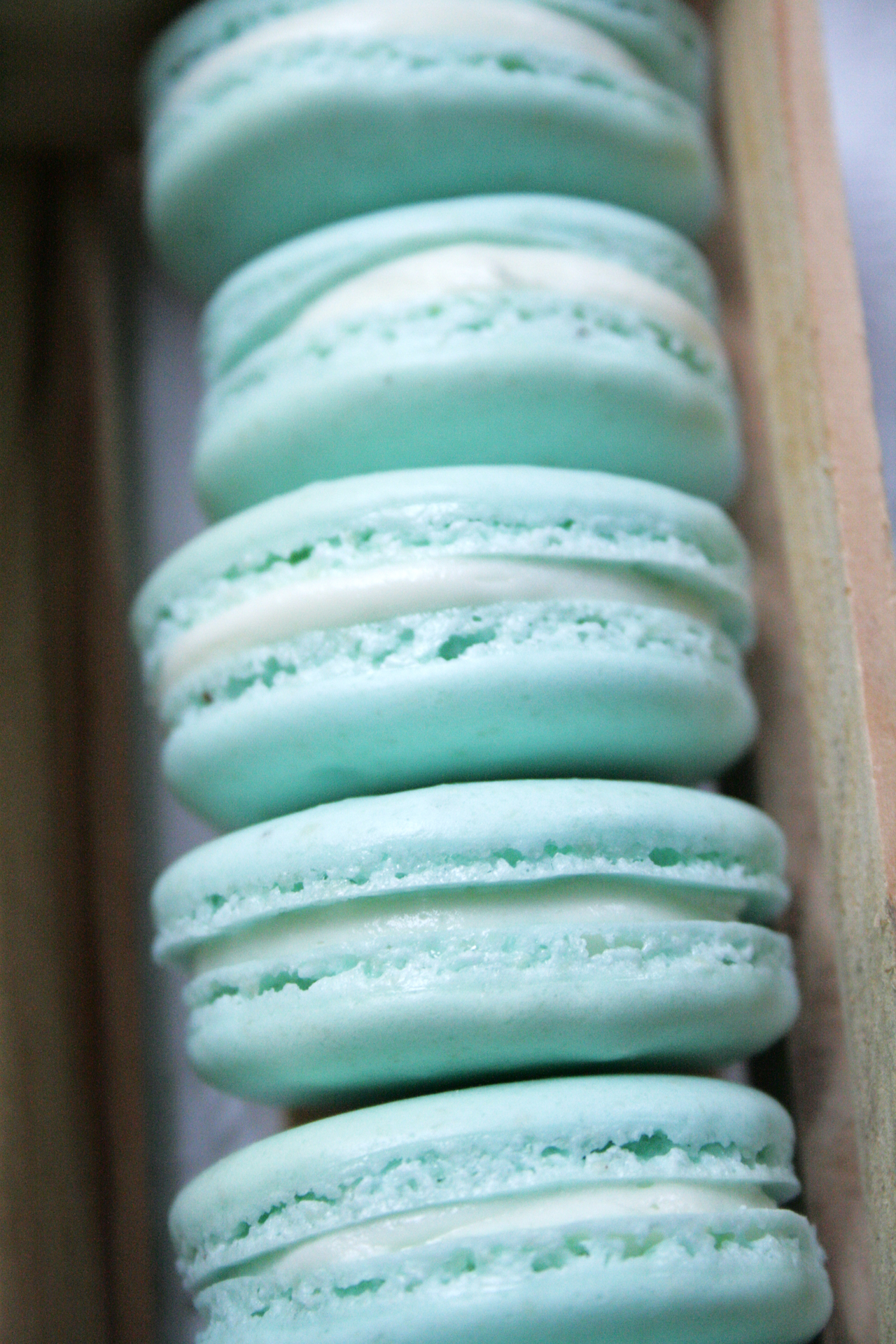 Hugs!
Dani