Summer time and the livin' is easy! Though there are no fish jumping and no cotton here in Germany either, there is the summer time favorite – ice cream. For the first time I tried making my own ice cream (unless you count my putting go-gurt in the freezer) without a fancy ice cream maker just a blender, plastic container and some delicious ingredients! Success! Though is sherbet a little hard to get out of the box, once you have it in that waffle cone it is pure bliss!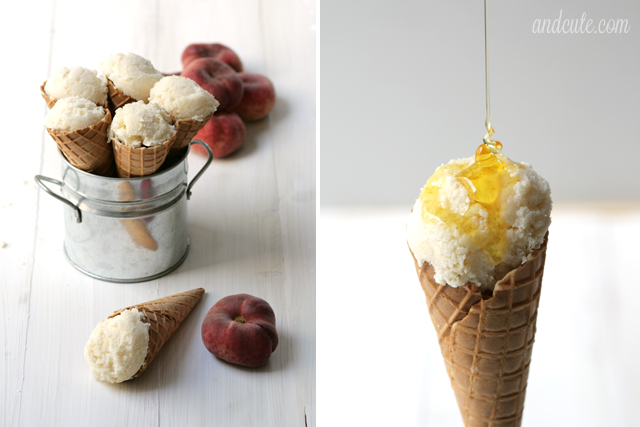 When I was in London for Meet The Blogger I raided a supermarket and got some Golden Syrup I had read so much about in UK/NZ/AUS recipes. It has a very subtle, malty sweetness to it and is perfect for making foods that are already sweet like peaches just a tad more sweet.
Peach, Greek Yogurt and Golden Syrup Sherbet
A fresh and subtly sweet peach sherbet with Greek yogurt
Ingredients
4 small peaches (like Saturn peaches, without the skin and stone)
1/2 cup plain Greek yogurt
1/4 cup of Golden Syrup
Method
Blend all ingredients in a blender and pour the liquid into a freezer safe container.
Freeze for at least 3 hours then scrape out slivers of sherbet and form into a "scoop" of ice cream fill into waffle cones or a bowl.
Drizzle with more Golden Syrup if desired.
https://andcute.com/peach-greek-yogurt-and-golden-syrup-sherbet/
Copyright (c) 2013 - andcute.com
Keep cool my friends!
Hugs
Dani!