I gave myself a push today and produced a whole blog entry in 8 hours. I had the idea around noon, I started baking around 1PM, photo shoot at 3PM and then done editing the pics at 6.30PM and boom here is the blog entry! Congratulate me, because if not following this process, there would be no blog entry. There is no editorial plan, no grand scheme. So unless I just go for it without stopping, there will be endless second guessing. Does the world really need another cookie recipe? Are your cookies unique? Are they good enough? Am I good enough?
Needless to say I have been my worst enemy lately, but I did some browsing yesterday and found my blog twin-clone-sister-from-another mister here. Then I saw this Circus Animal Copy Cat recipe on Pinterest. Then I remembered one of my favorite American holidays is coming up – the 4th of July! And then I just went for it. My cookies are better than most cookies on the internet and so am I. And that is good enough! So here we go: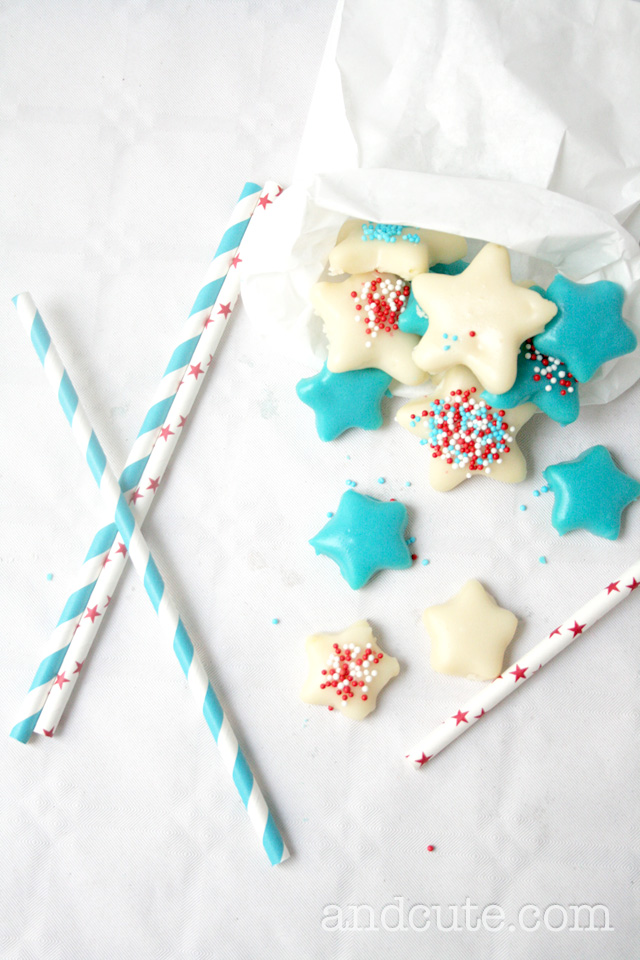 Lovely sugar cookies covered with a mix of white chocolate and royal icing – sugar bomb deluxe! But it's Independence Day, when the US said "Eff off " to Britain, so we will celebrate by saying "eff off healthy eating habits – just for today".
Patriotic 4th of July Star Cookies with Chocolate Icing
Ingredients
For the Cookies

180g butter
1 cup sugar
1 egg (medium)
1 1/4 cups flour
1/4 tsp vanilla extract

For the Icing

100g white chocolate
250g powdered sugar
50 ml water
50 ml liquid glucose, corn syrup or invert sugar syrup
1/4 tsp vanilla extract
food color
Method
Beat butter and sugar until just combined, Add egg and vanilla. Add flour.
Chill the dough for at least an hour in the fridge
Roll out and use cookie cutters to cut shapes.
Bake for 8-12 minutes at 350F/176C
If your cookies lost their shape re-cut with the same cookie cutter shape. Do this while they are still hot!
Let cookies cool completely.
For the icing over a bain marie heat the powdered sugar, glucose syrup, water and vanilla extract. Stirring often. Meanwhile divide chocolate evenly into 2 bowls and heat in microwave in small time segments stirring in between.
Add have the sugar mixture to one of the chocolate blows and mix. Do the same with the other and add the food color.
Now working quickly, dip each cookie in the chocolate mix, flip, cover with more chocolate and remove gently with a fork and set on a wire rack. If you want to add sprinkles do it right after the dipping (otherwise the cover will form and sprinkles won't stick). In case your mix gets hard, you can heat it in short increments in the microwave.
https://andcute.com/patriotic-4th-of-july-star-cookies-with-chocolate-icing/
Copyright (c) 2013 - andcute.com
So here is to getting things rolling and just going for it!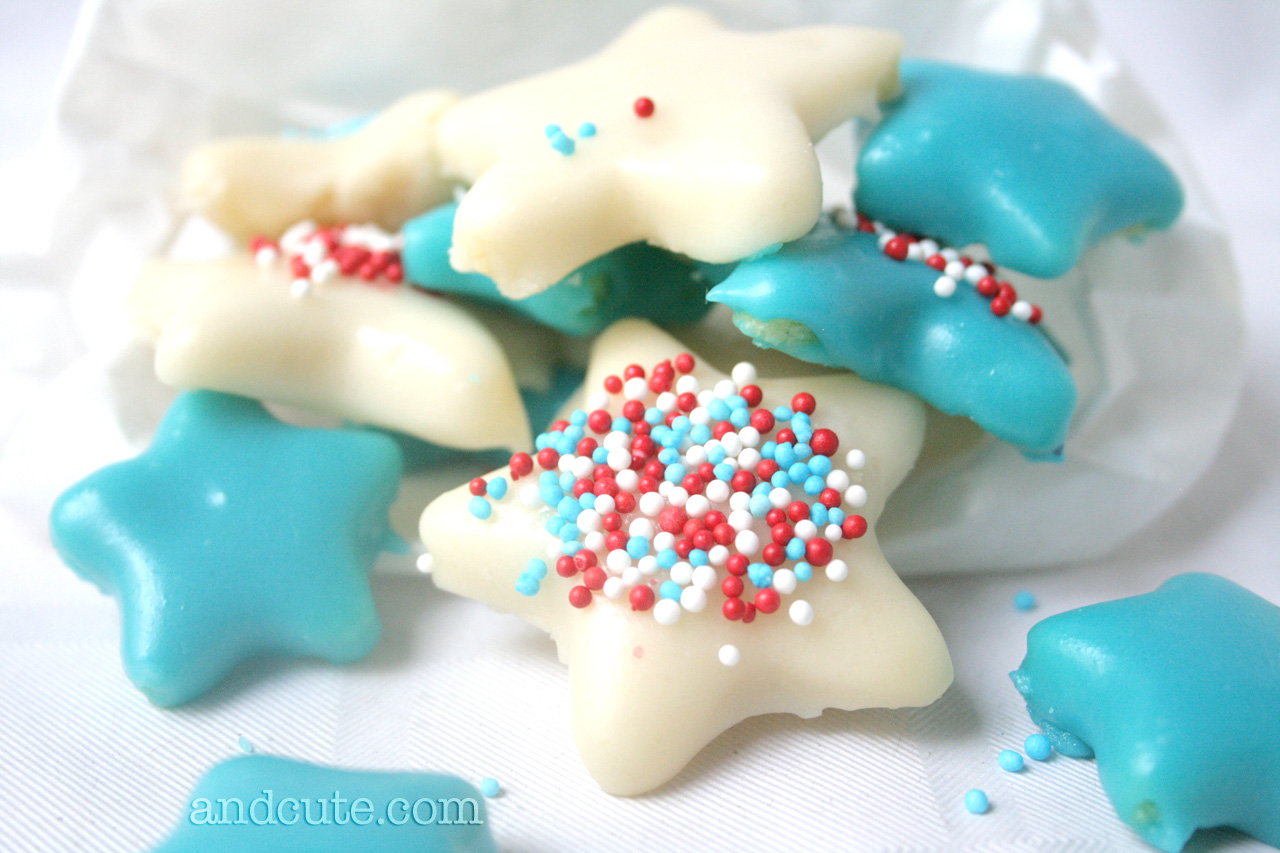 And reaping the sweet rewards that may come from it!
Yay!
Dani