This is one of the classic baking recipes that you will do again and again and it will be brilliant each time.

Now, you don't have to tell me that coffee and cake go together. In Germany we have an afternoon meal called "coffee and cake" (Kaffee und Kuchen) dedicated solely to, you guessed it, caffeinated beverages and sweets. Forget MP3 format, Aspirin, Beer and X-Ray technology – Coffee and Cake is the best German invention yet 😉 The types of cake vary from heavy cream cakes to simple pound cakes depending on the occasion. My idea of a coffee cake is not the kind where you need the coffee just to get the cake down because it is so dry. I prefer a moist and fluffy cake like this one: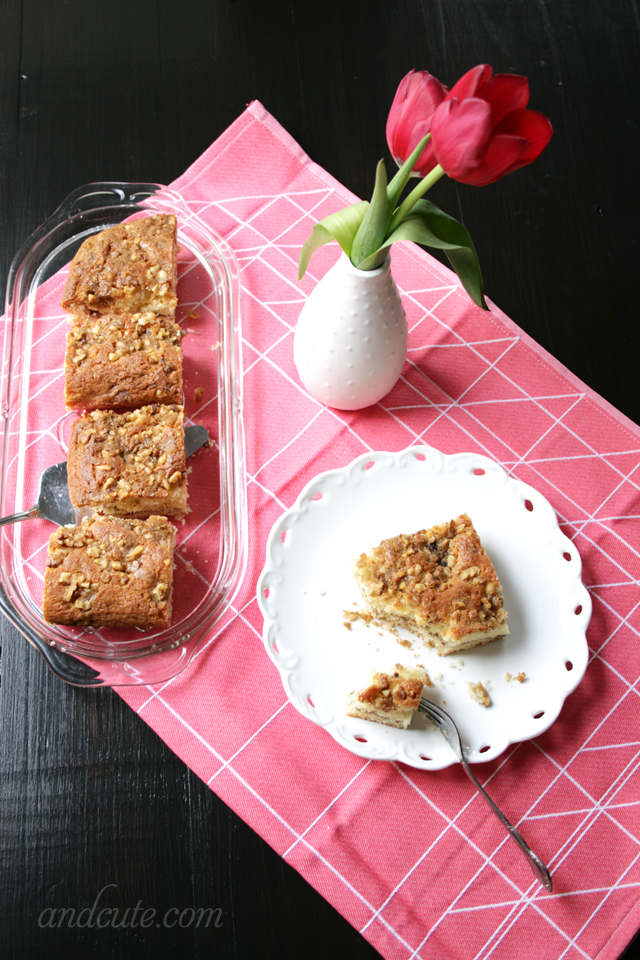 In the US, coffee cake is often served for breakfast – which I think is brilliant as well, I don't have to wait until the afternoon to eat cake, but get to do it first thing in the morning instead. I modified the recipe for coffee cake I found on allrecipes.com
Ingredients
1 cup butter, softened
1 cup plain geek yogurt
1 cup sugar
1 tbsp. vanilla extract
2 eggs
2 cups flour
1 tbsp. baking powder
Cinnamon Swirl
1/4 to 1/3 cup sugar
1 tbsp. cinnamon
Walnut Crunch Topping
1/2 cup brown sugar
1 cup chopped walnuts (or pecans)
2 tbsp. butter, melted
Method
1. Line a 9×13 inch dish with tin foil and oil it.
2. Cream butter with an electric mixer, add Greek yogurt, then add the sugar, then add eggs, one at a time, then add the vanilla.
3. Preheat the oven to 350F/180C.
4. Add flour and baking powder, folding it in by hand (with a spoon, not with your hands 😉 ) until it is just combined (it's ok, if the dough is lumpy, that will make it fluffy in the end).
5. Pour half the dough into the baking dish, spreading it our gently. Combine the sugar and cinnamon for the swirl layer, then generously sprinkle the sugar mix over the dough.
6. In small dollops add the second half of the dough and spread it out gently.
7. Combine topping ingredients and then spread the mix across the top.
8. Bake in the 350F/180C oven for about 40-45 minutes (depending on the depth and width of the pan your are using) until the top is golden brown and when you pull the rack out of the oven the cake doesn't wiggle or move. Insert a wooden skewer and if it comes out clean, you are done…well the cake is done anyways 🙂
9. Once cool enough to touch lift the foil from the pan and let the cake cool on a wire rack.
Do you want to try a piece?! Here you go: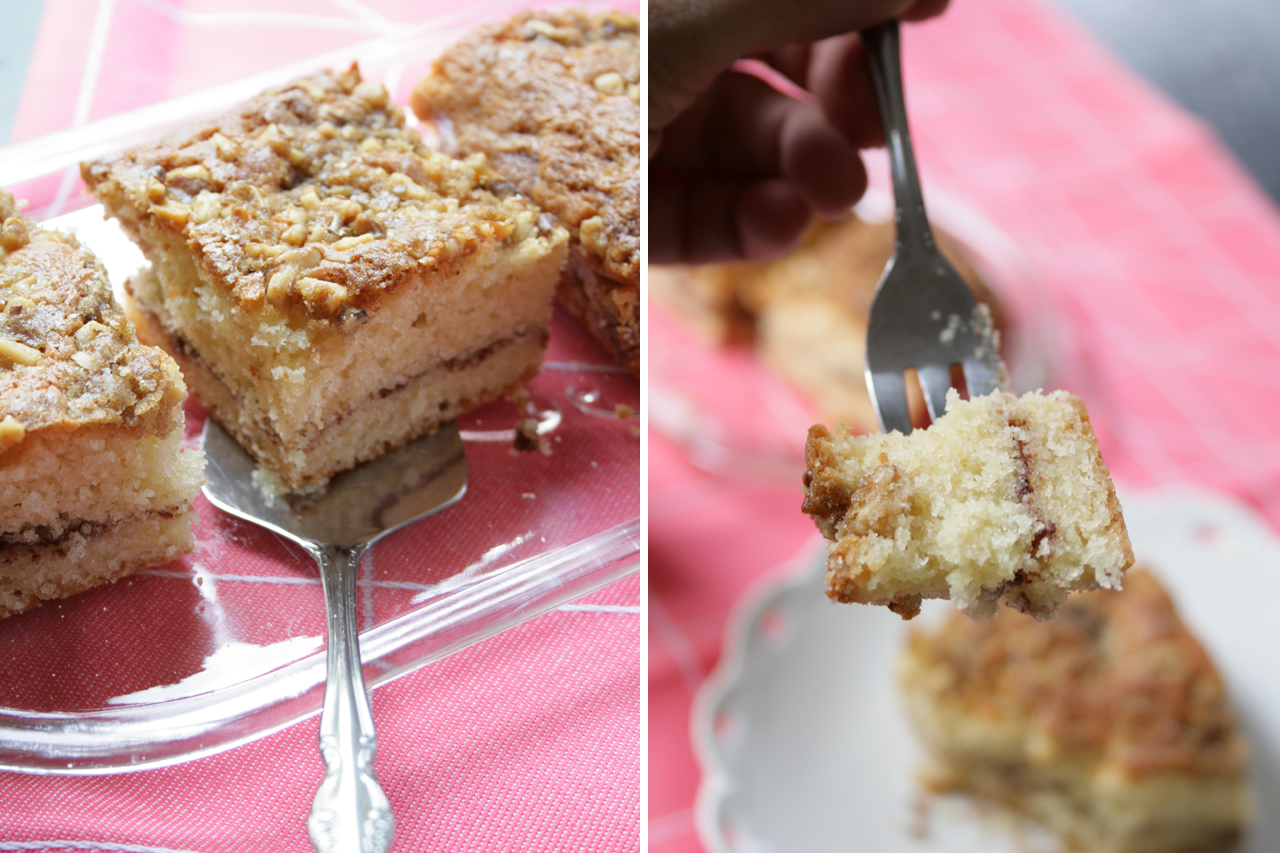 Good, ey? This is also a great breakfast to prepare ahead of time for a special occasion like Easter, Christmas, Birthdays, or Saturdays 😉
Hugs
Dani!