What is it with my thing for coconut lately?! What ever it is, it's working. This moist chocolate sheet cake topped with a coconut frosting is our latest edition for the Monday Munchies.

Ever since watching Ina Garten on Food Network I know that coffee brings out the chocolate flavor in a dish. This cake takes that principle and runs with it, runs with it far into the depth of the deepest coffee jungle. Though you don't taste the coffee, I just want to warn you to not feed this cake to your kids, unless you want them up all night 😉
I adapted the recipe from Martha Stewart to fit what I had in store.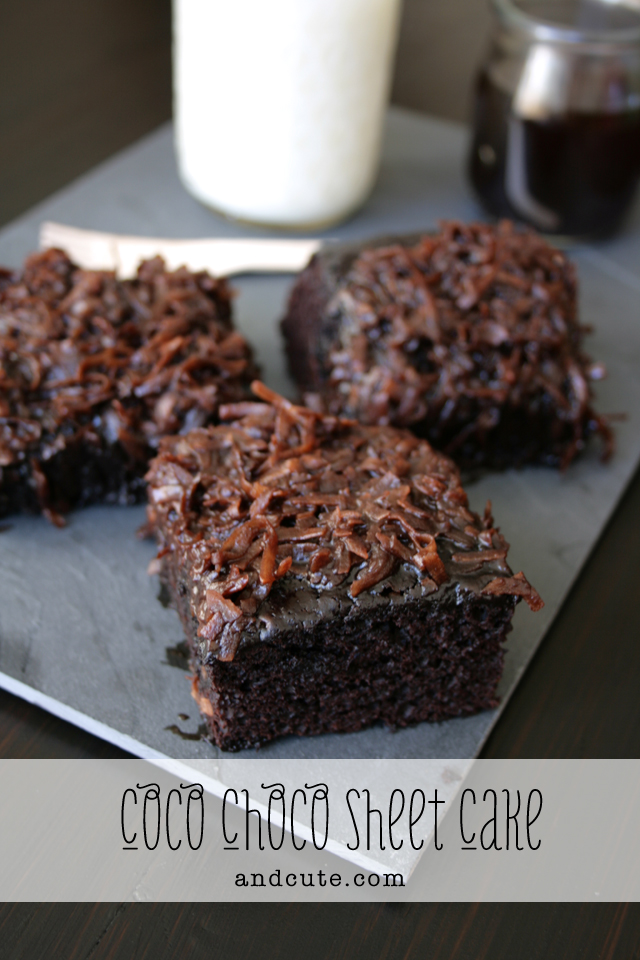 Ingredients
Cake
butter for pan
3/4 cup unsweetened cocoa powder, plus more for dish
1 1/2 cups all-purpose flour
1 1/2 cups granulated sugar
1 1/2 teaspoons baking soda
3/4 teaspoon salt
2 large eggs, lightly beaten
3/4 cup whole milk + 1 tbsp. vinegar (or buttermilk)
3/4 cup warm strong brewed coffee
1 teaspoon pure vanilla extract
Topping
1 stick unsalted butter
1 cup powdered' sugar
6 tablespoons unsweetened cocoa powder
2 cups shredded coconut
1/3 cup warm strong brewed coffee
1 teaspoon pure vanilla extract
1. Line a 9×13 in baking dish with parchment paper, so it hangs over the edges, butter the paper and sprinkle with cocoa powder. Preheat the oven to 350F/180C.
2. Whisk together the dry ingrdients (flour, sugar, cocoa, baking soda, salt).
3. Add wet ingredients (eggs, milk vinegar mix, coffee, vanilla extract) and blend together until well combined. Pour into baking dish. Bake for 25 minutes.
4. Meanwhile mix all ingredients for the topping together.
5. Remove cake from oven, let cool for 5 minutes then lift up the parchment paper and move the cake to a wire rack. Spread coconut topping on evenly and let cool completely.
Enjoy!
Hugs
Dani