Tonight is Halloween! It could also be called Candy Day! So what better time to show you this homemade honeycomb chocolate bar! When my sister lived in New Zealand for a while she found these delicious little treats, they are called Crunchie Bars made by Cadbury, not to be confused with the Crunch bar from Nestle. It seems to run in my family that we get addicted to things we can't have where we live. So for our last visit I wanted to surprise her with the homemade version of her favorite candy bar. The real thing is made with golden syrup that I also used for my peach sherbet, but I wanted to try a more honey based version – because it is honeycomb after all, though they call it hokey pokey in the UK and New Zealand. I followed a recipe by a Kiwi Chef named Steve. I highly recommend using a candy thermometer, that will ensure your honey comb is crisp and crunchy and not sticky hard.
Honeycomb Chocolate Bars – Homemade Crunchie Bars
Easy honeycomb candy bars made at home
Ingredients
1/4 cup sugar in the raw
2 tbsp. honey
1 tbsp. water
1 tsp. baking soda
100g chocolate
Method
In a heavy bottomed, small sauce pan combine the sugar, honey and water.
Over low heat dissolve the sugar and turn to medium heat and bring the mixture to boil until it reaches a caramel color or it has reached the hard crack temperature of 150C/300F.
Remove from heat and gently stir to help the bubbles settle down.
Now add the baking soda, keep stirring as this little experiment unfolds and then pour the contents onto wax paper or parchment paper.
Let cool and then crack into pieces.
Melt the chocolate in a water bath, then drop honeycomb pieces into it to coat, remove with 2 forks and let the access drip of. Place onto parchment paper until dry.
https://andcute.com/honeycomb-chocolate-bars-homemade-crunchie-bars/
Copyright (c) 2013 - andcute.com
For my continental European friends, make sure you use sodium bicarbonate (Natron) and not baking powder as it contains all sorts of other ingredients. Also make sure that your baking soda is fresh, this way you will have the best effect!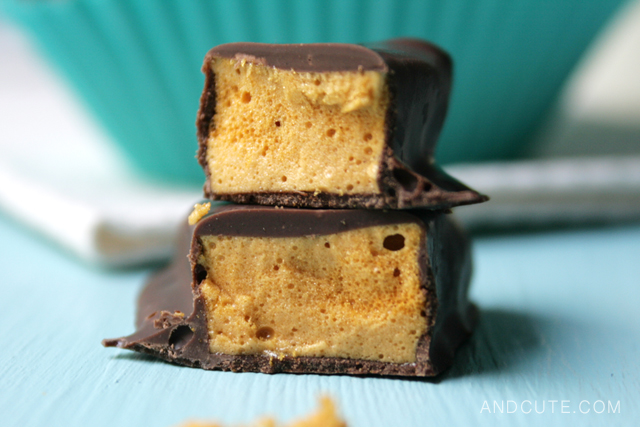 So, what's it going to be, trick or treat?
Hugs
Dani!