By now you might know I have a problem. I suffer from sugar addiction and with "suffer" I mean thoroughly enjoy anything and everything sugar. My latest fad and what I am binging on when the kids (who eat grapes and bell peppers) are in bed are nonpareils chocolates. They are super cheap in the local German supermarket and there is no reason to make them at home. Did I say no reason? I meant no rational reason.  But here goes my irrational reason: the sprinkles aren't pretty enough! There, I said it! So I had my go at it!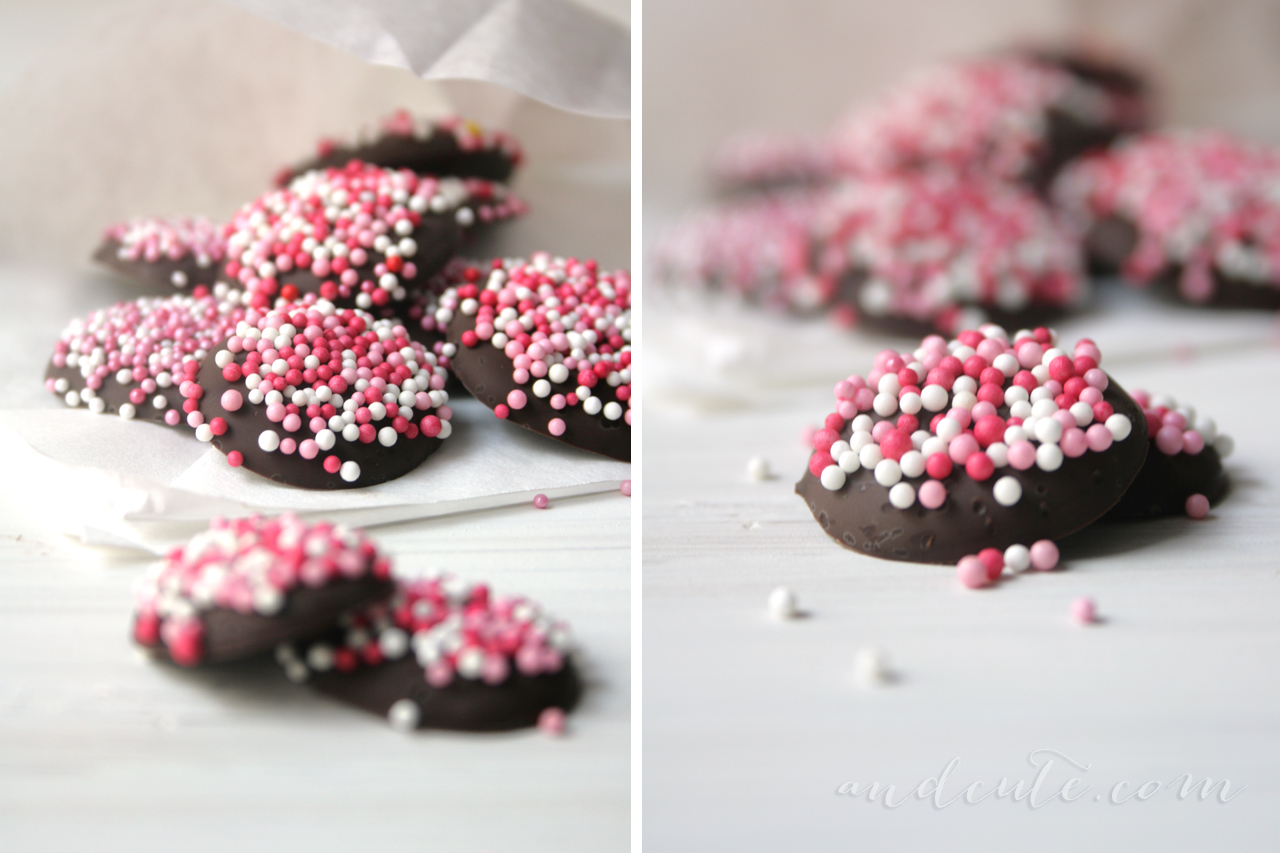 They turned out cute and did I mention, you need no chocolatier skills what soever!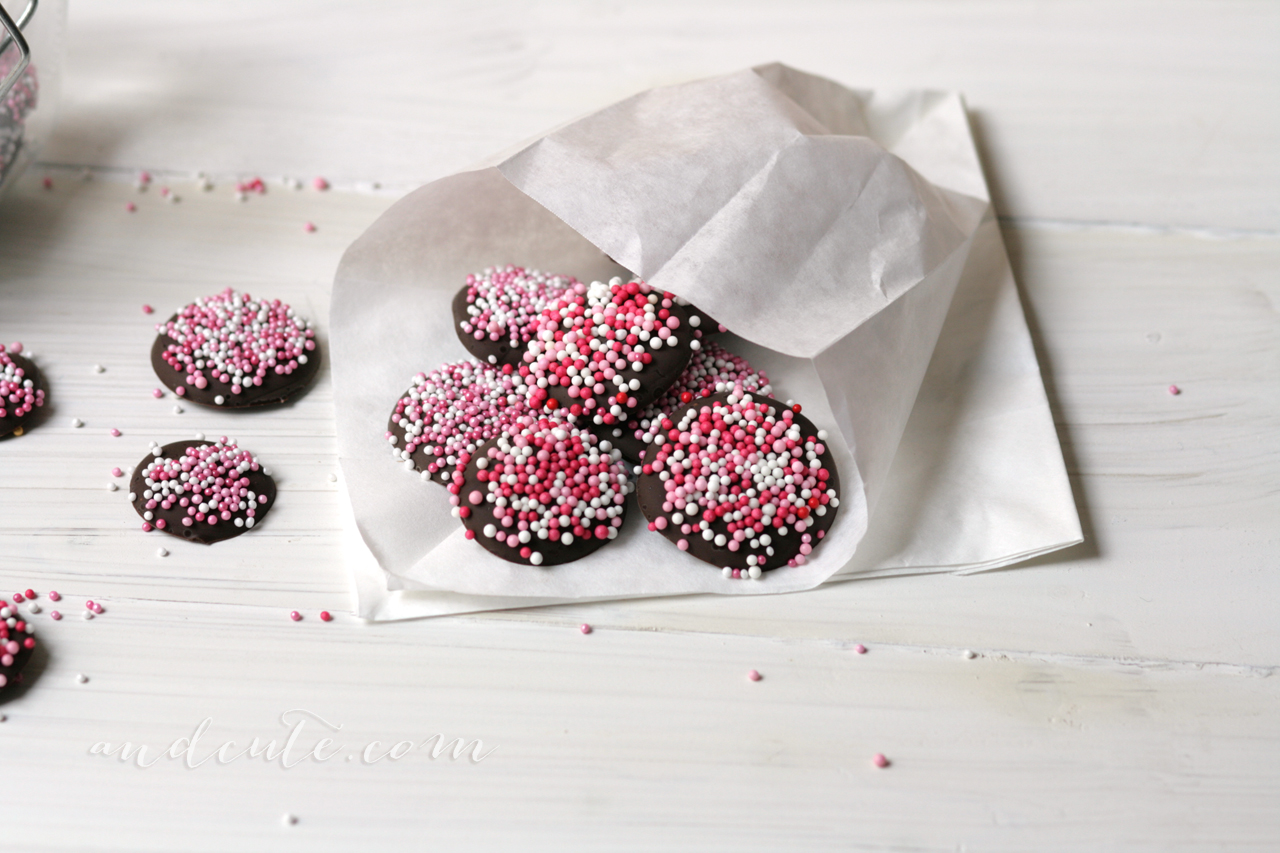 Wrap them them up for mom, for your guests at a party and change the sprinkle color to fit your theme!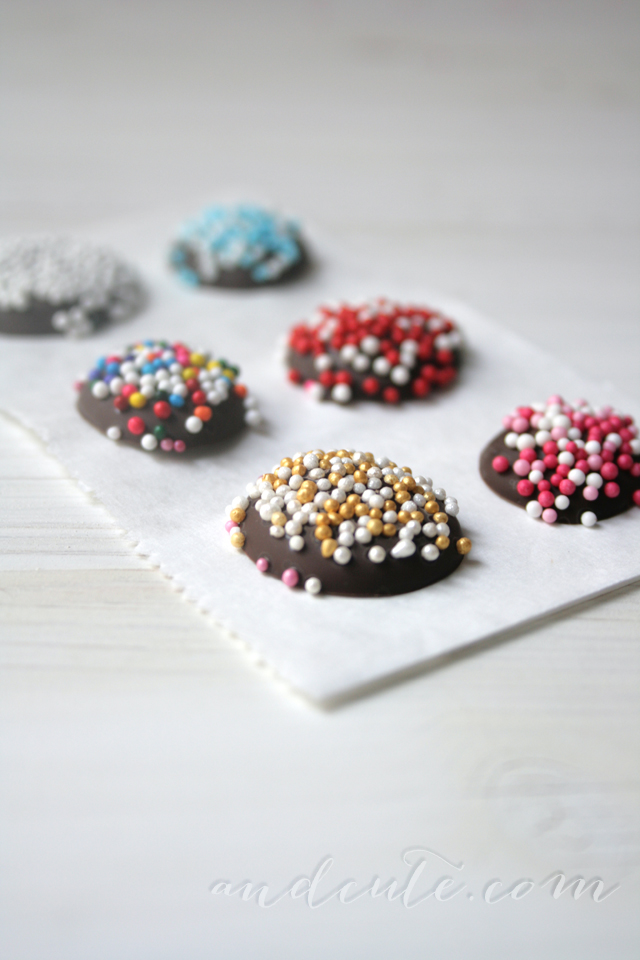 How about some tiny golden sugar balls? I got these pearl and golden sprinkles in Sweden!
Easy Peasy Nonpareils Chocolates
Ingredients
150g dark chocolate (or white)
sprinkles of your choice
Method
Break the chocolate into small pieces and melt them in the microwave in short 20 second intervals.
Pour small drops about 1cm (1/2 inch) circles onto a board covered with baking paper.
Gently sprinkle the nonpareils on top of the chocolates (I found pouring some into the lid of the container and gently tapping with my finger got the best spread).
Push the sprinkles in slightly, so they have a firm connection with the chocolate.
Let dry in a cool place.
https://andcute.com/easy-peasy-nonpareils-chocolates/
Copyright (c) 2013 - andcute.com
Ok, now go and make them. Be creative, use different chocolates, sprinkles, and make different shapes!
The world is your oyster! Your chocolaty, sugary oyster! 😉
Cheers!
Dani