I love appetizers in restaurants and for entertaining at home. The best are samplers of different appetizers that make a whole meal. These potato skins are a bit work intense but worth the effort! I basically followed the recipe from SimplyRecipes.com using the bake in the oven-way.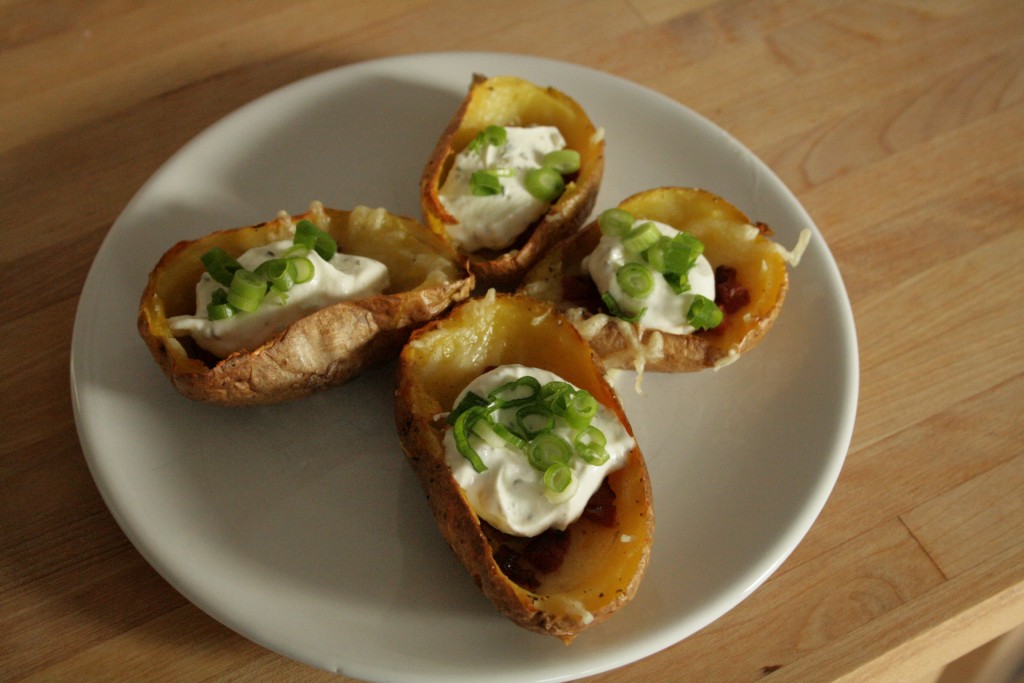 Ingredients

6 small to medium sized potatoes
Olive oil
Canola oil
salt
freshly ground pepper
bacon bits
4 ounces grated cheese
1/2 cup sour cream or creme fraiche
2 green onions
1. Scrub potatoes, rub with olive oil, place in a baking dish and bake in the 400 degree F oven for about 45 minutes.
2. Let cool until you can touch them without burning your hands (kind of nice 😉 ) Then half the potatoes and scoop out most of the potato part leaving a 7 mm rim. Rub with canola oil, crank up the heat to 450F and bake for 10 minutes.
3. Fry the bacon bits and chop the onion.
4. Flip skins and bake another 10 minutes.
5. Fill with bacon bits and grated cheese and broil for 2 minutes.
6. Top with creme fraiche or sour cream and chopped green onions.
Enjoy!
PS. The potato pulp makes a good ingredient for potato bread! (coming soon)