We have always been a very international family. When I was a teenager we hosted a student from New Zealand for a year, I now refer to her as my Kiwi Sister Courtney, we used to call her Shorty because she is about a head short than anyone in my family 😉 She developed a severe Nutella addiction, but that is for another post 😉 What Courtney also introduced us to was a typical Aussie/Kiwi dessert named Pavlova. A large meringue blob covered with cream and fresh fruit. The recipe was modified from the one of BBC Good Food.
Classic Pavlova with Fresh Berries
A crunchy sweet and fresh summer dessert
Ingredients
4 egg whites
200g very fine sugar sugar
1 tsp cornflour
1 tsp vinegar
1 tsp vanilla sugar
400g heavy whipping cream
2 cups fresh raspberries, strawberries, and blueberries
Method
Preheat the oven to 160C/320F.
Whisk the egg whites on medium high speed until stiff and glossy peak just occur.
Gradually mix in the sugar, one iddy bit at a time. Keep whisking until the peak become more and more stiff.
Now gradually add the corn flour, then the vinegar.
Spoon the meringue onto a parchment paper lined cookie sheet. Turn down the oven to 120C/250F and bake for an hour and a half.
Turn the oven off, open the oven door slightly and let cool completely in the oven.
Whip the heavy cream and vanilla sugar to stiff peeks.
Peel parchment paper off the pavlova and place on a cake stand, cover with dollops of heavy cream and decorate with washed fresh berries.
https://andcute.com/classic-pavlova-with-fresh-berries/
Copyright (c) 2013 - andcute.com
This is a perfect summer party dessert, you could even think about making it in individual sized mini pavlovas.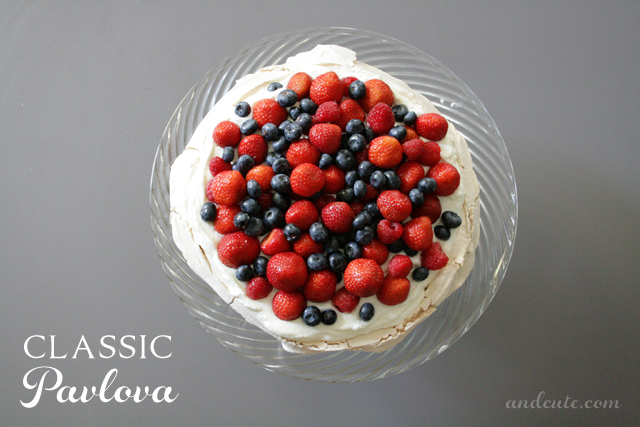 What is your favorite summer dessert?
Hugs!
Dani!