It was my birthday not too long ago, I turned 29 for the third time and though on the day itself I opted for a frozen Milka Kuhflecken Torte from the store, on the weekend when our neighbors Kerry and Ralf came over, I went all out, balls out – lol – and make cake pops.

Cake pops are the latest craze in the baking world, they are made for birthday day parties and weddings alike. Bakerella pioneered those little goodies on the net and they have been soaring ever since. Basically a cake pop is cake and frosting smooched together, rolled into a ball, covered with chocolate or candy coating and stuck on a stick. Do you know any food that wasn't a success on a stick? Corn dogs? Ice cream? And now cake on a stick – hooray!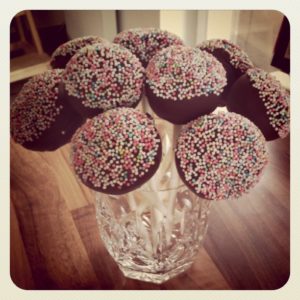 Give yourself at least 2 days to make those.
1. First we need a cake, I followed this recipe from thekitchn.com
Dark Chocolate Cake
makes two 9-inch round cakes or three 8-inch round cakes
2 cups white sugar
1 3/4 cups all-purpose flour
3/4 cup cocoa powder
1 1/2 teaspoons baking powder
1 1/2 teaspoons baking soda
1 teaspoon salt
2 eggs
1 cup milk
1/2 cup vegetable oil
2 teaspoons vanilla extract
1 cup boiling water
Heat oven to 350°F. Grease and flour two 9-inch round baking pans, or three 8-inch round baking pans.
Stir together sugar, flour, cocoa, baking powder, baking soda and salt in a large mixer bowl. Add eggs, milk, oil and vanilla; beat on medium speed of mixer for 2 minutes. Mix in boiling water – the batter will be quite thin. Pour batter into prepared pans.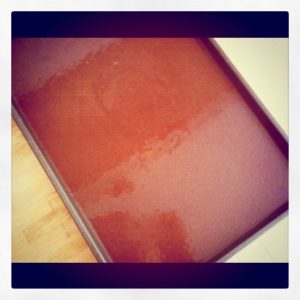 Bake 30 to 35 minutes or until wooden pick inserted in center comes out clean. Cool 10 minutes on a wire rack, then tap the cakes out of the pans. Cool completely before frosting.
This made a super moist cake! Almost too good to destroy…almost!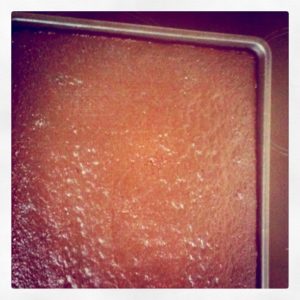 2. Now mix together in a huge bowl the frosting:
8 ounces cream cheese, softened
2 cups confectioner's sugar
4 tablespoons butter
1 tablespoon milk (or more, as necessary)
3. Crumble up your completely cooled cake. Use child labor like I did 😉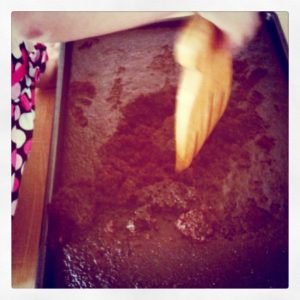 4. Add your cake crumbs to the frosting mix in the bowl and mix until it looks like "dough" again.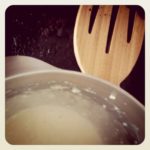 5. Roll balls ca. 2 tbsp, a little smaller than a golf ball. I had the larger sticks from Wilton and didn't want to make the balls too small, then I made them too big – note to self do not try to stick tennis ball sized dough ball on stick and expect it to hold…
6. Put those balls on a wax paper lined baking sheet or tray and put them in the fridge for about 2 hours.
7. Now melt one to 2 small blocks of baking chocolate ca. 50g in a glass bowl in the microwave, 30 seconds at a time and stir in the last pieces. DO NOT LET YOUR CHOCOLATE GET TOO HOT. The double boiler in water did not work for my first batch, the chocolate seized up too quickly due to overheating and moisture! Dip your sticks into the melted chocolate and stick them into the cake ball, half way through the ball. Let those cool completely in the fridge (ca. 10 minutes).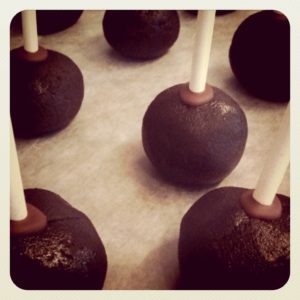 8. Now melt the rest of your chocolate in the same glass bowl (ca. 200g), I opted for a very small bowl that I could pick up with one hand and twirl around the balls to help covering them. So get your balls out and dip them in the chocolate (I always wanted to say that at some point in my life 😉 )
9. Let excess chocolate drip off and give the stick a little tap on the rim of the bowl…nice and gentle. Then place the pop into a prepared Styrofoam block, so it can dry in ball shape. You can also place it ball side down back on the wax paper.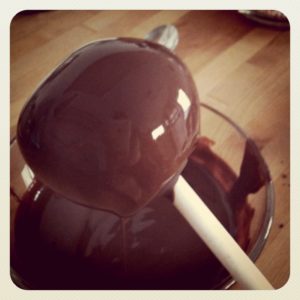 10. Get the next cake pop ready with chocolate and place it to dry. Then take the first pop and as the chocolate dries, loses it's shimmer, dip the pop into some colorful sprinkles. If you do it too early it will be too wet and all the sprinkles will be in the chocolate not on it, if you wait too long the chocolate is too dry and no sprinkles will stick.
11. Place them back to dry completely. Do not put them back on the fridge because the chocolate will start "sweating" or "weeping" and who wants to see chocolate cry?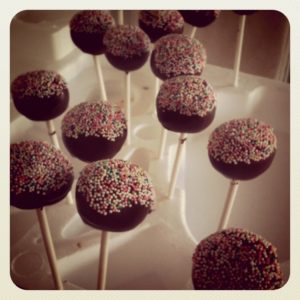 12. When dry you can arrange them in a glass for serving 🙂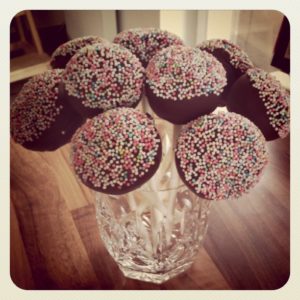 Those were AMAZING and I will quote one my Mike's colleagues Sabina who got a taste:
" got a delivery from Mike today….honestly that was the tastiest I've ever eaten…! 🙂 You should open your own bakery, you'd make a fortune in a heartbeat! Thanks so much for an unbelievable chocolate experience! "
My friend Kerry indicated she might want to eat this little goodie in private – it might get ugly 😉