These sweet darlings are based on the 2 layer cheesecake recipe my husband's grandma used to make. I simply halved the recipe and cooking times 🙂 Make this one day ahead to give it a chance to cool in the fridge.
Ingredients

1 egg
8 oz. cream cheese (226g)
1/6 cup sugar
_________
2 tbsp. butter (melted)
a little less than 3/4 cup of graham cracker crumbs (Germans you can use a cheap, not too sweet Butterkeks)
_________
8 oz. sour cream (227g)
1/4 cup sugar
1/4 tsp. vanilla extract (optional)
1. Line a cupcake pan with liners 6 to 9, it doesn't really make 12 🙁 Preheat the oven to 350ºF (176ºC)
2. Mix the ingredient for the crust (butter and graham cracker crumbs)
3. Scoop roughly 1 tbsp. of the crust mix into each lined cup and press it down with a spoon.
4. Mix the first layer ingredients: cream the cream cheese, add the sugar and then at last add the egg. Take a tablespoon (an actual table spoon) and scoop 1-2 dollops into each cup.
5. Bake for 10 minutes at 350ºF (176ºC), remove from oven and let cook for 10 to 15 minutes. Meanwhile crank up the the heat to 450ºF (230ºC).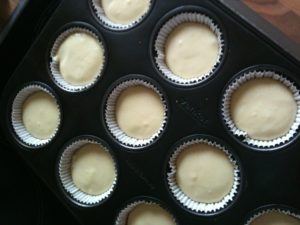 6. Mix the the second layer ingredients: sour cream, sugar and vanilla.
7. Scoop one tablespoon of the mix on top of the cupcakes. Return to the oven for 3-5 minutes.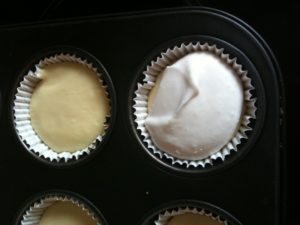 8. Remove from the oven, let cool for 20 minutes and put them in the fridge to cool them overnight.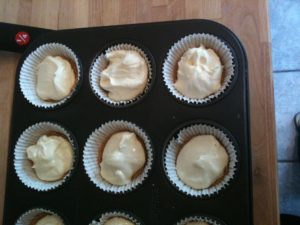 9. Serve with your favorite toppings (fruit, sauces…)