When we were in London a few weeks ago, we got to look behind the scenes of the Apero Restaurant in the Ampersand Hotel and we even got to interview a chef, a real life chef.

I've also been told by 2 different ladies I should enter this months Photo Challenge over at Jungle Frog Cooking  (an amazing Food blog) because this month theme is "On Location", basically food and cooking anywhere but your own house. Immediately, I thought of the image I shot of Pastry Chef Ji Sun Shin topping fresh scones with clotted cream and strawberry jam – oh my, so good!
Now, I will let you in onto the secrets of a 5 star chef.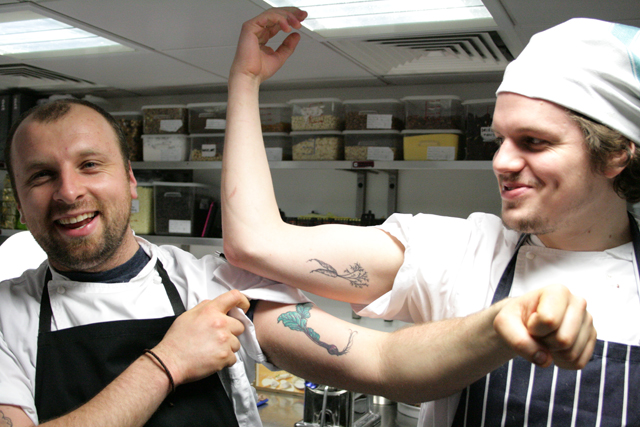 This is chef Chris on the left and Dutch Cook Christof on the right.
Chris has more than 500 cookbooks that give him inspiration. However, the most influence on his cooking have the seasons. Getting his produce while it's in season from small suppliers is key for him. He showed us garlic leaves that came in season just 2 days ago and let us taste some grapes that would only be in season for 2 weeks and tasted like bubble gum. So you really have to know your agricultural calendar. Working with small suppliers for the meat and fish Chris uses is also very important to him, because he likes to be able to talk to the guys and get all the details about the groceries he's buying. His use of seasonal ingredients also explains why he switches up the menu each week, changing up 2 or 3 dishes.
The chef's signature dish is his beetroot risotto. Passion for this red beet might explain his ink choice 😉 The risotto was heavenly, even for someone who does not share Chris' love for beetroots. According to Chef Chris, the formula to a good dish is 80% flavor and 20% looks. So you see, I hd it all backwards, mine is more like 80% looks 20% flavor…just kidding, if it didn't taste good I would not be sharing it with you 🙂
When I asked Chris which three items he would take with him onto a deserted Island where he would have to be the chef for everyone, he said this Japanese Apple Slicer was by far his favorite tool. It's the coolest thing check it out.
What I've learned from this interview is to get more acquainted with seasonal produce and make sure the quality of my ingredients is top notch. And that I need to get me one of them slicers 😉
Hugs!
Dani