Dani brings dessert! That is what I hear from the hosts of the parties and gatherings I go to. It makes me feel good, because I know at least my friends are reading my blog and know what I do here week after week…shenanigans with sugar – that about sums it up! So what better to bring to a birthday party than something funfetti?! Remember the Funfetti Scones? Funfetti equals Birthday – if there is one thing I have learned from my time in the US – it is that! You won't see me complain about an abundance of sprinkles! And now I must confess the truth, if  you follow me on facebook, you know that my sprinkle procurement is sometimes very exhausting, so the amount of sprinkles used is a direct function of how much I like you and are willing to share my most precious possessions with you! Judging by the looks of these sprinkle bombs I must really like my friend Almendra alot 😉
For this recipe you will need a doughnut pan, I used this one from Wilton and adapted the recipe that came with the tin.
Perfect birthday sprinkle load!
Ingredients
2 cups cake flour
3/4 cups fine sugar
2 tsp. baking powder
1 tsp. salt
3/4 cup buttermilk
2 eggs lightly beaten
2 tbsp. butter, melted
1 tsp. vanilla extract
1/4 cup of colorful sprinkles

Frosting

1 cup powdered sugar
2 tbsp. melted butter
1 tsp. to 1 tbsp. water
Sprinkles
Method
Preheat the oven to 425F/200C and grease the doughnut pan.
In a large bowl sift together the dry ingredients.
Add buttermilk, eggs, butter and vanilla and mix until just combined.
Then add about 1/4 cup of colorful nonperelli sprinkles and gently fold them in, making sure you mix for as short a time as you can, or the color of the sprinkles will fade into your dough.
Fill each doughnut cup ca. 1/2 full and bake for 7-9 minutes. Remove from the oven, let cool for a minute then place doughnuts on a cooling rack and repeat with the rest of the dough.
This makes ca. 16 donuts.

Frosting

Mix all ingredients for the frosting and add water, little at a time until you have a smooth yet thick frosting.
Gently dip a cooled doughnut into the frosting and top with more colorful sprinkles (you can also gently press them into the sprinkles).
https://andcute.com/baked-funfetti-donuts/
Copyright (c) 2013 - andcute.com
These are nice because they are portable and yet have a wow effect! I'm always going for the wow – effect, you know that by now 😉
Lookie Wow-Effect: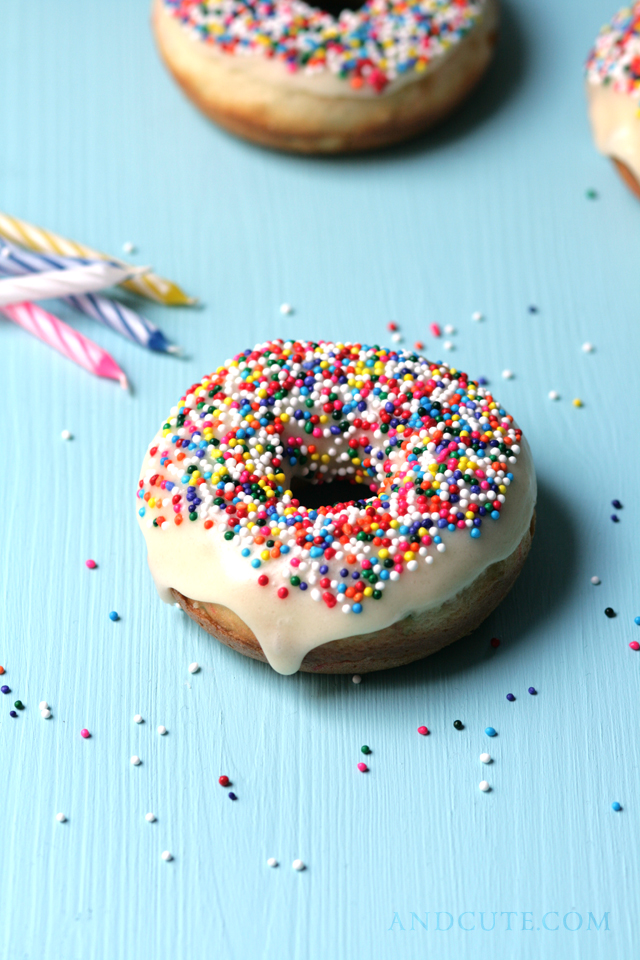 Lookie: Portable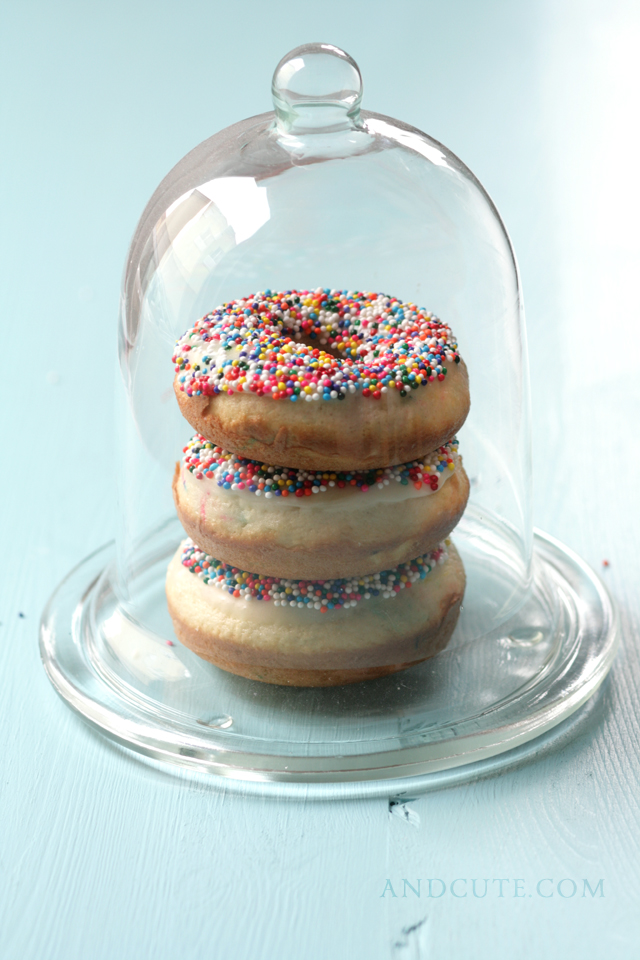 So, who is inviting me over?! 🙂
Hugs!
Dani