On Monday 20% of my Instagram friends posted a pic telling their followers they are now on Vine. Being German, the phonetics of this Vine made me think of a nice Merlot or Chianti. So, I had to check it out!
Low and behold, I too ended up telling my IGers (hip gangsta term for Instagram friends or followers) to find me on Vine. Here is the 6 second run down of what Vine is:
6 second video clip app for your smartphone
a new social network developed by Twitter, Inc.
it was released last week on Thursday January 24, 2013
most first clips posted by users involve kids or pets
I am guilty of the first. This my little Emily jailbreaking her PJs.
you can find clips and have your clips discovered via hashtags #
they have a few hashtag groups on the main explore screen that make finding what interests you more easy (I'm the burger, haha)

Here is what can be improved in my opinion and I am sure there will be many tweaks and changes after the first roll out.
ability to tag users with @ symbol as we know it from other social networks
disabling notification when someone else leaves a comment on the same clip I did (this gets very annoying when you commented on a "big site" or popular people who get lots of comments following yours)
not sure if 6 seconds equals the brevity of 140 characters in type, but I think 15 seconds would allow for even more creativity
ability to share clip after it has been posted to vine, right now you can only chose the sharing option as you publish it
add more sharing options like email, google+ ect.
So why use it!? Personally, I find the video-sphere to be my next social frontier. As I told you in 5 Reasons to Attend an Online Blogging Class, making a YouTube video is on my online bucket list, but first I have to work up the courage to get in front (or even behind) the camera. A video is very personal. It combines two sensory modalities and people love watching pictures in motion – you might have heard of a small venue called the movie industry!? or a small website called YouTube?! 🙂 Videos allow the audience to feel like they can take part in someone else's life, from the comfort of – well – wherever they are. As bloggers we strive to make connections with people and build a community. Seeing a video of the other person (hearing their voice!), seeing their space, their interest, their daily life – basically seeing the world through their eyes even for just 6 seconds makes me feel like I know this person and can truly relate to them.
I'd say let's go out there and expose ourselves a little more! Make the formerly known anonymous online world be inhabited by real life human beings. Let's add another dimension to our story! We are still the editor in chief and can scream "CUT!" at any point 😉
What are your thoughts? If you have a Vine account, what's your username?
I am andcute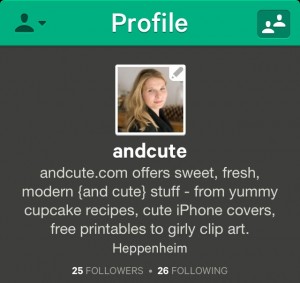 Hugs!
Dani!