Fondant is all over the place when it comes to cake decorating and candy making. I was always quite intimidated by it, because first you don't easily find it but have to order in specialty stores and it can be tricky to work with. Low and behold the very first time I worked with (online ordered) fondant was an epic fail. The dough was so brittle and tore as soon as I put it on top of my (then) 3 year old's birthday cake – then there was fondant flying everywhere. Before I ordered online I researched making my own fondant, but it seemed very complicated (use of glycerin?!) or cheating (melting marshmallows). So I moved on and forgot all bout it until I stumbled onto a candy making book from 1913. In this book it was easily explained and the recipe called for just 3 simple ingredients, all of which were in my possession, hurray!
Wow, I just now realized this book is exactly 100 years old, I will give you the 2013 version though, so you don't have to worry about instructions like "remove from the fire at once" 🙂 I made a small batch that would be perfect for candy making, or cupcake and cookie decorating. I am not sure how it would behave rolling thin and using it on a larger cake.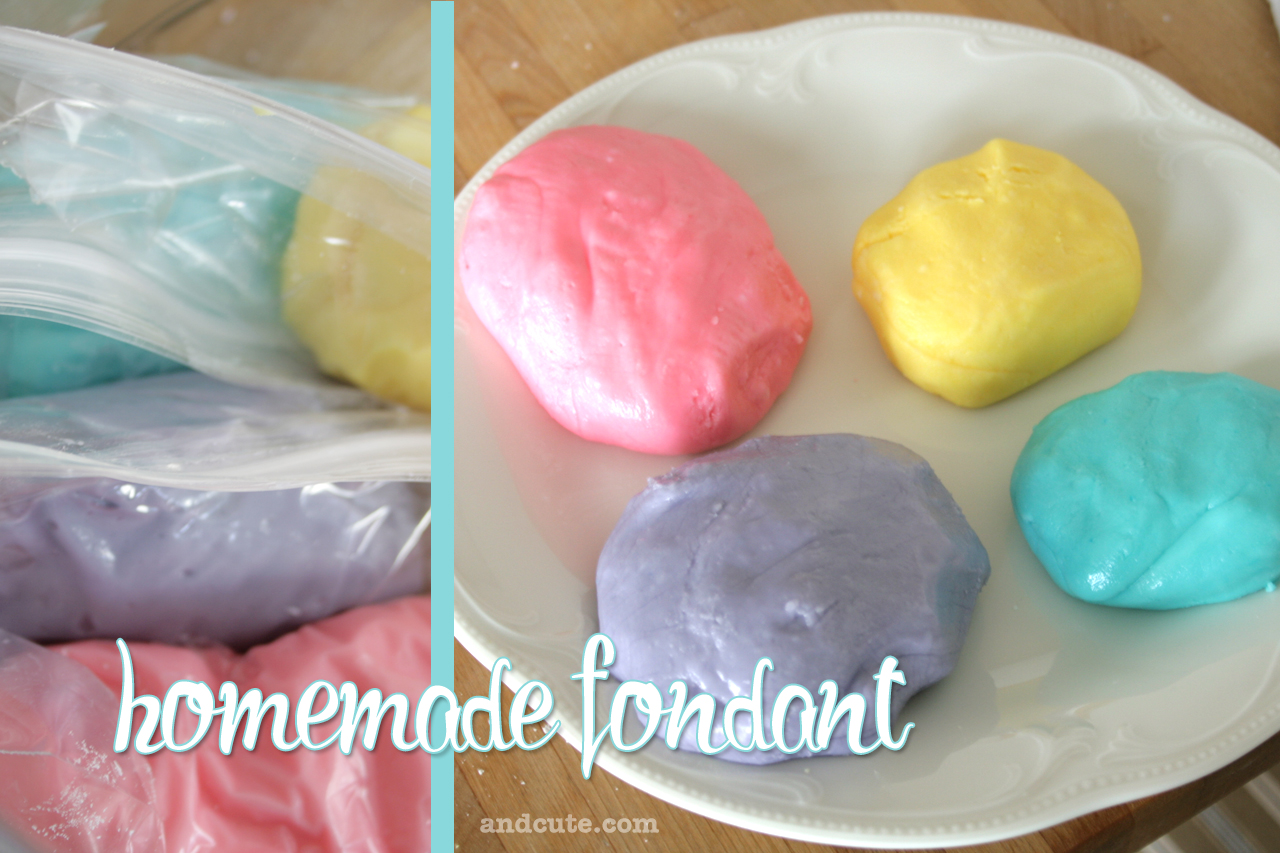 Ingredients
3 cups sugar
1 cup water
pinch of cream of tartar
Method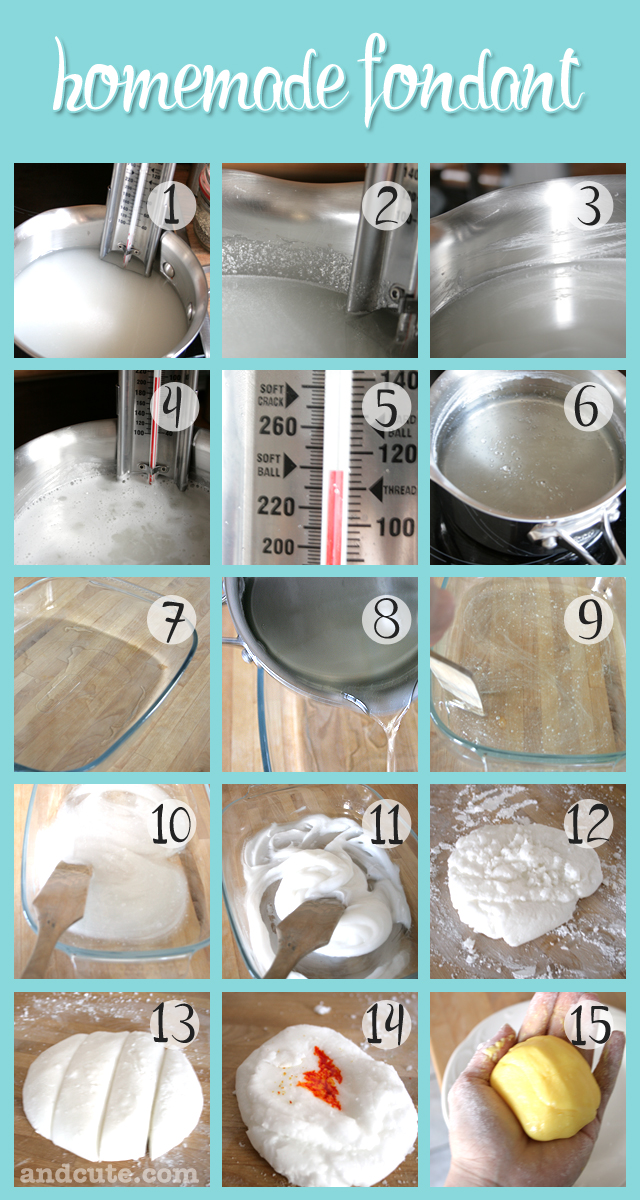 1. Combine sugar and water in a sauce pan and over low heat warm up, stirring to make the sugar dissolve completely (no more crystals!), once the sugar is dissolved stop stirring. Attach a candy thermometer to the side.
2+3. Wipe away crystals from the side of the pot with a wet cloth. Crank up the heat to medium low.
4. When the syrup starts boiling slightly, add the cream of tartar and give the mix a good stir.
5. Continue to boil without stirring until your candy thermometer has reached 240F/115C – the soft ball stage.
6. Remove from heat immediately and allow to cool for 4 minutes until all the bubbles have settled.
7. Wet a large glass pan with water, by rising it without drying it.
8. Pour the syrup into the pan and allow the syrup to cool down to a point when you can comfortably stick your finger in the middle of the pan (ca. 15 minutes).
9. Using a dough scraper or wooden spatula start stirring the mass writing number 8s over and over.
10. You can see the mixture turning opaque, keep stirring. This is called "creaming the fondant".
11. Then it will start turning more white and become harder.
12. When it is so hard you can stir no longer, knead the fondant on your counter top (using powdered sugar or starch to keep from sticking).
13. Cut into portions depending on how many colors and flavors you want.
14. I used liquid yellow food color and lemon aroma oil (the kind meant for flavoring food). Gel color worked just as well (teal).
15. Keep kneading in the color and flavor in your hands until you have an even and cohesive fondant ball.
16. Place fondant ball onto a plate and cover with a damp towel, let sit for at least an hour, this is called "curing the fondant". It allows the flavors to fully soak in.
17. Knead once more after the fondant is done curing. Use at once or store in a zip lock bag placed into an air tight container.
I was really happy with the results! It is key to keep the moisture added in terms of flavor and color to a minimum. Next I will try some chocolate flavored fondant.
What are you going to make with your own fondant?
Hugs
Dani!