These sprinkle covered sugar cubes are an easy DIY gift for all your tea drinkers, coffee sippers and sugar addicts. I told you about my obsession with sugar bags, so of course sugar with sugar on top will be a hit in my book. What is not to love about a gift you can eat?! I contemplated wrapping it in bacon, but really didn't want to cause any cardiac problems with you my dears 😉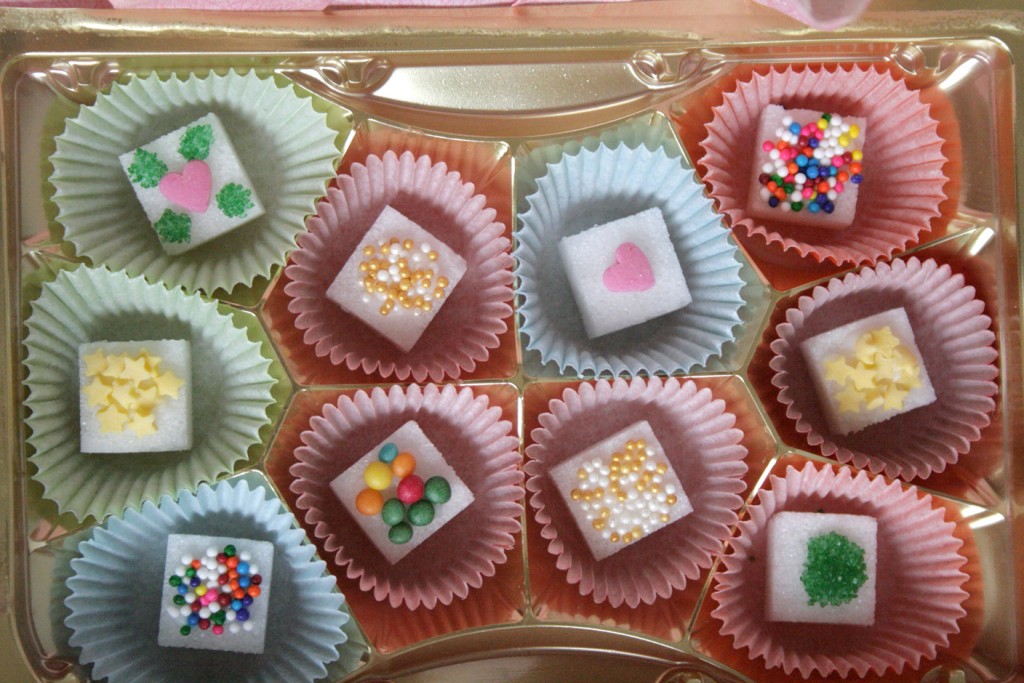 Decorating sugar cubes is just like decorating cookies – if they were really tiny cookies. Here is what you need:
Material

sugar cubes, as many as you like
various sprinkles (make sure you have some large element ones, like hearts and stars)
1/2 cup of powdered sugar
1 1/4 tsp. water
piping bag with small round tip (I used Wilton #3)
an empty chocolate box (redecorated if you like, with some card stock and glue)
small paper liners (those used for making truffles and chocolate)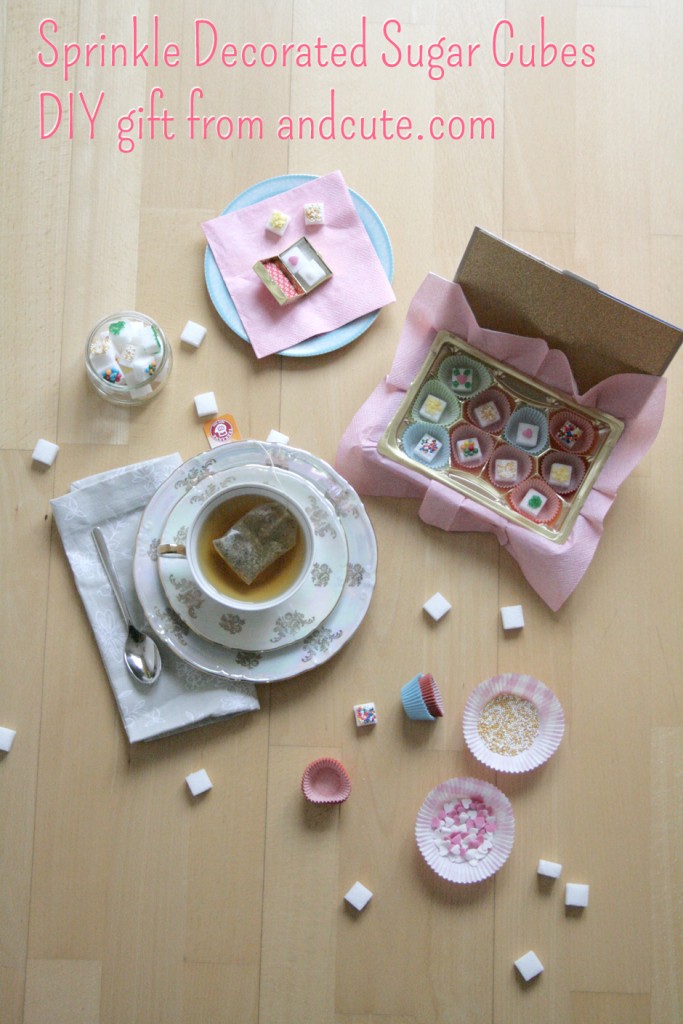 1. Lay out the amount of sugar cubes you want to decorate. Put your sprinkles in cupcake liners or small tins. Mix the "glue" by making sugar icing and combining the powdered sugar with water (1/2 tsp. at a time). You want a rather thick icing consistency.
2. Fill your piping bag with the icing mixture. Dab small dollops on the sugar cubes, press larger elements on top or dip for small sprinkles.
Get creative and have fun with it. Try tracing out shapes with the icing and then dipping it into colored sugar dust. You can package the little sweeties in many different ways. I tried three ways and like the chocolate box version the best, how about you?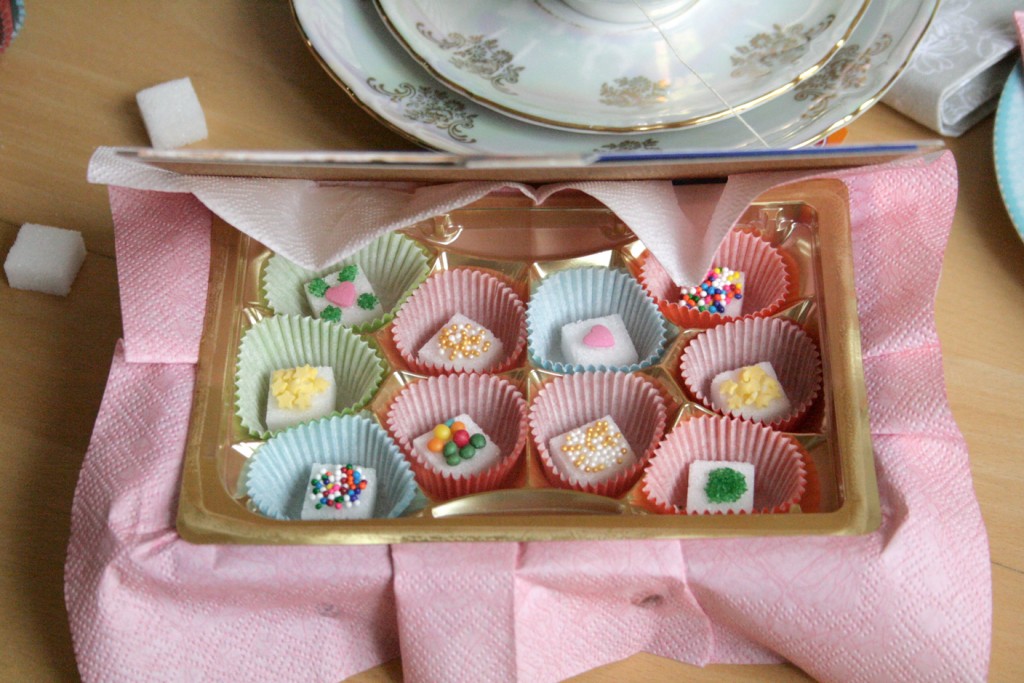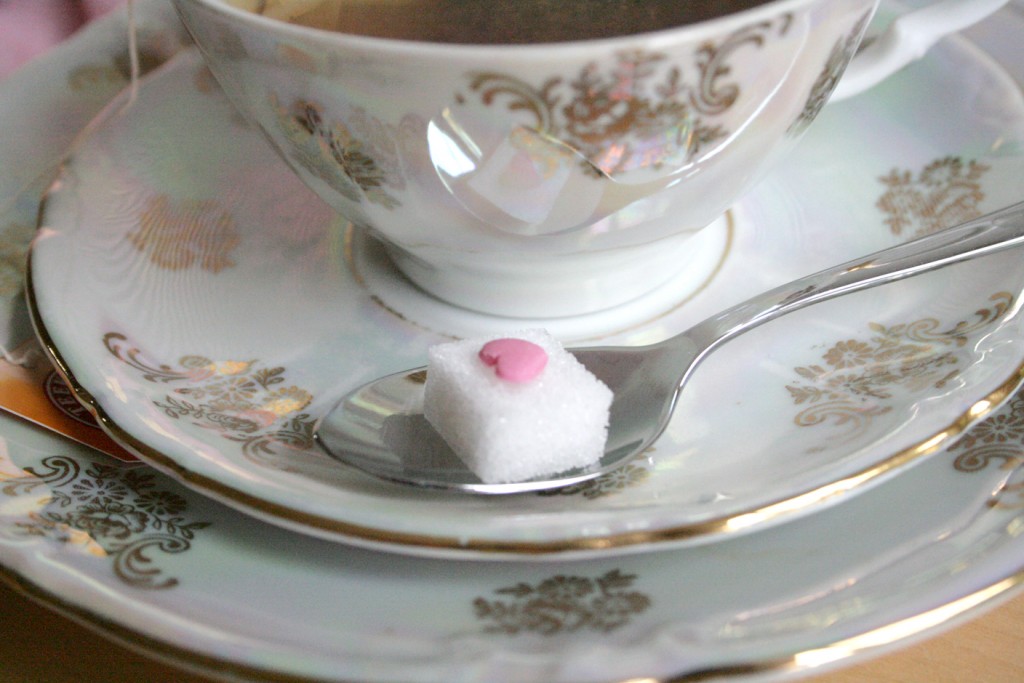 I made some tea in my Grandma's collector cup – perfectly served with pretty sugar cubes.
Hope you will try this!