You know how around Christmas time Santa gets all the credit? Don't get me wrong, he is a hard working man, but if you really think about it all the little elves made those toys we enjoy under the Christmas tree. (Hush, don't tell me my iPhone 5 wasn't made on the North Pole, you'll break my heart 😉 ). They need some credit and some gratitude. And how does one show gratitude better than with a box of cookies. Teeny, tiny cookies!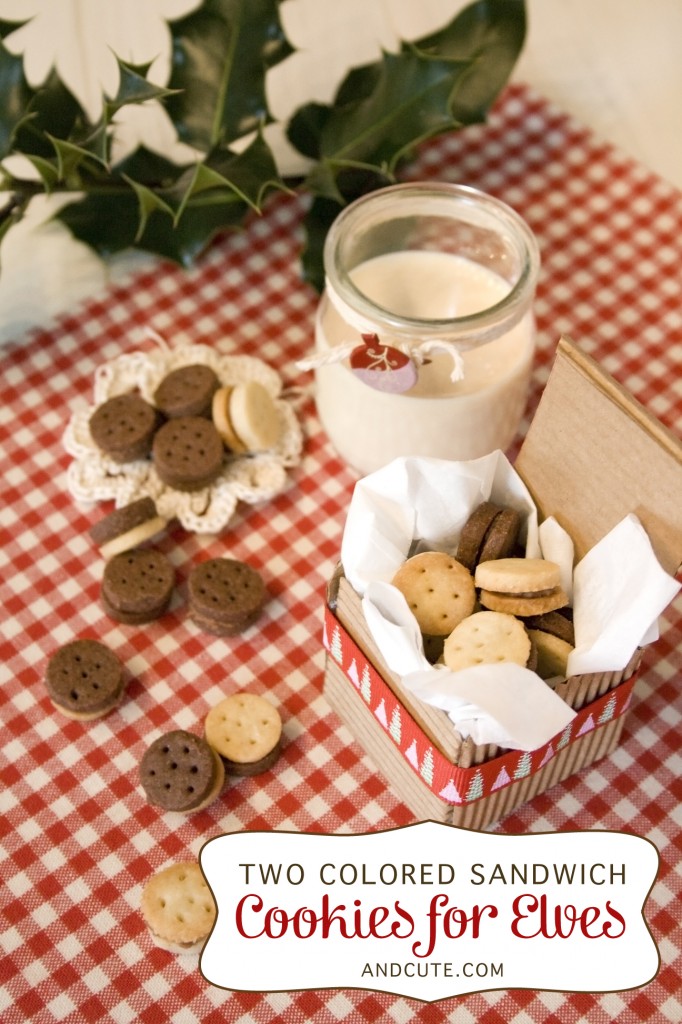 I spotted these mini cookies at La Recta de la Felicidad and knew exactly who they would be for – the elves – of course 🙂 As always, I made some adjustments. I split the dough in half and added baking cocoa to one part just to spice it up a bit. I replaced the filling with one I loved and used earlier in my chocolate macaroons that worked amazingly well.
Ingredients

Dough

400g flour
125g sugar
200g butter, chilled and diced
1 egg
1 pinch of salt
2 tbsp. of cocoa powder (baking kind)

Filling

100g whipping cream
100g dark chocolate, chopped
20g butter, cut into small pieces
Pinch of sea salt
Method
1. Mix all dough ingredients (except for coco powder) together (I ended up using my hands) until you have a cohesive dough ball. Split the dough ball in two and add 2 tbsp. of dutch processed cocoa powder to one of the halves.
2. Roll out dough between two pieces of parchment paper as thin at 3 mm (mine was 5 mm in some spots). Place in the freezer for 30 minutes. Line 2 baking sheets with parchment paper.
3. Using an apple corer, or a tiny cookie cutter (1cm diameter), cut out cookies from semi frozen dough and place on baking sheets. Using a bbq skewer poke typical cookie wholes into the cookies. Freeze for another 15 minutes. Preheat the oven to 350F/180C. Bake for 5 minutes.
4. Gently warm all ingredients for the filling in a pot over medium low heat. Let cool slightly and fill into a piping bag using a small round tip. Pipe some filling on one cookie and gently press a second cookie on top. I mixed and matched colors so there were all three kids (just white, just chocolate, chocolate and white) sandwiches.
I cut about half of each color dough with the small shape and the other halve with regular cookie cutters, otherwise I'd still be cutting out miniature cookies 🙂 If you just want a few use this recipe to make your holiday cookies and just cut out some tiny ones.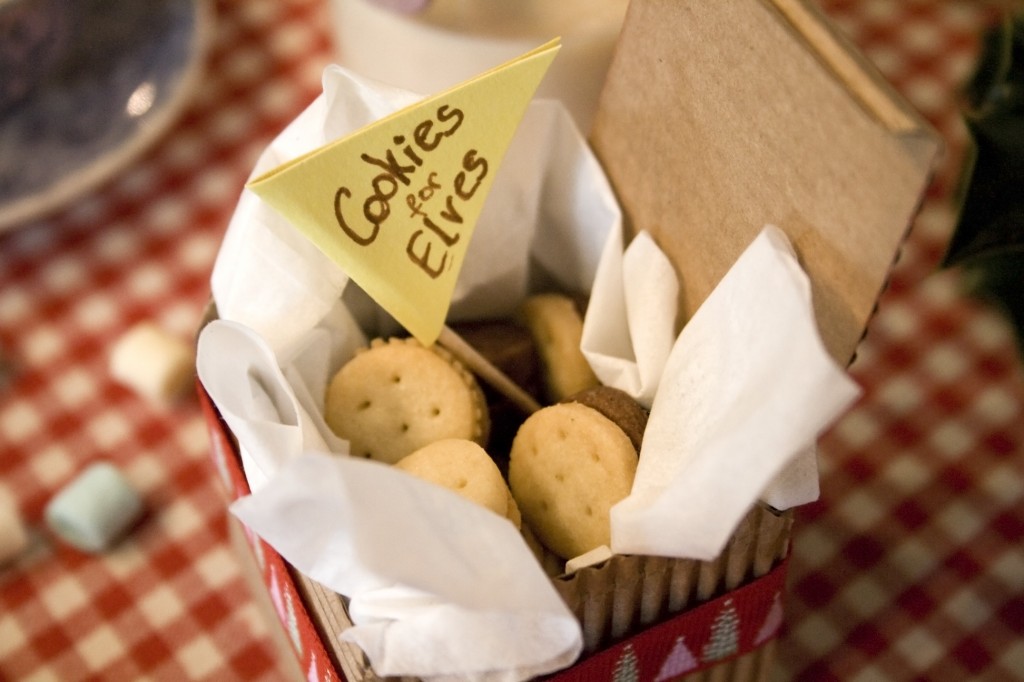 I think these little cookies would be a great addition to the cookies and milk you'll leave for Santa this holiday season!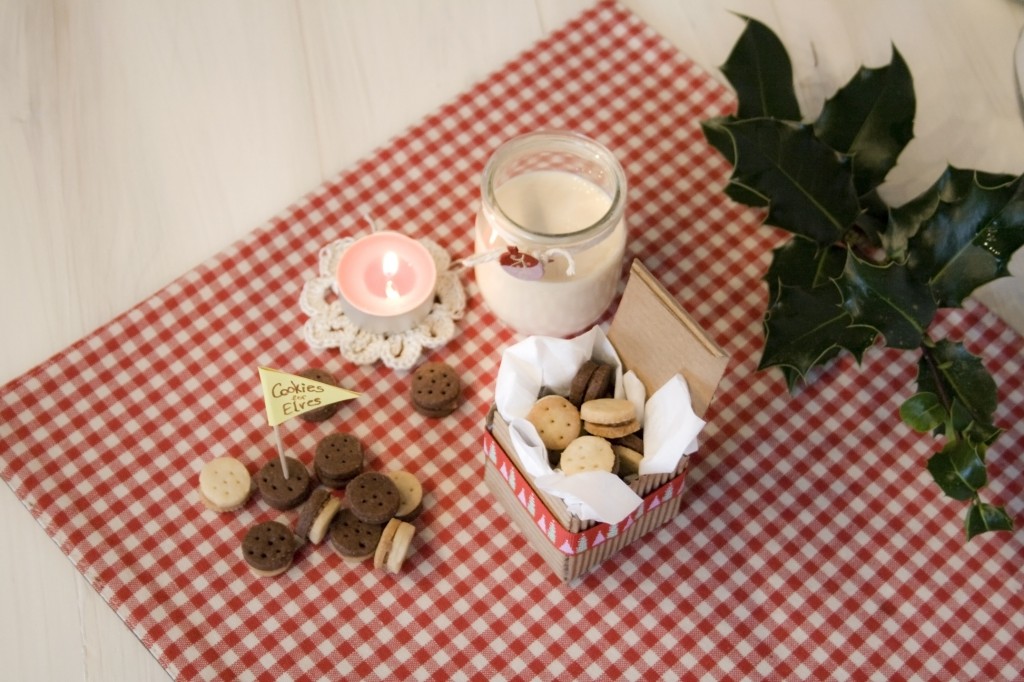 And just to give you an idea how tiny these cookies are, here is Mia's doll eating a cookie: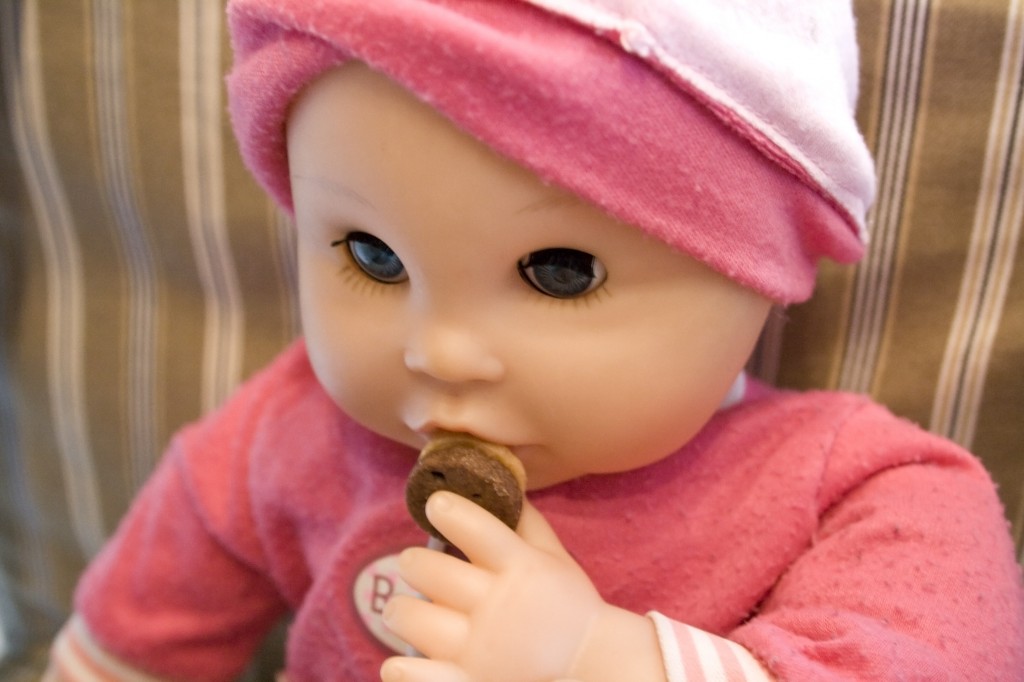 Happy Holiday Baking!
Dani!