This one is a German classic – usually made from a box mix, but I cracked the code and figured out how to make the best version of this cherry chocolate cake from scratch!
A quick note about the cherries used in this recipe. They are not the typical Maraschino cherries you find in American supermarkets (always be weary of neon colored food!). They are jarred or canned sweet or sour cherries (oftentimes using sugar in the process). You could also use other fruit here like blueberries or fresh cherries!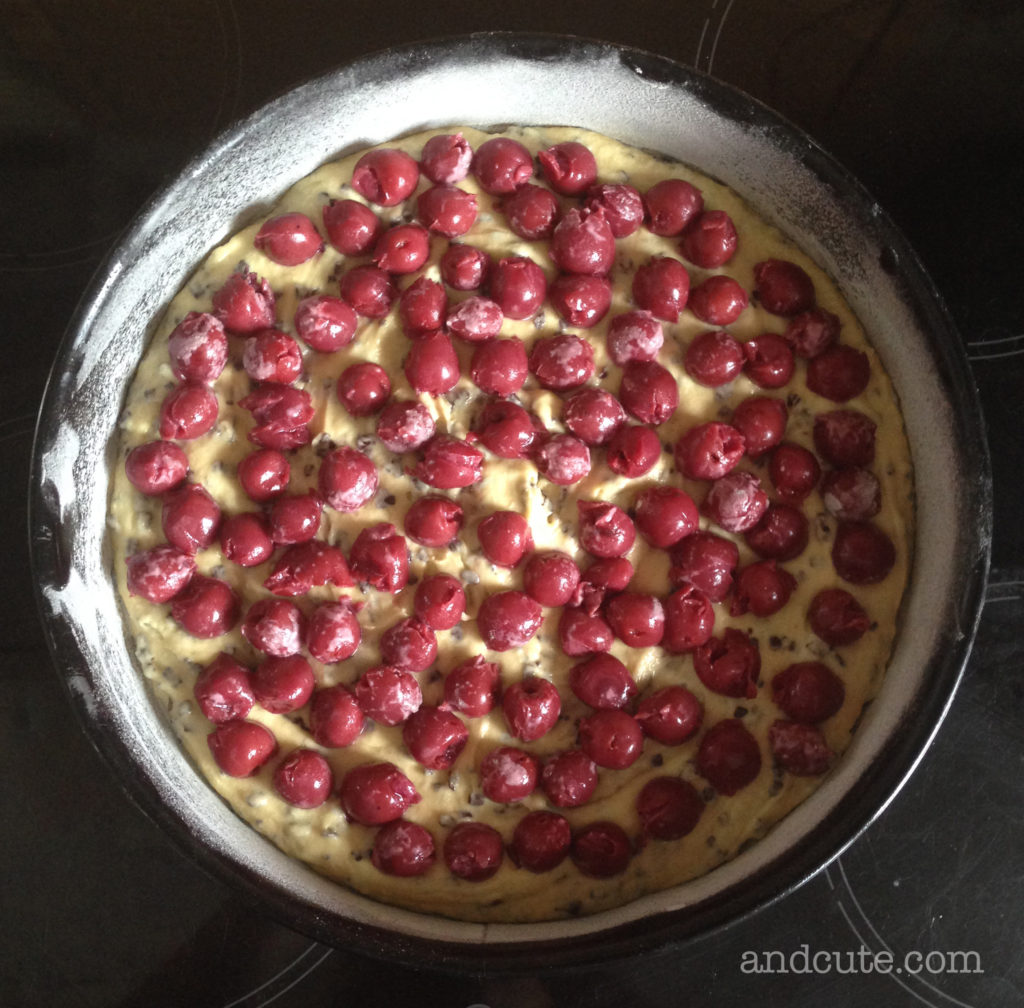 This will be a very moist and cloudy light cake! And here is the recipe including metric and US measurements.
Kirschli Kuchen – Cherriely Cake
Ingredients
200g (14 Tbsp.) butter
125g (2/3 cup) sugar
3 Eggs (size L)
1 Tbsp. vanilla extract
1 pinch if salt
250 (1 3/5 cup) flour
15g (1 Tbps.) backing power
50ml (little less than 1/4 cup) milk
2 Tbsp. sour cream
100g (3.5 oz) chocolate sprinkles (Schokoblättchen)
350g (12,.4 oz) (net after draining) of canned or jarred cherries
Method
Cream butter and sugar.
Add eggs, one at a time, salt and vanilla extract.
Add flour and baking powder.
Add milk and sour cream.
Preheat oven to 320F/160C.
Butter and flour a 28 cm springform pan.
Spread dough in the pan and place drained cherries on top.
Bake for 50 to 60 minutes.
http://andcute.com/kirschli-kuchen-recipe-cherriely-cake/
Copyright (c) 2013 - andcute.com
Serve for "coffee and cake" or eat it for second breakfast, if you have hobbit genes like me 🙂