There are 10 weeks left before it's Christmas time again! Don't be scared, I will show you a great DIY edible gift you can start TODAY and have it ready by Christmas time. Part of my American baking influence has been the use of vanilla extract. Chocolate chip cookies, french toast and many other dishes wouldn't be the same without vanilla extract. Being in Germany, I can't always get the ingredients I need, especially vanilla extract, so I did what I always do when I can't find something I need – I make it myself 🙂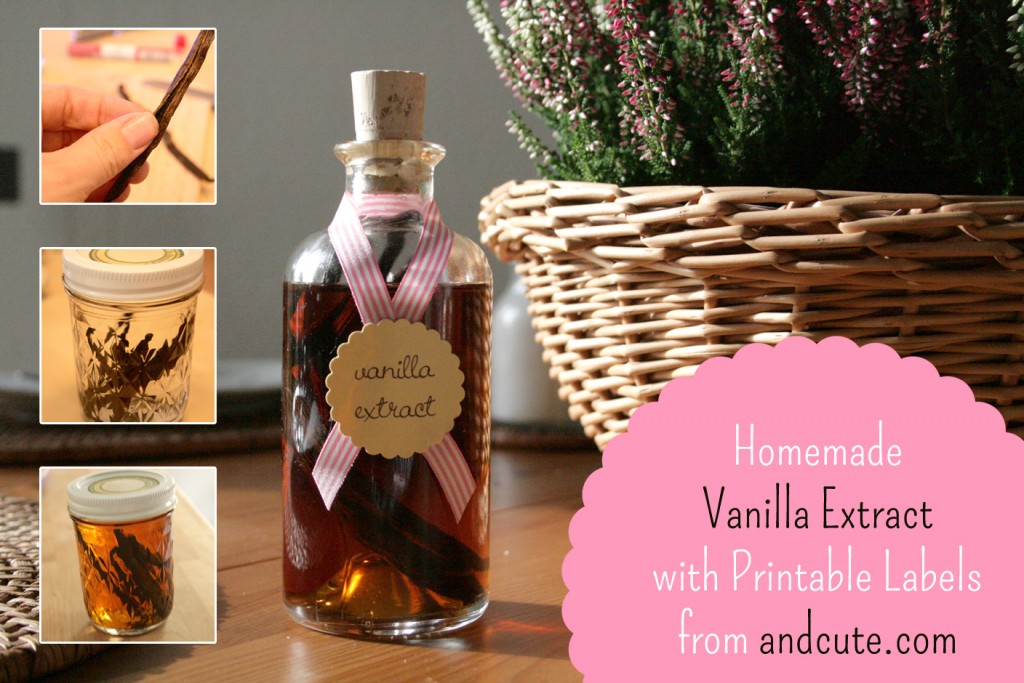 You have to start this project at least 6 to 8 weeks before you want to give it away or use it.
Material

750 ml of vodka (really good vodka, not cheap moon shine 😉 )
10 vanilla beans
sharp knife
5 – 150ml decorative bottles with cork or screw top
canning jars for starter brew (optional, you can use your pretty bottles right away, I was too chicken to do that)
pretty ribbon
card stock and the Vanilla Extract Labels printable template
1.5 in scalloped whole punch (optional)
It sort of seems unlike me, but you read correctly, I talk about vodka and a sharp knife in the same breath. 😉
1. Gather all ingredients. Clean and dry your bottles or jars. Cut vanilla beans open longways and expose the marrow as best as you can.
2. Add 2 opened vanilla beans for each 150ml of liquid. Close your container tightly and store in a dark place.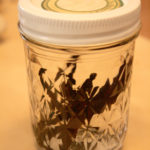 after about 20 days it will look like this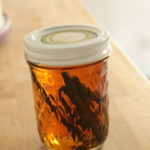 3. When you are ready to pretty up your gift, use a funnel to pour the vanilla extract into the nice bottles. I opted for adding the beans back into the bottles (for looks and flavor). Cut the ribbon. Print the labels (link below) and use a 1.5 in scalloped whole punch to make your labels.
You can also just cut circles or any shape you like. If that is not enough tags yet, get my homemade and made with love labels! I used hot glue to stick the ribbon and label onto the bottle.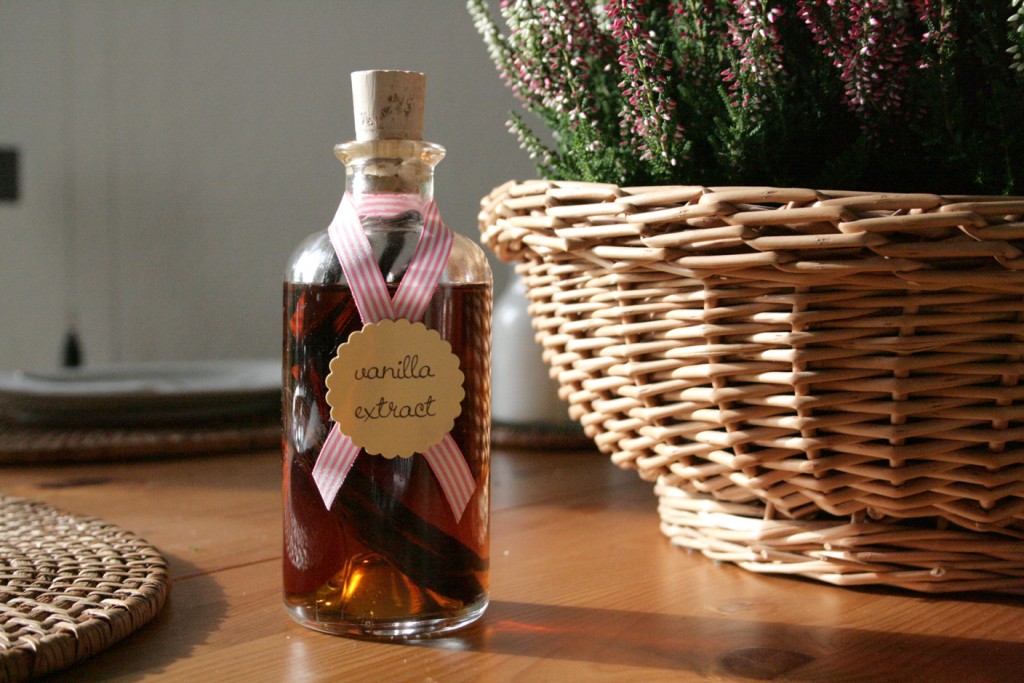 This is the color of the vanilla extract a year later. After all the things I did, I completely forgot to take pictures last year 🙂
Have fun with this easy DIY gift. What do you want to try DIY for Christmas gifts this year?
Hugs
Dani!