Ahhh, summer is the best! All these ripe and in season fruits just make my mouth water. Right now peaches are in season and you can get a pound for a dollar, well almost. After eating 5 peaches in a row I was peached out but I couldn't possibly let all these fuzzy balls go to waste1. My favorite way of preserving fresh fruit is making jam or marmalade out of them. I did it last year with homemade strawberry jam which was such a big hit I made two batches this year!
To add a little twist I clipped about a teaspoon of fresh lavender blossoms and added them to the mix – wow, this is a great combination!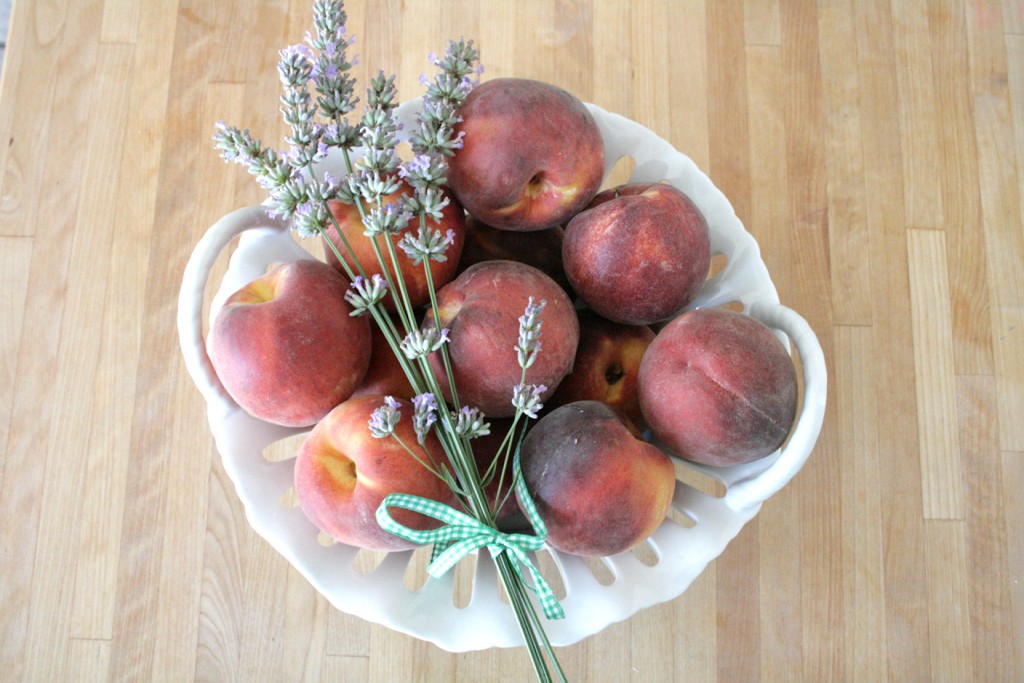 The whole process is quite easy, just coring and skinning the peaches is a bit messy.
1kg fresh peaches
500g of gelling sugar (2:1) (you can also use sugar and pectin, just follow the instructions on the pectin package)
1 tsp. of fresh lavender blossoms
6 small canning jars with lid
Method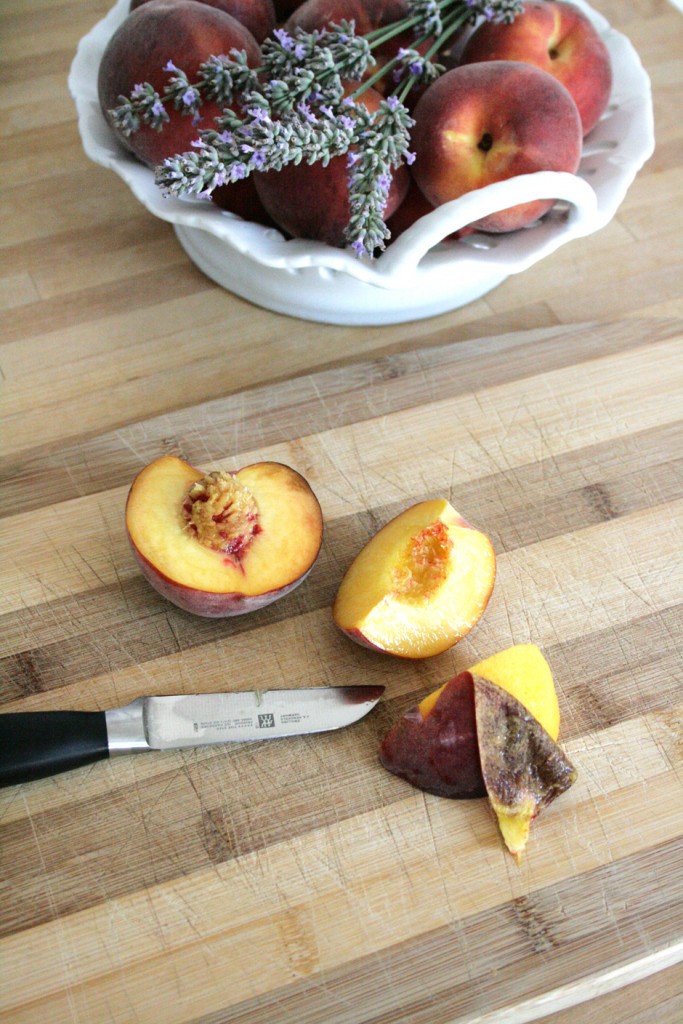 1. Core and peel peaches and cut them into small pieces. When the peaches are really ripe you can just gently pull the peel off with a knife. If you find that doesn't work you can pour hot over over them first.
2. Add peaches, lavender and gelling sugar to your pot. The instructions on my sugar said to bring everything to a rolling boil and letting it bubble for 4 minutes. I obeyed.
3. While the fruit mash comes to a boil use your hand blender to create the degree of smoothness you want your jam to have. I like my jam quite smooth! I also let some more lavender twigs simmer with the peaches for some extra flavor. You have to be really careful with lavender and rather use less to make sure you don't end up with soap tasting jam 😉
4. Pour boiling water of your canning jars, let them sit for a minute then dry and place them on a kitchen towel (the kind that can get dirty, not your grandma's best linen).
5. Using a sauce ladle scoop the hot jam into the jars, clean the edge and close quickly hopefully without burning your fingers. The jam will become "hard" once completely cooled.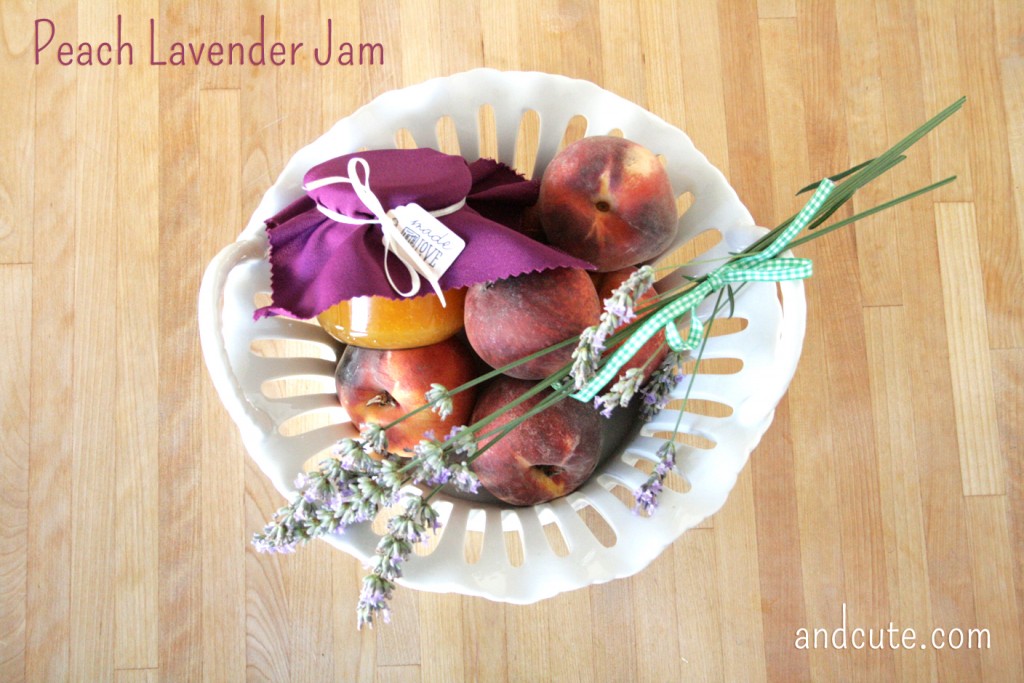 This makes a great gift also! I will post the cute homemade labels I used here in a later post 🙂
Now, let's get our toast, or baguette or your bare fingers and try that lushes sweet peach jam!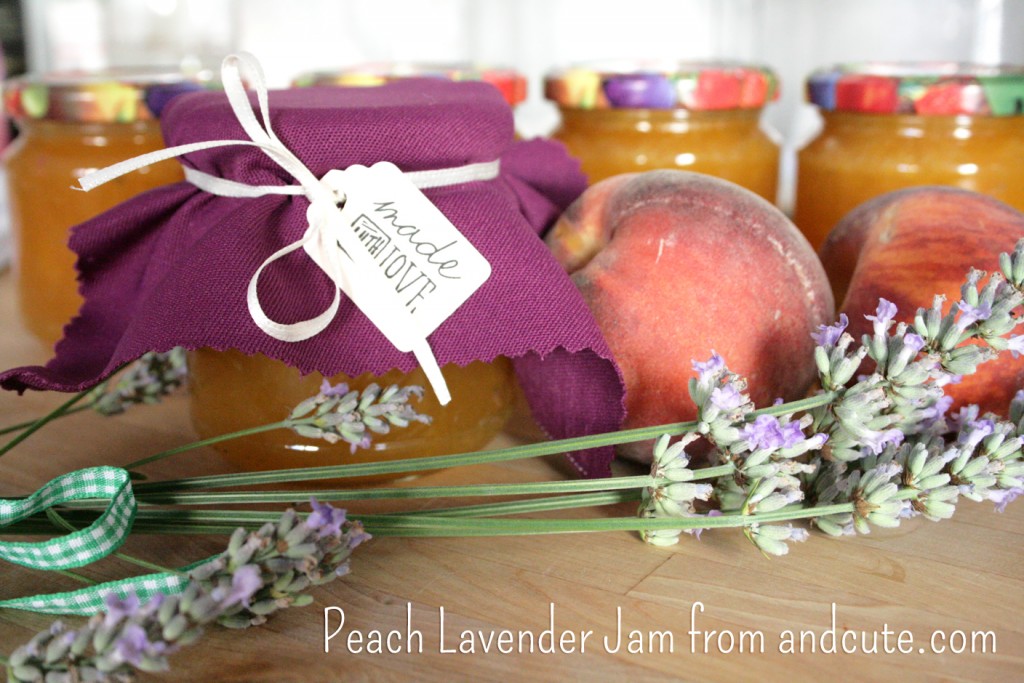 1 Sorry, if you got here by googling "fuzzy balls",  you will more than likely not find what you were looking for! 😉