No, no, hear me out! Homemade Egg Liqueur could also be called "Homemade Vanilla Pudding Shots for Adults". It is very tasty especially if are the kind of gal who likes eggnog.

In Germany this delicious liqueur is called Eierlikör and in the Netherlands it's called Advocaat. It is the perfect thing to make as gifts around the Easter (or any other Holiday season). You will love this, it is the matching recipe for Macarons or Meringues, where you use lots of egg whites, but you don't know what to do with all the yolks. Well, as of today, you have the complementary dish to make – egg liqueur! I used the recipe I found on this German website.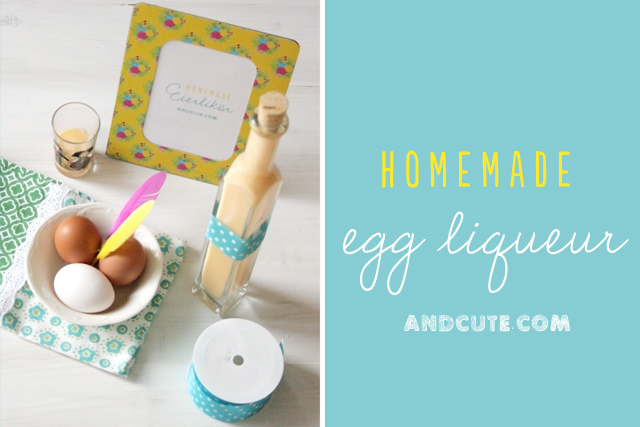 Ingredients
8 egg yolks
250g of powdered sugar
375ml half and half
2 vanilla pods (sliced in half)
250ml white rum (54%)
Method
1. With an electric mixer, beat egg yolks until foamy, slowly beat in the sugar, then add the half and half, then add the alcohol (I used Bacardi Rum for mine).
2. Fill mass into a small pot (yet big enough to hold the mass with some room), place into a larger pot filled with water (bain-marie) add the vanilla pod to the liquid.
3. Stirring constantly warm the mixture until it gets thick, it should at no point boil. Keep the heat low to medium high.
4. While still hot fill into bottles and leave some room on top. The egg liqueur will thicken more in the bottle, so you might have to add more alcohol or milk to get it out later 🙂 This makes roughly 1,2 liters (a little more than 4 quarts) off vanilla liqueur.
If you can find chocolate covered wafer cups where you live, drink the liqueur out of those, if not a regular shot glass will do 🙂 Enjoy! But drink responsibly 😉
Hugs
Dani!