These mini candy corn cupcakes are a great treat to take to your kid's Halloween party; they are tasty, super colorful and will give your child their first sugar high of the day 😉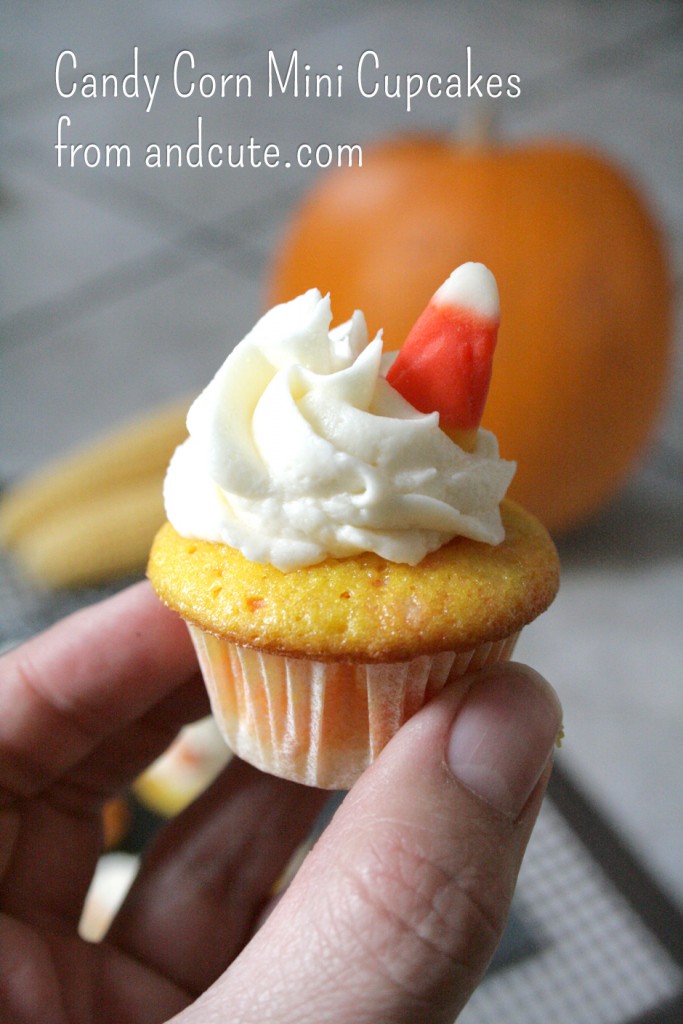 These Halloween snacks are vanilla cupcakes with vanilla buttercream frosting at their core, just that we are making it a very fun and colorful core 😉
I tweaked the recipe Billy's Vanilla Vanilla Cupcakes to fit my needs. I did not have cake flour and also halved the amount, which makes one tray of mini cupcakes.
Ingredients
Cupcakes

1 1/4 cups sifted flour
2 tbsp. starch (i.e. corn starch)
1 cup sugar
1 1/2 tsp. baking powder
1/4 tsp. salt
1 stick butter (113g), cut into small cubes
2 eggs
1/2 cups whole milk
1/2 tsp. vanilla extract
yellow and red food coloring

Frosting

1 stick of butter or less (room temperature)
2 cups powdered sugar, sifted
2 tbsp. milk
1/2 tsp. vanilla extract
24 pieces of (pretty) candy corn
Method
0. Preheat the oven to 350F/180C, line your mini cupcake pan with paper liners.
1. Sift together flour, starch and baking powder, mix in sugar.
2. Add butter cube-lettes to flour mixture and blend in until the butter is just covered.
3. In a separate bowl blend eggs, milk and vanilla extract.
4. Add wet ingredients to dry ingredients. Mix together, be careful not to over beat.
5. Divide the dough into 3 parts (bowls). Fill the first layer of the mini cupcakes with the white dough (ca. 2 tsp of dough in each mini cup).
6. Add yellow food coloring to one bowl, 4 parts yellow and one part red food coloring to the other bowl making orange.
7. Scoop on the orange dough, roughly 2 tsp each. Then top with yellow dough. Bake in the oven 350F/180C for about 15 minutes. Do the "tooth-pick-test" to test if the cupcakes are done.
8. Let cool completely on a wire rack.
9. Blend all ingredients for the frosting together and use a star tip on your piping bag to make the typical cupcake swirls.
10. For our crowning achievement, we will place one beautiful piece of candy corn on top of each mini cupcake.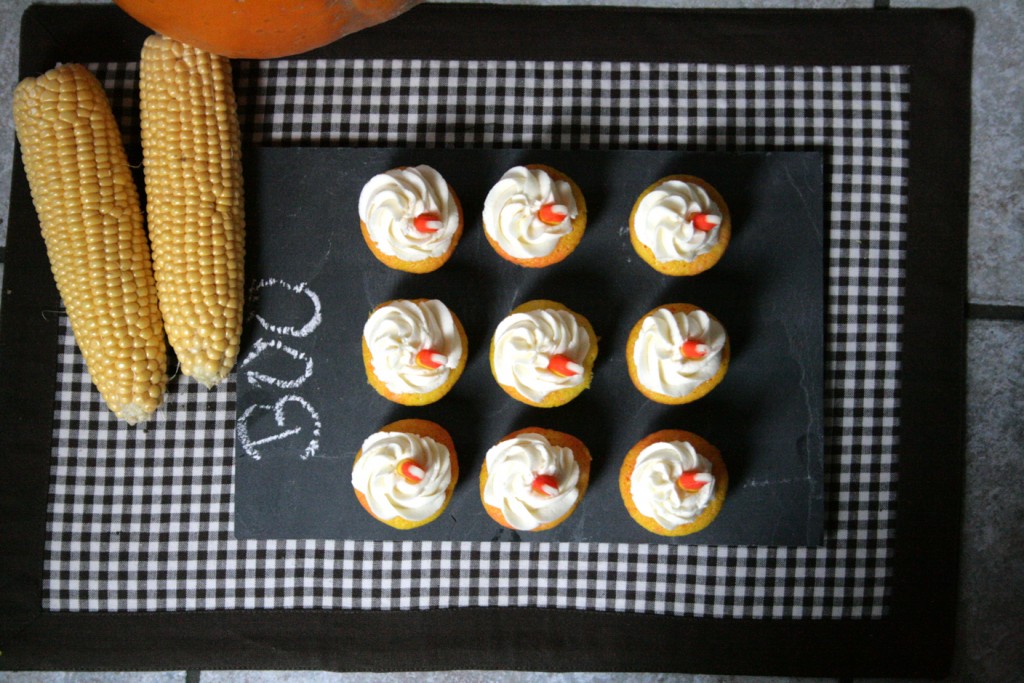 Don't be scared, take a closer look!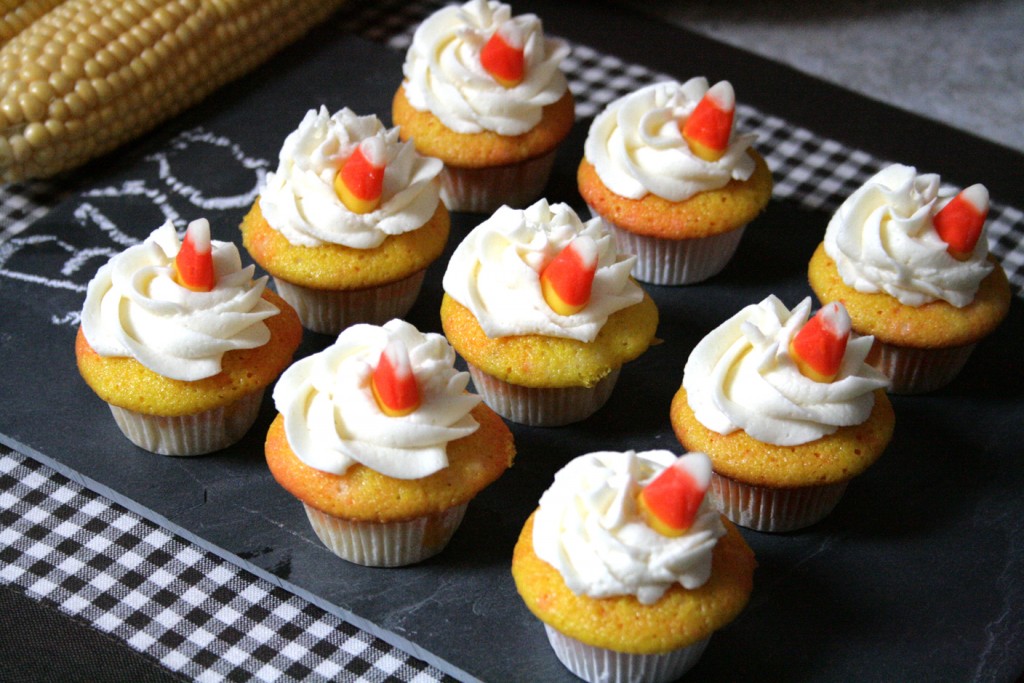 And don't be scared to take a bite.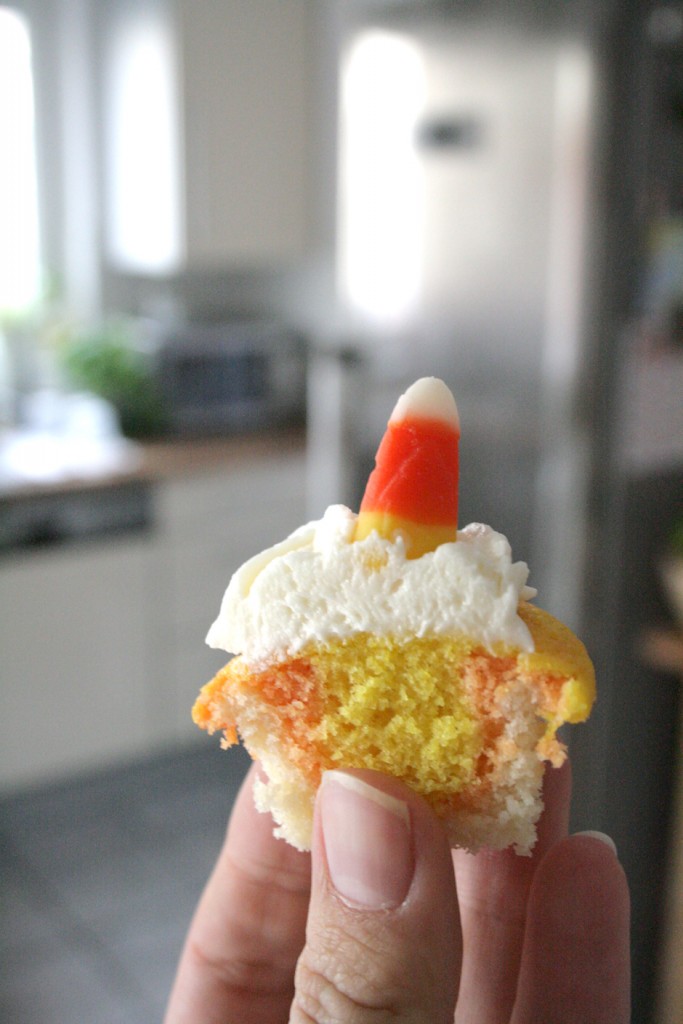 It's worth it! Happy Halloween snacking!