A breakfast favorite at our house, though waffles are usually served in the afternoon for German "coffee and cake" time. You can top these babies with berries, apple sauce, whipped cream or just old school with powdered sugar.
** Update May 2013: Since I first posted the recipe on my old website schokolala.com in 2011 my photography skills have improved ever so slightly 😉 so here is an updated picture, feel free to pin it to your boards 🙂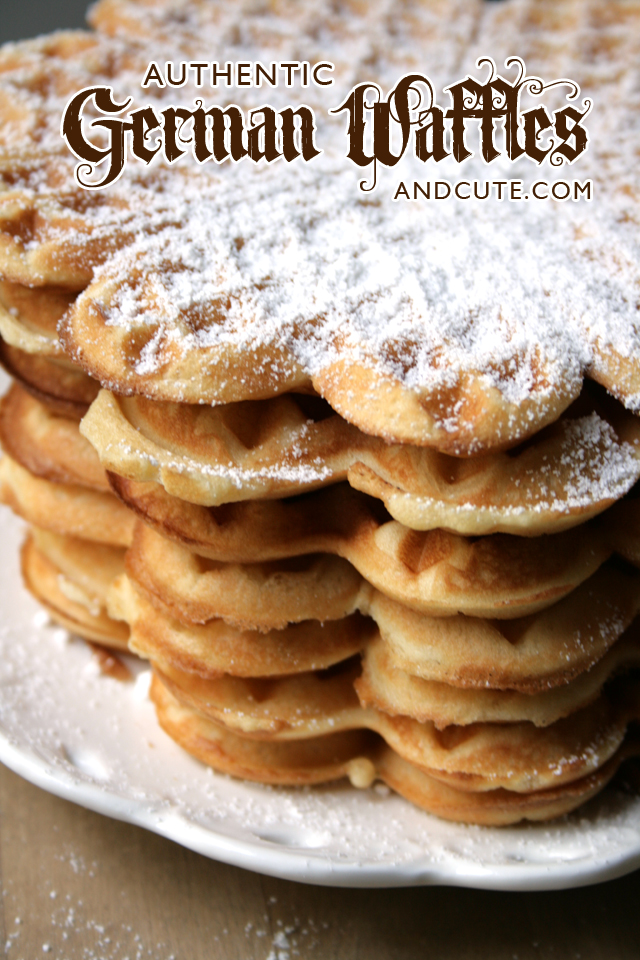 Recipe (for large family or good eaters, double the recipe)

1 stick soft butter
3/8 cup of sugar (1/4 cup and a half 1/4 cup…I know…sorry…but 3/4 is just too much!)
½ package vanilla sugar or 1/2 tsp. vanilla extract
2 eggs
1 cup flour
2 tsp. baking powder
3/4 to 1 cup of water
Metric Recipe

100g soft butter or margarine
75g sugar
2 eggs
½ package vanilla sugar (5g)
½ package backing powder (8g)
200-300 ml water
1. Cream the butter and mix in the sugar, vanilla sugar or extract then add eggs.
2. Add flower and backing powder.
3. Now add the water bit, by bit until you have a more liquidy dough, it can still be a bit doughy.
4. Preheat your waffle iron and let the dough rest until the iron is hot. Grab a sauce ladle and a cooling rack while you're at it.
5. Depending on your waffle maker you need to grease with oil (Teflon coated ones you usually don't have to, but it won't hurt it either). Then scoop one sauce ladle full into the iron.
6. Close the iron and push down the lid for a few second to force the dough to spread. If you have too much dough you will make a mess like me 🙂
7. Not sure how smart your waffle maker is, but most will tell you when the waffles are done. Mine even beeps at me…very annoying on an early Sunday morning… But then the miracle appears.
8. Transfer waffle to the cooling rack with a fork and repeat step 5-8 until there is no more dough.
9. Dust with powdered sugar and enjoy.
The best about these waffles is that you can eat them cold later in the day (they won't be crispy any more, but still yummy!). If you were starving like me and made double the dough but didn't really get to use it all, you can keep it in the fridge for 1 to 2 days!

Hugs
Dani!