Monkey see, monkey do. I saw a dish similar to this on the cover of a magazine in the supermarket. I have no idea how they made it, so I made it up as I went along. And this monkey did well! Flammkuchen (flame cake or tarte flambee), a crispy thin-type pizza, is the perfect September dish. I spiced up the traditional version of onion and bacon toppings with early-fall-fruit pear and fall-veggie-icon pumpkin. This is a yeast-based dough, so do calculate some time to prep before you eat.
The best drink to have with this meal is new wine, or "Federweisser" as it is called in Germany. It's a grape cider-like bubbly drink of wine that is still fermenting, and it is still quite sweet as not all the sugars have been turned into alcohol yet. Federweisser bottles are always open (perforated) because the constant Co2 that develops would eventually burst the bottle.
What? You didn't want a Chemistry class, you just wanted a tasty fall Flammkuchen recipe? Well, here you go!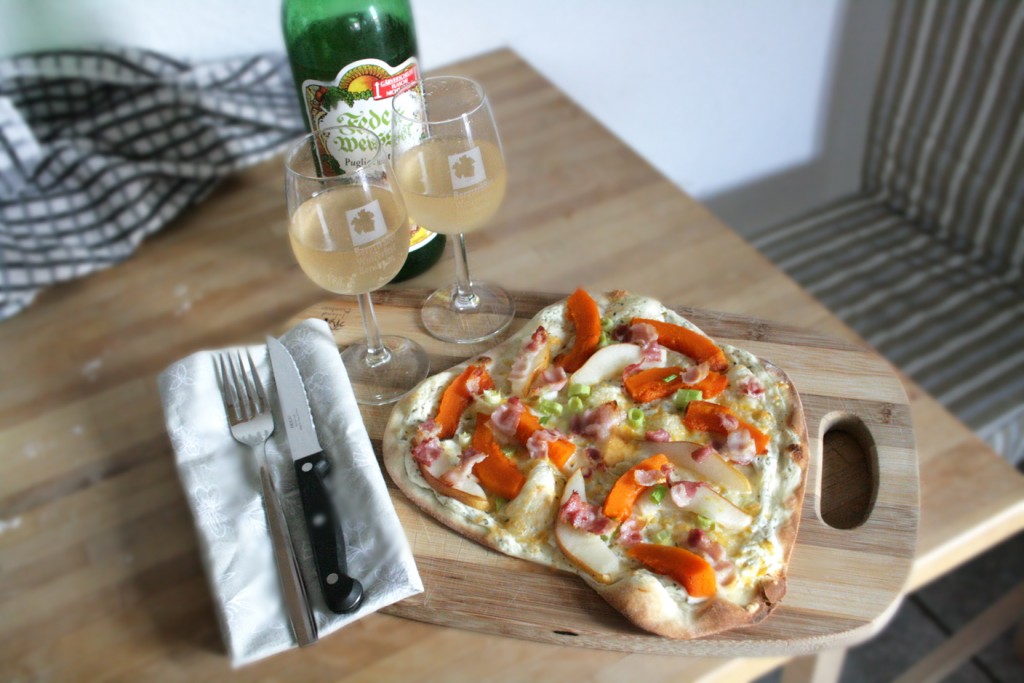 Ingredients

Dough

250g  flour
2 tbsp. olive oil
100ml lukewarm water
1 tsp. salt
1 tsp. sugar

Topping

1 tub of herbal creme fraiche (or season some sour cream with herbs, if you can't find creme fraiche)
1/2 of a small hokkaido pumpkin
100g of breakfast bacon (chopped into small pieces)
2 green onions (chopped into small rings)
1 pear cut into slices
150g grated cheese
salt and pepper to taste
1. Cut the pumpkin half into 4 wedges, brush with olive oil and bake in the oven for ca. 20 minutes at 200C/390F until tender (do this ahead of time).
2. Using a dough hook, combine all dough ingredients  into  a coherent ball. Let sit for about 1 hour to double in size.
3. For 4 individual Flammkuchen, form 4 balls, or 2 balls for 2 medium-sized pizzas.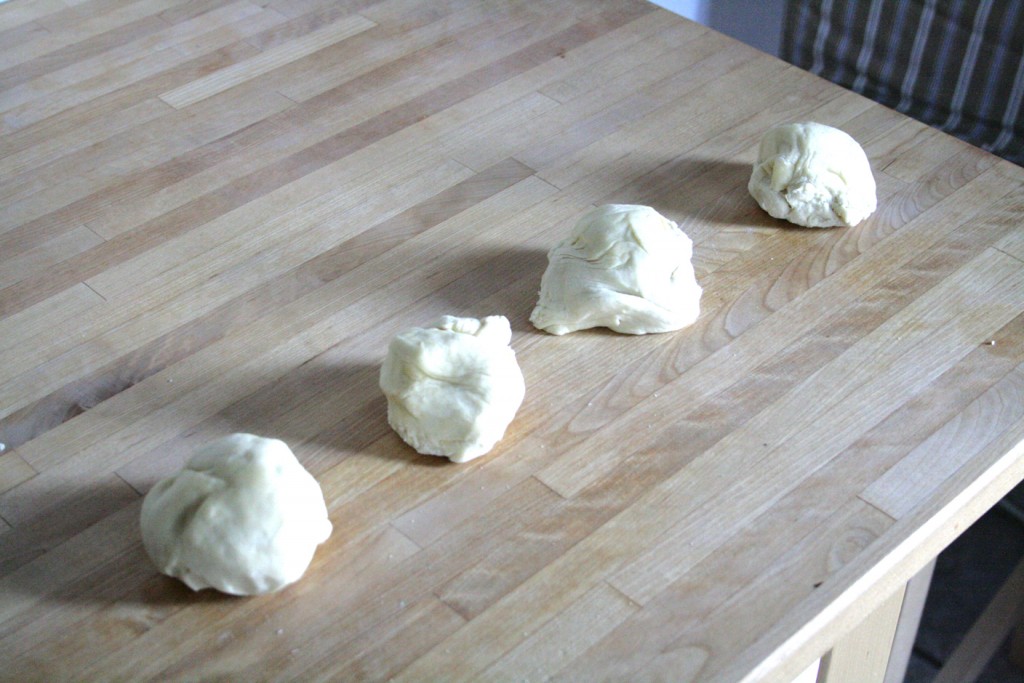 4. Preheat the oven to 260C/500F. Roll out the first dough ball as thin as you can. Place on a floured baking sheet.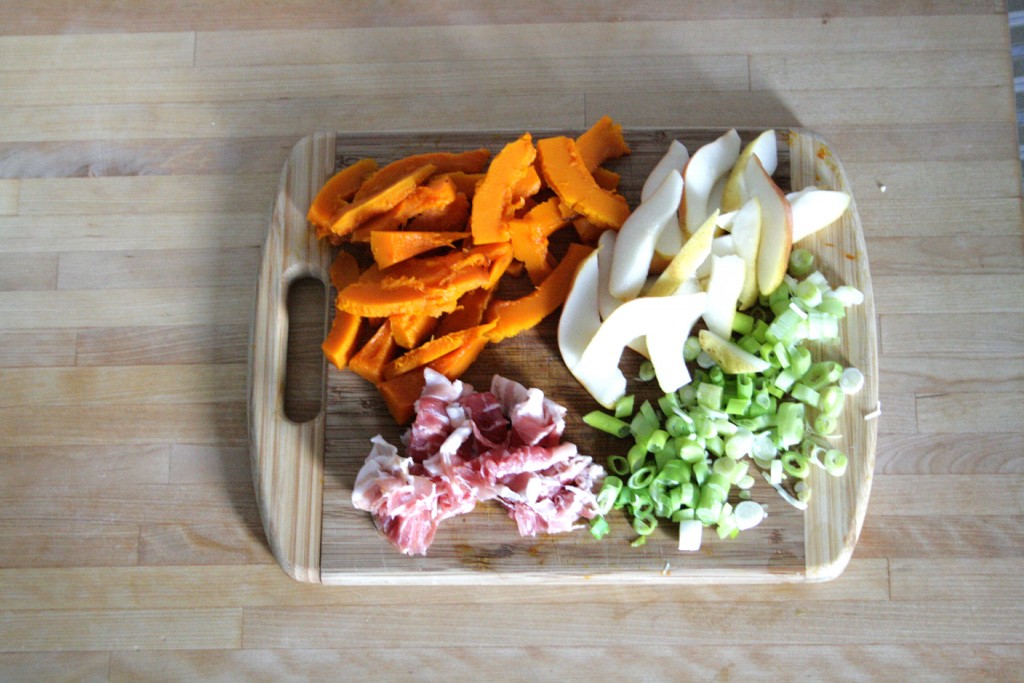 5. Spread some creme fraiche on the dough and top with cheese, pumpkin, scallions, pear and bacon bits. Sprinkle with salt and pepper.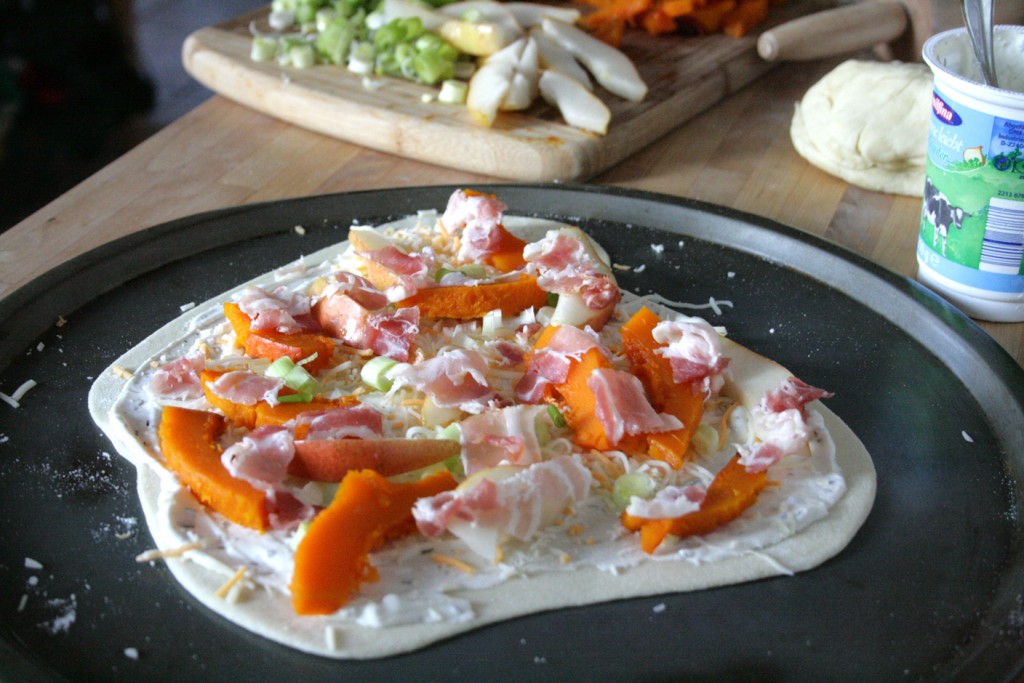 6. Bake in the oven for 5 minutes, add another 1 minute on broil to crisp the bacon.
Happy fall!