Having two kids is different than having one kid. I noticed that just recently when I went to the pool with two non-swimmers – keeping all three of us afloat was quite challenging. I have two girls, they love each other dearly and they also love to fight about almost everything. If one has it the other wants it, it's like a law of nature. "My sister has a blue cup. I want a blue cup. I want THAT blue cup." For a while I was contemplating just getting two of everything. Then I listened to a father of twins, they did get two of everything, however, the little princesses will make out tiny differences and only ONE of the two identical dolls will be good enough to play with – usually the one the other girl is holding in that moment. There was one thing though that I did cave in on. A kids table. Both my girls love to paint and do crafts. Mia had a small table and chairs that were perfect for one child – however 2 children cannot put there pieces of paper on it and draw without pulling hair or screaming. A bigger table was needed.
I got the bigger table in an eco-friendly, unconventional, potentially illegal way. Once a month or so the local garbage company will come pick up bulky trash like furniture and other odd things that don't fit into the regular trash cans. So the night before people will go scouting the neighborhood's trash piles for some treasures. I drove by one of those piles on my way to yoga and saw this old couch table that is the perfect height for kids, if it was there 2 hours after yoga, I would stop and load it into the car. I'm a chicken though when comes to taking other people's stuff, even if it is obvious they don't want it anymore. So I asked my yoga buddy Inga to come with me and help me load it in the car. She scored some kids books from the pile. So it was a win win. At last I brought it home and started refurbishing it. As you can see I didn't not shy away from using child labor 😉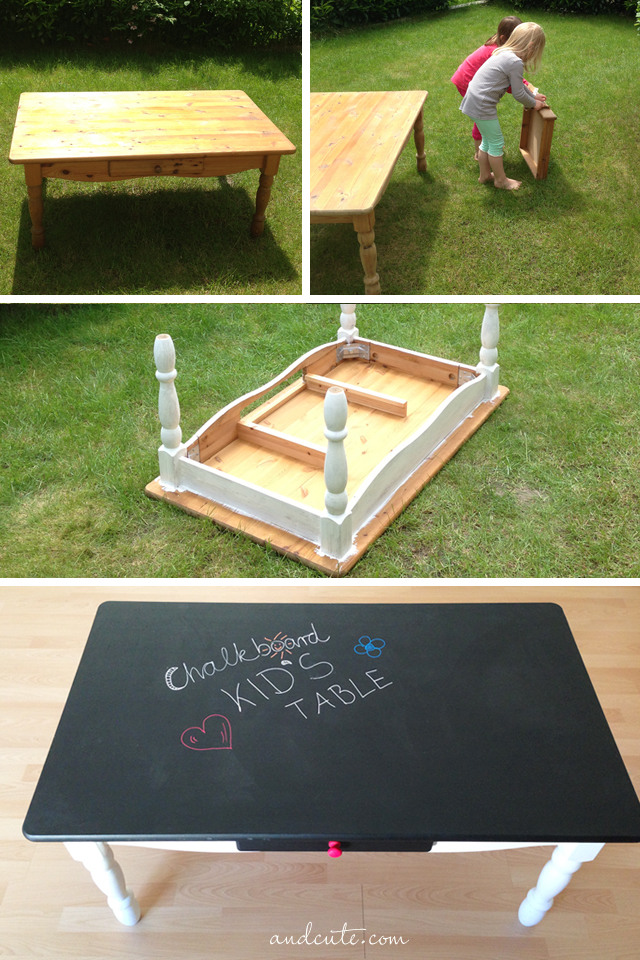 What you will need:
a legally or other wise procured used couch table 😉
sanding paper
tiny child labor hands to operate sand paper 😉
white paint
chalkboard paint
a good paint brush
time, patience, clothes that can get dirty
Method
1. Wipe down the table with a cloth to get dirt off of it and then start sanding down any prior paint or lacquer. This does not qualify as sanding the table 😉 :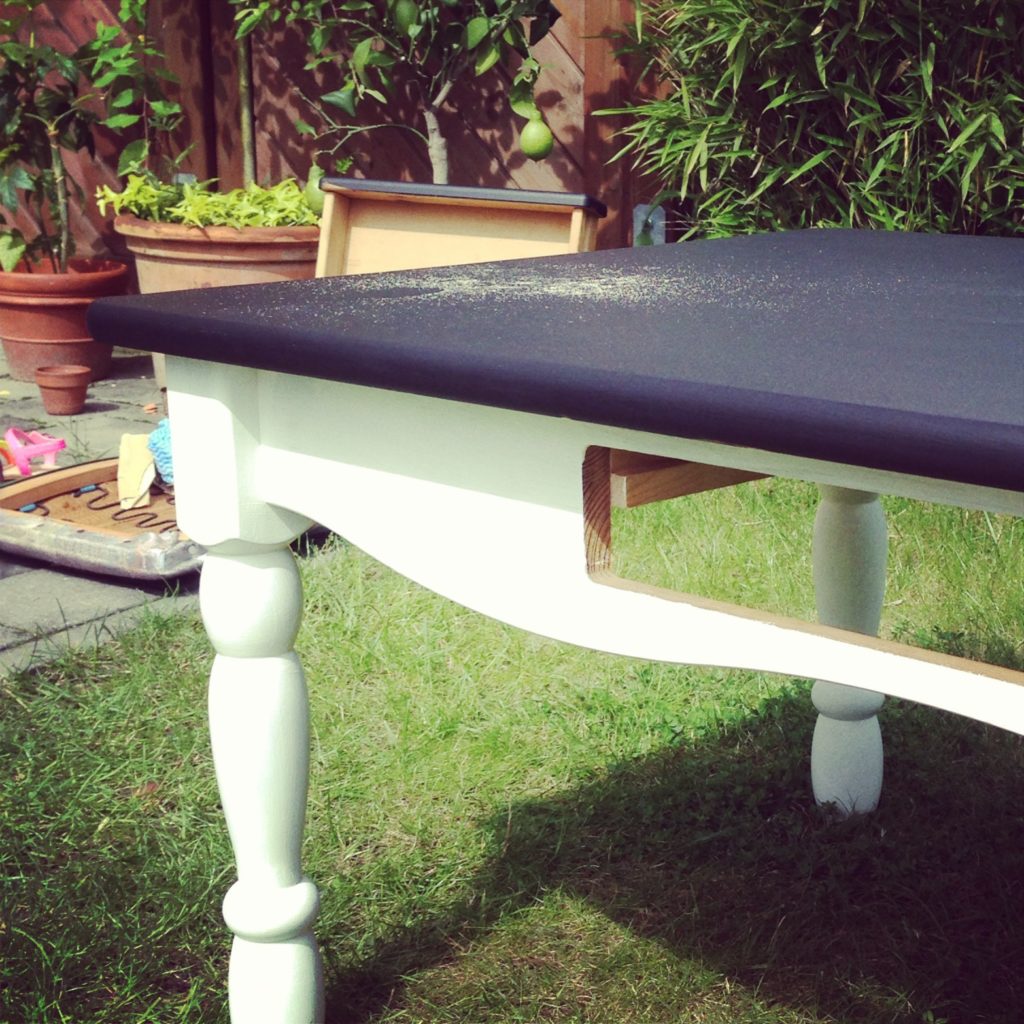 2. Start paining the bottom part of the table in your desired color, I used white and did 2 coats over the course of 2 days.
3. Paint the table top and drawer front with black chalkboard paint, again I did 2 layers, though one would be enough as this chalkboard paint covers really well.
4. Let dry for several days (inside) and replace the drawer knob with a fun one, or spray paint it neon pink like I did.
Et voila, no more fights over craft and drawing space –  I hope. Now, they don't even need paper anymore, but can draw on the table itself 🙂
Hugs
Dani!