I had made whoopie pies for the first time a few Valentine's Days ago, the red velvet kind, and they were amazing! When I was in the US this past November I got myself a whoopie pie pan, because just slapping the dough on the baking sheet wasn't good enough for me, for some odd reason that probably has its root cause in my childhood, or in a past life or is simply explained by my obsession with kitchen stuff. Either way I made you some pies that will make you go "whoopie"! I adapted the recipe that was attached to the Wilton Whoopie Pie Pan and made some whipped coconut frosting, to make me think I was eating "healthy". You can double the recipe, but then you have to make two rounds of baking 🙂
Cookie Dough Whoopie Pies with Whipped Coconut Frosting
Addictive Chocolate Chip Whoopie Pies
Ingredients
1/4 cup of butter (room temperature)
1/2 cup packed brown sugar
1 egg (small)
1/2 tsp. vanilla extract
1 cup flour
1/2 tsp. baking powder
1/2 tsp. baking soda
1/4 tsp. salt
1/2 cup of buttermilk
1 cup chocolate chips

Frosting

1 can coconut milk (put in the fridge for 2 hours prior)
1/3 cup of powdered sugar
Method
Preheat the oven to 350F/180C and spray the pie pan with nonstick cooking spray (or wipe with oil soaked paper towel)
Cream butter and sugar, then add egg and vanilla and beat until well combined.
In a separate bowl sift together flour, baking soda, baking powder and salt.
Add half the dry ingredients to the butter mixture and mix until almost all combined, then add the buttermilk, mix again until almost all combined then add the rest of the flour mixture.
At last add the chocolate chips and fold in gently with a wooden spoon.
Scoop two tablespoons of batter into each pie pan cavity, it should be 2/3 full.
Bake for ca. 9 minutes and allow the pies to cool in the pan, let them cool completely before filling.

Frosting

Open the cold can of coconut milk and scoop out just the solid white part, save the water for a later use.
Whip the coconut solids and gradually add the powdered sugar (adjust amount to your desired sweetness).
Make whoopie pie sandwiches by squishing your desired amount of frosting between two pies (pan side touching the frosting).
http://andcute.com/cookie-dough-whoopie-pies-with-whipped-coconut-frosting/
Copyright (c) 2013 - andcute.com
The potential of whipped coconut is endless, if you omit the sugar it actually is a healthy cream you can eat with fruit or on top of your granola.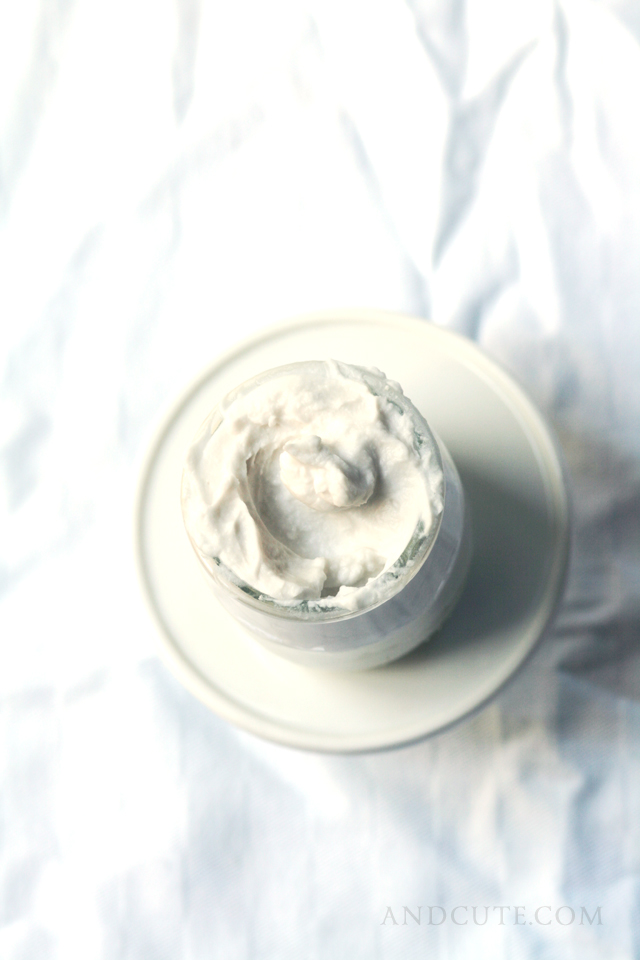 Give it a whirl!
Dani!