My friend Almendra has cought the Macaron making bug. She has made all sorts of flavor combinations from lavender to matcha. And you know what, she got them perfect on the first try!!! Say what?! But she is an artist, so I understand, it is art to make macarons, magic even as I told you here. Heck her name is "Almendra" which means almond in Spanish…so she has a clear advantage 😉 I wanted to join in the Macaron fun and made some After Eight Style Mint and Chocolate Macarons. They taste heavenly and are just right for the coming winter season. The dark chocolate filling shows some sugar blooms (spots) because I didn't temper my chocolate. I decided to post them anyways, because perfection is an illusion and showing you my flawed chocolate is how I keep it real on here 😉
Chocolate Mint French Macarons
Ingredients
Shell:

100g almond flour (ground almonds without skin)
200g powdered sugar
2tbsp. cocoa powder (dutch processed)
90g egg whites (aged), roughly 4 small eggs
1/4 tsp. of cream of tartar
40g sugar (use very fine sugar if you can)

Chocolate filling

100g of dark chocolate

Mint Filling:

1/2 cup of powdered sugar
a tiny bit of water
2 drops of essential peppermint oil
Method
Line 2 baking sheets with parchment paper or a silpad. Get a piping bag with a round tip ready.
Grind the almond flour and powdered sugar in the food processor and sift the mix into a bowl. Add cocoa powder and whisk together.
In a separate bowl start beating the egg whites on low speed, when foamy add the cream of tartar. Increase the speed to medium and start adding the sugar one table spoon at a time. Beat the eggs on high until you have stiff peaks and you can hold the bowl upside down without the mass landing on your face 😉
Sift the dry mixture into the egg mixtures. Using a spatula fold the mass together. First it will seem impossible but it will get more "liquid" as you keep folding. You are done folding, when the mass is thick yet gently melts out of shape.
Spoon the mass into your prepared piping bag and pipe circles ca. 2-3cm in diameter. They will "melt" into a slightly larger smooth circle. You can bang the tray against the counter to get excess air out.
Let your piped macarons dry at room temperature for 30 minutes to 45 minutes until the tops are dry to the touch.
Preheat the oven to 150C/300F.
Place one baking sheet at a time into the hot oven and bake for ca. 15 minutes depending on the size of your macarons.
Let the macarons cool completely on the baking sheet before removing them gently from the parchment paper or silpad.
Melt the chocolate gently and temper it. When it is starting to set place a small amount on one side of the macaron, allowing it to spread out some.
Add a little bit of water to the remaining 1/2 cup of powdered sugar until you have a thick yet pipe-able mass, add the essential oil one drop at a time (this stuff is potent!). Pipe an even round shape on the other macaron shell and once the chocolate is set enough gently press them together.
http://andcute.com/chocolate-mint-french-macarons/
Copyright (c) 2013 - andcute.com
There will be more minty macarons in my near future, I can already tell!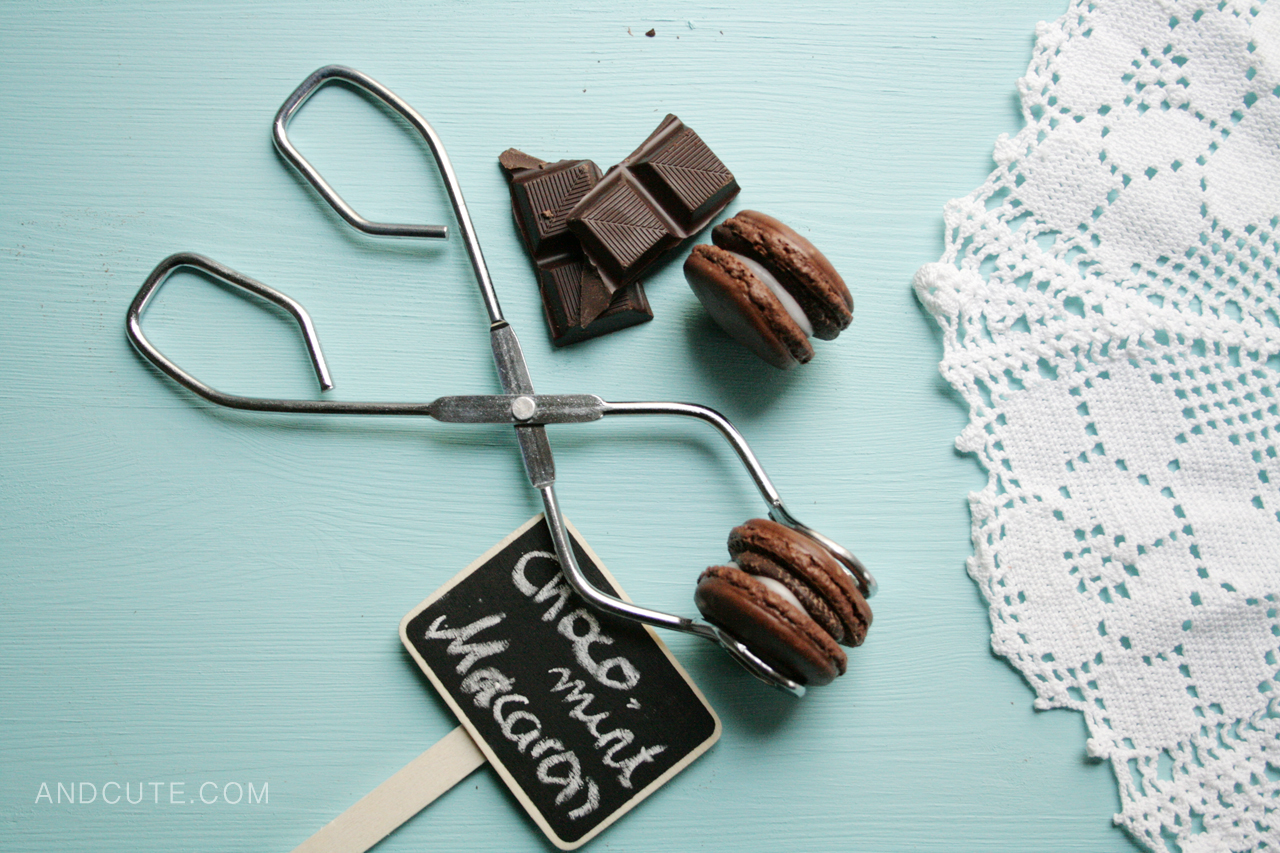 Happy Monday!
Hugs
Dani!