Oh my, sorry for this crazy long name "Chocolate Chip Caramel Coconut Pretzel Cookie". It's four kinds of delicious though!

Please leave a comment below with alternate short names for this cookie. I was contemplating Foursome Cookies, but that might have gotten me visitors not looking for a baked goods. Quatro Chunk Cookies seems to be a good fit. The reasoning behind this cookie is in it's name, I simply wanted all the things I love in a cookie, in one. Toasted coconut is amazing by itself, and you already know I love chocolate and caramel. In order to balance of the sweetness I thought salty pretzels will do the trick – and they did!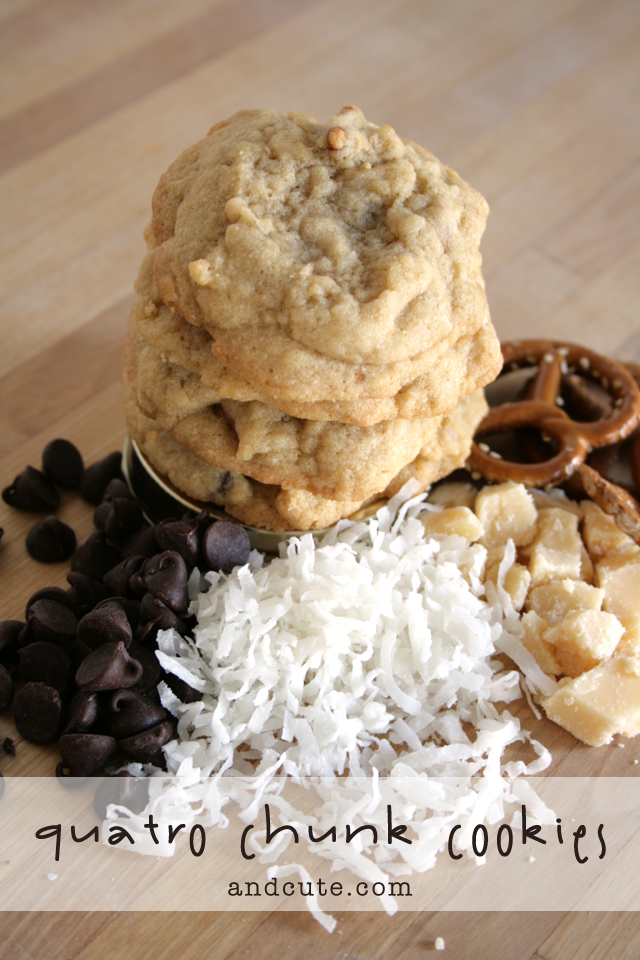 Ingredients
2 sticks butter (room temp) (225g)
3/4 cup toasted coconut shreds
1/2 cup sugar
1/2 cup brown sugar
2 eggs
1 tsp. salt
1 tsp. vanilla extract
2 cups flour
1/2 cup chopped polish caramels (or caramel chips)
1/2 cup salted pretzel sticks (chopped into 1 inch pieces)
1/2 cup chocolate chips
Method
0. To toast the coconut place the shreds on a cookie sheet and place in the 350F/180C oven for about 10 minutes until they are golden (keep a close eye on them). Leave the oven on after your are done tasting.
1. Cream butter with an electric mix, add sugar and brown sugar, add the salt and vanilla.
2. Beat in eggs one at a time.
3. Add flour and toasted coconut, blend until just combined.
4. Add chocolate chips, caramel bits and pretzel pieces, blend until just combined.
5. Place tablespoon sized dollops of dough onto a parchment paper lined cookie sheet. Bake at 350F/180C for about 9 minutes.
6. Remove from oven, let cool slightly then transfer to a wire rack to cool completely.
Enjoy!
Dani!