I've discussed the success of food on a stick at length before, but might I reiterate, any edible item put on a stick is just so much cooler and for some reason better tasting. This weekend I invented a new thing – the cheeseburger skewer. No, no, no, don't burst my bubble and google that someone else on the planet came up with it before. As far as the two of us are concerned I invented it. My cheeseburger skewer kit will be on the market shortly. It will contain bamboo skewers (which I got for a dollar a pack and slapped on a new label). The kit can be purchased for $9.99. Pre-order is now open. Send an email to dani@imjustkidding.com 😉
Ok, ok, I'm kidding. But seriously, give these babies a try. They are perfect party finger food especially for kids.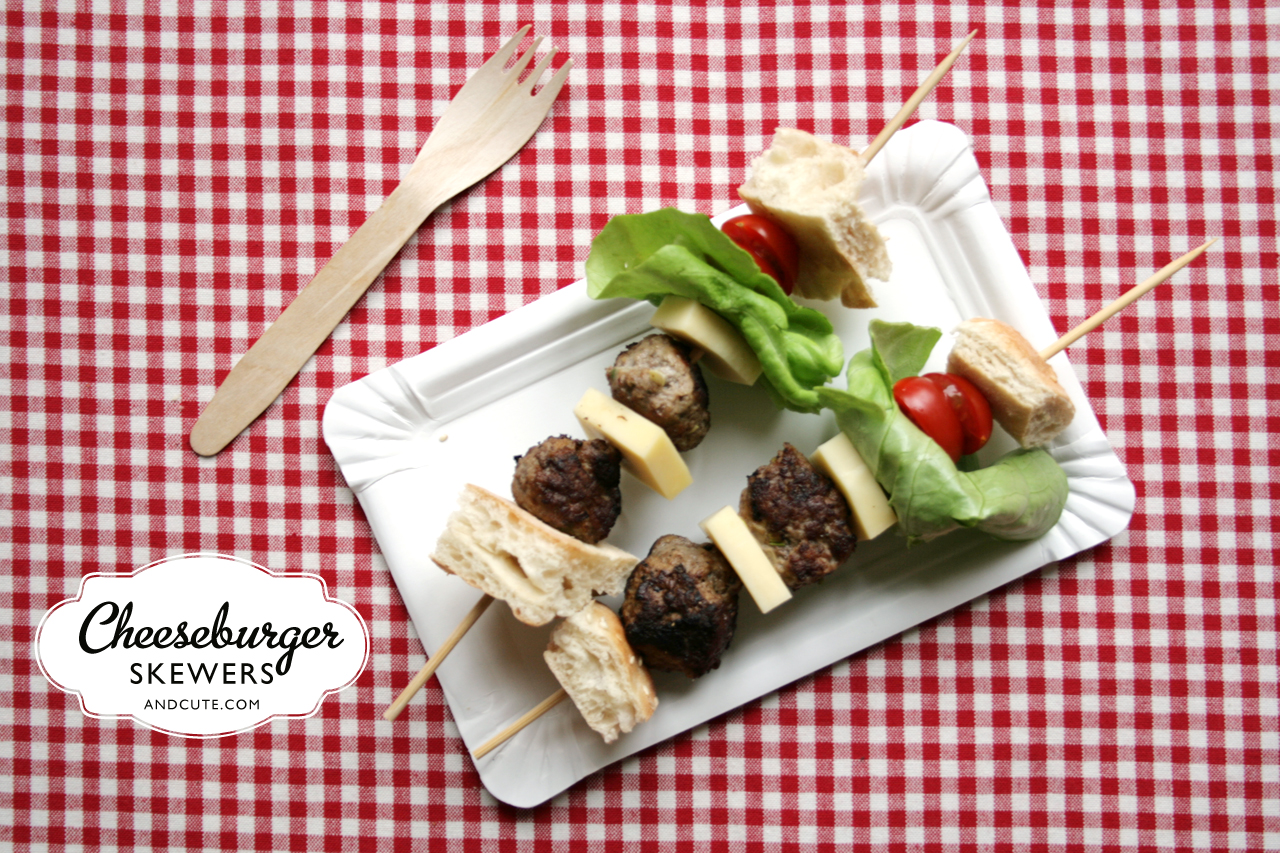 Ingredients
cherry tomatoes
cubes of Gouda cheese (or your preferred cheese)
lettuce leaves
hamburger buns cut into pieces
Most Amazing Meatballs
500g of ground beef
2 green onions (chopped)
1 egg (lightly beaten)
1/3 cup of Italian seasoned breadcrumbs (or regular breadcrumbs with dried basil, marjoram, thyme ect. added)
1 tbsp. mustard
salt & pepper
Worcester sauce and a bit of soy sauce
1. Blend together the ground beef, egg and mustard using a fork. Add salt, pepper, a few drops of Worcester sauce and soy sauce.
2. Add the bread crumbs and then add the onion. Form balls a little smaller than tennis ball size.
3. In a frying pan heat 2 tbsp. of vegetable oil and fry the meat balls until dark and cooked through, turning to allow frying from all sides (ca. 20 min)
4. Assemble the skewers starting with a piece of bread then any way you like and ending with a piece of bread.
5. Serve with your favorite "hamburger sauce" or dips of mustard and ketchup.
These skewers can be served hot or cold, also a good thing to take on a picnic or to the beach.
Have you ever invented something (even if just in your head) before it was actually invented?
Hugs
Dani!