When I met my husband he was a Soldier in the U.S. Army, drinking a gallon of coffee each day (no metaphorical gallon, a real gallon). Even when he was in a tank in the Iraqi heat, we was drinking coffee…hot coffee. He introduced me to liquid flavored coffee creamer (our brand is coffee mate). It's magic. It makes this bitter sour drink taste like candy with a kick. I was in love, with the man and the creamer. And yes, it is probably really really bad for you seeing that it consists mainly of sugar, cellulose gum (say what?) and artificial flavors.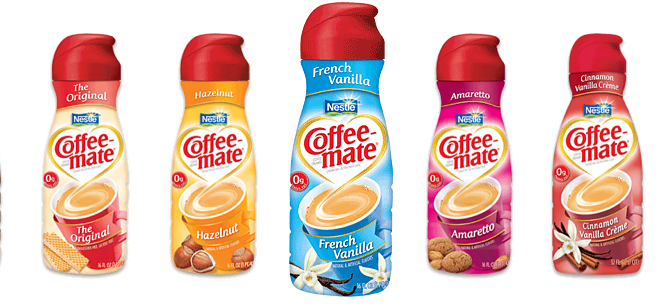 *picture from coffee-mate.com
I even had a collegue suggest that you can use it as a cleaning agent… uhm… I'm sure there is an organic version somewhere. Anyways, who cares when there are 25 flavors to glorify your morning Joe with?!
French Vanilla, Caramel Macchiato, Peppermint Mocha, Gingerbread Latte, Toffee Nut…to name a few.
Here comes the down side. No flavored coffee creamers in Germany. The original coffee mate powder is available in large super markets – but that's not going to cut it. There are however 15+ brands of condensed milk which is used as coffee creamer over here – only one of them is sweet in flavor (Milchmaedchen) – none of them has an additional flavor. Hello Nestle Germany – market gap! You won't find flavored coffees in Germany either (not really an invention the world needed, but hey). Yet, we have Vanilla, Latte Macchiato and what have you – yogurts, cookies, chocolates, ice cream and more. Germans like flavor. I guess just their coffee must be as plain as can be?!
Coffee Creamer, hands down better in the USA!