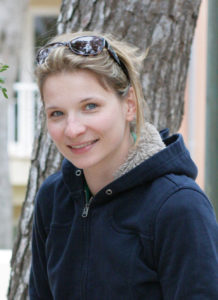 <- this is Dani. Dani is a German Graphic Designer, Foodie and Life Coach living with her American husband and two little girls in Heppenheim, Germany. While living in Silicon Valley for 4 years, Dani caught the start up bug and started her own business. It was not until she was making substantial money from her "hobby" that she told her family and friends about her passion for graphic design. Dani is a problem solver at heart and does so through design and in her work as life coach. Her noticeable skills as Graphic and Web Designer are 100% self taught. Dani firmly believes that you don't have to have a degree or 20 years of experience to be good at what you do. All you need is a decision to get started and the drive to follow through.
Dani's pedigree include a Masters Degree in Psychology from Humboldt University in Berlin and a Master NLP Practitioner certificate. Without any degrees Dani can tell you the ins and outs of wordpress, photoshop and illustrator. She furthermore is a Proseller on the main print on demand platforms, you can find her stores here:
Modern and Cute Gifts and Papergoods
Store AndCute (Zazzle)
Military Support Apparel and Gifts:
Silent Ranks Shop (Zazzle)
Silent Ranks Shop (Cafepress)
Dani's design journey began 2003 in the Military community as an Army Wife making support graphics for other spouses and has since expanded to a variety of topics including, weddings, Holidays and food. You can find her Military Graphic Design at camolove.com
Andcute.com is the home of Dani's creative energy and her drive to go beyond "what she is supposed to be doing". On this site you can see her creativity expressed in cute products, free printables, DIY projects and lots of tasty recipes. She believes half the world's problems could be solved with a cup of coffee and some chocolate chip cookies! Her recipes have been featured amongst others by the Huffington Post.
Work with me
Dani enjoys illustrating and creating Clip Art as well as custom logo, website and print media design. You can contact her anytime to discuss your creative project: hello [at] andcute.com!
If you are interested in coaching please contact Dani, she specializes in English speaking coaching for expats and women owned businesses.
Her website is proof that a clear goal and commitment to achieving it can get you anywhere you want! Join me?!
Find Dani on Google+ | Instagram | Facebook | Pinterest | Twitter |